Person
Hallie Quinn Brown (ca. 1850- 1949)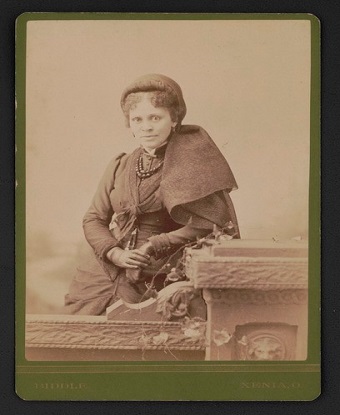 Significance:
Elocutionist, Educator, Activist, Author
Place of Birth:
Pittsburg, Pennsylvania
Place of Death:
Wilberforce, Ohio
Place of Burial:
Wilberforce, Ohio
Cemetery Name:
Massie's Creek Cemetery
There are people who give great speeches, and there are those who perform them. Hallie Quinn Brown was one of the few who performed speeches. In her era, she was recognized as one of the greatest elocutionists across two continents, Europe and America. Though she rarely appears in history books, Brown's legacy can be found in today's speech-language pathologists and spoken word artists. She lectured widely on the cause of temperance, women's suffrage, and civil rights. We honor Hallie Quinn Brown as an ancestor for demonstrating the power of language and Black women's voices.
Brown was among the first to become interested in establishing Black women's clubs. These community-based organizations promoted the idea that it was the duty of middle-class Black women to help the underprivileged. Many, like the Colored Women's League, Brown and Anna Julia Cooper, helped establish in 1893, adopted politics of respectability. This is a philosophy endorsed by Black elites that the way to uplift the race was to correct the "bad" behavior of the Black poor. This philosophy emerged as a response to the intensified racism, rising inequality, and declining economic mobility of the Jim Crow era. It was first used among Black club women to distance themselves from negative stereotypes associated with the Black community. For example, club women promoted temperance, cleanliness, thrift, polite manners, and sexuality purity. It was a performance for white and Black audiences to not only counter racial stereotypes but to assimilate into societal norms established by white supremacy. We now know respectability politics fail to challenge the real issues of racism and offers no guarantees of acceptance.
Brown's skill as an elocutionist moved audiences in ways that few other noted orators, past and present, could. It was said that "…she possesses a voice of "wonderful magnetism and great compass." At times, she thrills by its intensity; at times, it is mellow and soothing. She seems to have perfect control of the muscles of her throat and can vary her voice as successfully as a mocking-bird."[i] During her presidency (1920-1924) of the National Association of Colored Women (NACW), Brown spoke against a monument proposed by the United Daughters of the Confederacy. The proposed monument portrayed Black women as the stereotypical "mammy" figure, a Black woman dressed as a servant carrying a white infant. She wrote "slave women are brutalized, the victims of white man's caprice and lust. Often the babe torn from her arms was the child of her oppressor." Brown doubted the gratitude the Daughters of the Confederacy sought to highlight with the monument.
Historically, the mammy figure was part of the Lost Cause myth that depicted the enslaved as docile, content, and loyal. Widespread protest by the Black community ensued because they rejected the stereotype. Club women like Mary Church Terrell and Brown mobilized and led their allies in the NAACP against the monument. Terrell wrote a widely produced, scathing editorial in The Evening Star, calling out white women's past and current complicity in the sexual abuse of black women by white men. The bill proposing the monument died in the House of Representatives.
While vice president of the NACW, Brown also campaigned for Warren G. Harding during the 1920 Presidential election. The NACW withheld a formal endorsement of him due to the Republican party's weak antilynching stance, her selection as the first woman to speak on his famous front porch during his campaign is significant. Harding, like many others, recognized the influence women like Brown had over members of her community. While politicians use this to their advantage in elections, Brown saw it as an opportunity for Black women to seek positions of power. She stated "Let us remember that we are making our own history. That we are character builders; building for all eternity. Woman's horizon has widened. Her sphere of usefulness is greatly enlarged. Her capabilities are acknowledged…Let us not ask: what shall we do with our newly acquired power? Rather, what manner of women are we going to be?".[ii] For Brown, Black women having the ability to vote and political power was one giant leap forward in the long struggle for Black rights in America.
In 1926, Brown published Homespun Heroines and Other Women of Distinction. It is one of her more robust and enduring challenges to those who doubted the suitability of Black women voters. She collaborated with more than 25 women to produce a 250-page book that countered the limited visions of who and what Black women were. It contains 60 biographical sketches, essays, and poems of the leading Black women of the era from all backgrounds. Homespun Heroines showcases the real lives of Black women and their activism. Brown wrote "It [Homespun Heroines] has been prepared with the hope that they [the youth] will read it and derive fresh strength and courage from its records to stimulate and cause them to cleave more tenaciously to the truth and to battle more heroically for the right…It is our anxious desire to preserve for future reference an account of these women, their life and character and what they accomplished under the most trying and adverse circumstances…".[iii]
Hallie Quinn Brown's skills as an elocutionist taught thousands of Black people the power of spoken language during a period in which they were not expected and welcomed to be a political force. We are still in that period. By telling her story, we can inspire a new generation of activists to find their voice and use it to enact change. Brown is associated with the Frederick Douglass Home in Washington, D.C., and the Tuskegee Institute National Historic Site in Alabama. She is also associated with the Homewood Cottage in Wilberforce, Ohio. The cottage was listed on the National Register of Historic Places until 1974, when it was destroyed by a tornado.
This article is part of the "Exploring the Meaning of Black Womanhood Series: Hidden Figures in NPS Places" written by Dr. Mia L. Carey, NPS Mellon Humanities Post-Doctoral Fellow in the Legacy of the Civil Rights Movement. This project was made possible through the National Park Service in part by a grant from the National Park Foundation and the Andrew W. Mellon Foundation.
LEARN MORE
Brown, Hallie Quinn. 1926. Homespun Heroines and Other Women of Distinction. https://docusouth.unc.edu/neh/brownhal/brownhal.html, accessed May 3, 2020.
Duchan, Judith Felson and Yvette D. Hyter. 2008. Elocutionist Hallie Quinn Brown. https://leader.pubs.asha.org/doi/full/10.1044/leader.FTR4.13022008.20, accessed June 23, 2020.
Hallie Q. Brown Community Center, Inc. ND. About Hallie Quinn Brown. https://www.hallieqbrown.org/site/index.php/about/, accessed May 4, 2020.
Hines, Diane Clark. 2005. Hallie Quinn Brown. Black Women in America: Volume I. Oxford: Oxford University Press. P. 168-170.
Jackson, Errin. 2007. Hallie Quinn Brown (1849/1850-1949). https://www.Blackpast.org/african-american-history/brown-hallie-quinn-1850-1949/, accessed May 1, 2020.
________________________________________
[i] Unknown 1890:259
[ii] Jones 2019
[iii] Brown 1926
Last updated: January 12, 2021