Person
Dr. Anna Julia Cooper (1859-1964)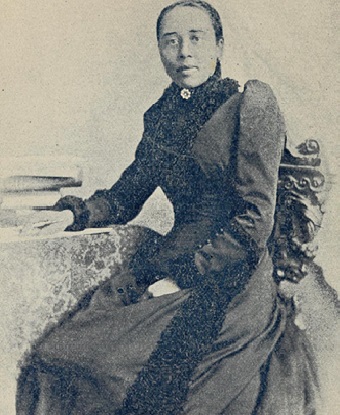 Significance:
Author, Activist, Educator, and Scholar
Place of Birth:
Raleigh, North Carolina
Date of Birth:
August 10, 1859
Place of Death:
Washington, D.C.
Date of Death:
February 27, 1964
Cemetery Name:
City Cemetery
Before Kimberle Crenshaw (1989) coined the term intersectionality and the Combahee River Collective released their 1977 statement, there was Dr. Anna Julia Haywood Cooper. Born into slavery in 1859, Cooper would become a distinguished author, activist, educator, and scholar. She lived a life that redefined society's limitations and opportunities for Black women. Despite her enduring legacy, she has yet to become a household name. We honor Dr. Anna Julia Cooper as an ancestor for her tireless work to re-center and uplift the voice of Black women in a pursuit of a more just society for everyone.
In 1892, Cooper published her most important work, A Voice from the South: By a Black Woman of the South. Cooper states in her short, but powerful opening statement: "I speak for the colored women of the South, because it is there that the millions of Blacks in this country have watered the soil with blood and tears, and it is there that the colored woman of America has made her characteristic history and there her destiny is evolving."[i] Using the analogy of a courtroom trial, Cooper states that the most important witness, the Black woman, was rendered mute and voiceless. In the collection of essays that follow, Cooper advances her belief that educated Black women were the key to uplifting the race. Central to her argument was the point that Black women had a unique standpoint from which to observe and contribute to society. They were faced with what she argued was a woman question and a race problem, and as a result they were unknown or unacknowledged in both. Thus, when educated, Black women were perfectly poised to influence and contribute to their race, society, and the world stage. The book has two parts: The Colored Women's Office and Race and Culture. In the first half, Cooper focuses on the hitherto voiceless Black women. In the second half, she addresses race and culture more broadly.
A Voice from the South is significant in many ways. It is the only book published by one of the most prominent Black female intellectuals of the era. It is widely considered to be the first book length articulation of Black feminist theory. In addition to her discussions on racialized sexism and sexualized racism, Cooper demonstrates the significance of class and labor. Through her work Cooper, both indirectly and directly, engaged in debates with the great "race men" of her time like W.E.B. Du Bois, Booker T. Washington, Frederick Douglass, Martin Delaney and female activists such as Sojourner Truth, Frances Watkins Harper, and Ida B. Wells-Barnett. It is also one of the earliest articulations for intersectionality—the process of understanding how the complex intersection between gender, race, and class impact individuals.
The arguments set forth by A Voice from the South are still relevant today. For example, during Cooper's era, Black women fought for human rights but were largely overlooked by leaders of the women's suffrage movement. Cooper is particularly critical of white women's racism, especially in organizations that proclaimed to advocate for the rights of all women. She openly confronted leaders of the women's movement for allowing racism to remain unchecked within the movement. In "Woman Versus the Indian", Cooper responds to an essay of the same name by Ann Shaw. Shaw was a leader in the movement who placed the issue of white women's rights against the rights of indigenous peoples. Cooper issues a call for the inherent rights of all people, but specifically targets those typically denied those rights. It is in this essay that her quote in the US Passport appears: "The cause of freedom is not the cause of a race or a sect, a party or a class—it is the cause of humankind, the very birthright of humanity." [ii]The very next sentence after the above quote reads: "Now unless we are greatly mistaken the Reform of our day, known as the Women's Movement, is essentially such an embodiment, if its pioneers could only realize it…"
In "The Higher Education of Women", Cooper challenges 19th century sentiments against the education of women by highlighting the positive impact of higher education. Once again stressing what she considers a race problem and a woman question, Cooper argues that Black women, and girls, have a voice that must be heard and an influence and contribution that must be made. She argues that Black men were aware of issues such as racial uplift but dropped back into 16th century logic when it came to the problems specific to Black women. This attitude, she argued, was also applied to young Black girls. She writes, "[G]ive the girls a chance!...Let our girls feel that we expect more from them than that they merely look pretty and appear well in society. Teach them that there is a race with special needs which they and only they can help; that the world needs and is already asking for their trained, efficient forces."[iii] The education of Black women and girls was necessary for the advancement of the race. In "The Status of Woman in America", Cooper discusses the US economy and the conditions of women. She emphasizes the dedication of educated and uneducated Black women to the uplift of the Black community. She argues for Black female agency outside of the domestic sphere.
Nearly 130 years after A Vision from the South was published, we, as a society, still have much to learn about the interlocking oppressions that Black women experience because of racism and sexism. Cooper's former home at 201 T St, N.W. is a contributing property to the LeDroit Park Historic District in Washington, DC. The historic district was listed on the National Register of Historic Places in 1974. The home is privately owned.
This article is part of the "Exploring the Meaning of Black Womanhood Series: Hidden Figures in NPS Places" written by Dr. Mia L. Carey, NPS Mellon Humanities Post-Doctoral Fellow in the Legacy of the Civil Rights Movement. This project was made possible through the National Park Service in part by a grant from the National Park Foundation and the Andrew W. Mellon Foundation.
LEARN MORE:
Anna Julia Cooper Project. N.d. Anna Julia Cooper Bio. http://www.cooperproject.org/about- anna-julia-cooper/, accessed April 28, 2020.
Bailey, Cathryn. 2004. Anna Julia Cooper: "Dedicated in the Name of My Slave Mother to the Education of Colored Working People. Hypataia" 19(2): 56-73.
Bates, Karen Grigsby. 2015. A Child of Slavery Who Taught a Generation.https://www.npr.org/sections/ed/2015/03/12/385176497/a-child-of-slavery-who-taught-a- generation, accessed April 29, 2020.
Cooper, Anna Julia. 1892[2016] A Vision from the South. Dover: Dover Publications.
Crenshaw, Kimberle. 1989. "Demarginalizing the intersection of race and sex: A Black feminist critique of antidiscrimination doctrine, feminist theory, and antiracist politics." The University of Chicago Legal Forum 139-167.
El-Mekki, Sharif. 2017. Do You Know This Hidden Figure? Meet Legendary Black Educator Dr. Anna Julia Cooper. https://educationpost.org/do-you-know-this-hidden-figure-meet- legendary-Black-educator-dr-anna-julia-cooper/, accessed April 29, 2020.
Hines, Diane Clark. 2005. Anna Julia Cooper. Black Women in America: Volume I. P. 308-311. Oxford: Oxford University Press.
Ritchie, Joy and Kate Ronald. 2001. Available Means: An Anthology of Women's Rhetoric(s). Pittsburg: University of Pittsburg Press.
Smithsonian. https://www.smithsonianmag.com/smart-news/what-intersectionality-video-breaks-down-basics-180964665/, accessed June 22, 2020.
Last updated: November 10, 2021