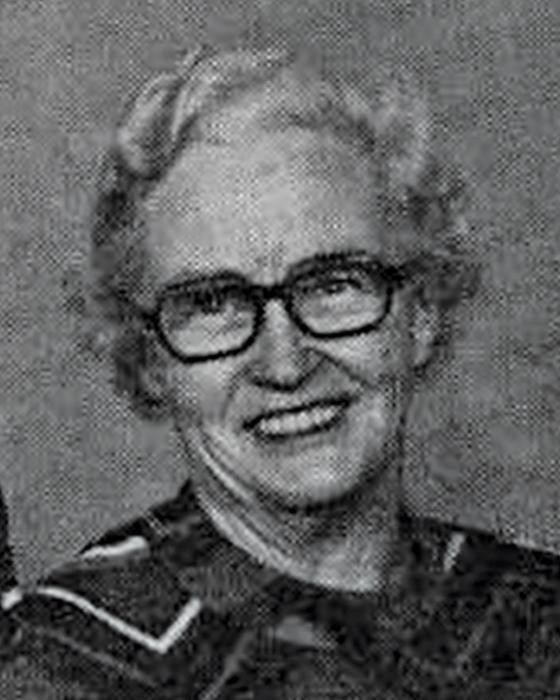 Significance:
Botanist, conservationist, environmental activist in Northwest Indiana
Place of Birth:
Middlesex County, MA
Date of Birth:
March 15, 1914
Place of Death:
Dune Acres, IN
Date of Death:
April 8, 1985
Botanist of the Dunes
The keenly observant Lois Howes moved to the Indiana Dunes area in 1941, where she became deeply attuned with the natural areas around her on daily walks. As an avid naturalist and talented self-taught botanist, she convinced the Save the Dunes Council to make the pivotal purchase of Cowles Bog in 1953. She brought innumerable scientists and nature-lovers on insightful forays near her home; she discovered a rare remnant prairie and later alerted the park to ecological threats as well as made irreplaceable contributions to the park herbarium and rare plant monitoring.
Quote by her:
"A silent tongue and a true heart are the most admirable things on earth."
Quote about her:
"Lois Howes… was an exceptionally knowledgeable student of the flora."
Biography:
Lois Fletcher was born in Middlesex County, MA on March 15, 1914. She was the daughter of a salesman, and had two older siblings. In 1932 she graduated from Newton High School and selected a German proverb as a quote by her image; "A silent tongue and a true heart are the most admirable things on earth." She attended Russell Sage College in New York and graduated with a degree in physical education. Ms. Fletcher married Edward Howe in Chicago in 1938. In the 1940 census, the young couple are noted as living together in Chicago where Edward was employed as a marine engineer.
Lois was in poor health and with a doctor's recommendation to do a lot of walking, they moved to Dune Acres in 1941. Lois felt that just walking was boring, so she began to study the variety of plants that grew along the trails. Prior to the formation of the Save the Dunes Council, in November of 1951, Mrs. Howes spoke on conservation at a meeting of the Duneland Historical society that also had a slide program on wildflowers of the Dunes. The following May, Lois led a girl scout hike to identify wildflowers in the Dunes. That summer, she also assisted in girl scout day camps in the first week of June. By October of 1952, Lois was a member of the newly formed Council and she presented a land survey that showed suitable land for enlarging Indiana Dunes State Park at a Save the Dunes Council meeting. She was also active in the League of Women Voters that fall as well, when she conducted economic study groups. On June 1, 1953, the Save the Dunes Council held a meeting, Dorothy Buell presiding, at the Dune Acres clubhouse for the Regional Director of the National Park Service and his assistant, where Lois led a wildflower walk afterwards that highlighted rare plants. The same year, Lois found out that Cowles Bog was being sold cheaply to pay back taxes. The floristically rare and historically significant wetland was where Professor Henry C. Cowles performed some of his seminal research. Lois convinced Dorothy Buell and the council to purchase the property, providing an important core for a future national park as well as inspiration to continue fighting for one.
In 1954 she brought another group of girl scouts on a spring wildflower hike in the Indiana Dunes State Park. The same year, Lois was President of the local League of Women Voters, a group she had been involved in since at least 1951. She was noted describing the organization's goals as "to educate women to become better informed voters, to work toward legislation for the protection of women and children, on topics such as slum clearance, public housing, and international cooperation, and to awaken the electorate to its responsibilities." She remained President the following year, before she stepped down and was voted chairwoman of the conservation committee in 1956.
Lois continued branching out and advocated for preserving the Indiana Dunes. In June of 1956, she spoke on behalf of Save the Dunes at the Edison Garden Club of Hammond where she pointed out the vital need for a recreation area in the region. In April of 1958 she presented a talk,"Conservation and Save the Dunes" for the "Indian Trails Garden Club."
In an oral interview with Norma Schaeffer and Kay Franklin, Lois recollected her growth in Save the Dunes as the group's early naturalist; "It was a type of job I was interested in and I didn't want to become, I'm not the type of person, even though I do it, to go out and talk to people and try and convince them to give money, or to give their efforts. It's hard for me to do that. I've overcome a lot of that shyness through the years."
The Indiana Dunes National Lakeshore was finally established in 1966. Lois continued to stay active in the region. That summer she taught the history of the dunes to 6th grade girl scouts. In spring of 1968, Lois led a hike in the state park for the North Porter County Garden Club. In January of 1971, she headed the Environmental Quality Committee and led discussions to reach consensus on air quality and thermal pollution. Later that year she helped lead a bus tour for the League of Women Voters on the history of Porter County where she focused on the changes of the Kankakee River.
As Mrs. Howe continued committing the surrounding plant communities to memory, she began to realize the rare species that grow around her part of the Dunes. Over the years she made numerous rare plant discoveries and relayed valuable information to the park's scientists.
Barbara Plampin became one of Lois' neighbors, and Lois' reputation on plants soon led to a mentor-mentee relationship. Together, they traversed the dunes and meadows around Dune Acres. Barbara spoke of Lois' wholehearted commitment, "When she got arthritic in her early 60s… she would take what she called 'four wheel drive' up the dune, which meant she just got down on her hands and knees, and crawled up the dunes." Barbara also spoke of Lois' discovery of a remnant prairie that contained unusually rare species that were previously unknown to the Dunes:
"Well she was dedicated, she was the one who discovered Howes Prairie, she discovered in it an extremely rare plant, which she sent a specimen of to Floyd, and that's when Floyd got interested in Howes Prairie... it's a peculiar plant that will bloom in dry years after wet years."
"So some years you see it, and some years you will not see it, and there's always great anxiety about, did you see [it] this year, did you see it?"

In a later publication, the National Park Service described Lois' namesake prairie:
"Howes Prairie is an area of high species and community diversity in the Indiana Dunes. The vegetation in the burn area is a complex mosaic of wet prairie, mesic prairie, oak savanna, and oak forest communities on sand dunes at the southern end of Lake Michigan. The wet prairie is often flooded in the spring and dominated by bluejoint grass (Calamagrostis canadensis), meadowsweet (Spiraea alba), and willow (Salix gracilis) with scattered aspen (Populus tremuloides). The highly diverse mesic prairie contains abundant little bluestem (Andropogon scoparius), big bluestem (A. gerardii) , Indian grass (Sorghastrum nutans), marsh blazing star (Liatris spicata), rattlesnake master (Eryngium yuccifolium), and tall coreopsis (Coreopsis tripteris). The oak woods range from savanna-like dry oak woods dominated by black oak (Quercus velutina) and sassafras (Sassafras albidum), to mesic woods with abundant white oak (Quercus alba), red maple (Acer rubrum,) and black cherry (Prunus serotina) (Cole and Pavlovic unpubl. data). The understory vegetation in the oak woods and mesic woods is predominantly Pennsylvania sedge (Carex pennsylvanica) and late low blueberry (Vaccinium vacillans)."

In January of 1975, the Vidette-Messenger of Porter County reported that Lois, along with local author Norma Schaeffer and local artist Hazel Hannell, participated in the 4th Annual Christmas Bird Count in 1974, a birding tradition that continues today. From 1970-1975, the number of invasive cattails in the sedge meadow of the Cowles Bog Wetland Complex had more than tripled. Lois Howes was the first to alert the National Park Service of this growing issue.
In 1980, Gerould Wilhelm published a report on the special vegetation of the Indiana Dunes. At this time, he described the condition of the Great Marsh's sedge meadow as 
"little more than a pathetic desert of Cattail populated in some areas by uniform, solid stands of Cattail alone!" Wilhelm attributed this to fluctuating water levels and fire suppression. "The Great Marsh… still contains, here and there, small, remote populations of a number of species, most of which could proliferate and coalesce into relatively rich associations if water levels were stabilized and fires again became regular fall occurrences."

Today, the National Park Service has made great progress in battling the invasive cattails and restoring the prior plant biodiversity to the site. Although Gerould Wilhelm's report was published after her death, he mentioned Lois' assistance in finding rare species on numerous occasions. In his report, Gerould shared that Lois was one of the first to recognize that the area was distinctive and unique, and that she brought it to the attention of Floyd Swink. Gerould mentions the prairie having a handful of names, but that he felt "Lois Howes Prairie" was most appropriate. The name stuck.
One of the highest quality sand prairie habitats in Indiana, Howes Prairie comprises 80 acres of rich mesic prairie and wet prairie. Rose gentian, Sabatia angularis, was one of the plants she found there. It is more commonly found today in panne wetlands like those along the Dunes Succession Trail at West Beach. Just like those wetlands, the wind scoured the sand down to the water table at today's Howes Prairie when the area was nearer the shore. A ten inch deep core sample of peat in the wet prairie that Kenneth Cole took provided some paleoecological insight into the site. The wind-swept area became a white and jack pine-dominated forest before oaks became more adapted to the site. Periodic fires kept the oaks at bay.
In an ethnobotany study of the Indiana Dunes, elders of the Prairie Band Potawatomi Nation shared that Howes Prairie's high places and diversity of certain plants meant it would have been shared and used for medicine collecting. This role was often traditionally performed by multigeneration groups of girls and women. Noel Pavlovic observed in core samples an increase in fire frequencies in the post-European-settlement era, he hypothesized an increase in steam locomotives may have contributed to starting fires in newly drained wetlands areas. Lois believed that a chronic lack of fire was leading to the disappearance of many species around her beloved prairie.
In addition to the previously mentioned groups, Lois was involved in the Audubon Society, Dueland Historical Society, Friends of Westchester Library and was a volunteer for the National Park Service. She died on April 8, 1985 in Dune Acres. Her children, who grew up in the prairie, scattered some of Lois' ashes there.
In 1986, Lois was acknowledged again for sharing her expertise in the publication "Endangered Plant Monitoring Strategies at Indiana Dunes National Lakeshore" published by the Morton Arboretum, University of Illinois and the park service. When a 1990 edition of special vegetation report  was released, Wilhelm reaffirmed her critical help: 
"Lois Howes, a long-time resident of Dune Acres prior to her death, was an exceptionally knowledgeable student of the flora. She gave up a day of her time to take Floyd Swink, Ken Dritz, and me to wonderfil out-of-the way places in the Dune Acres Unit; she showed us many rare plants, and provided numerous historical and floristic insights. To the extent that the contemporary flora of the Dune Acres Unit is adequately portrayed in Survey Unit V, Lois is largely responsible. She left many notes on the plants of Dune Acres; both Barbara Plampin and Emma Pitcher have provided me with these notes and keys to their importance."

Following Lois' death, a memorial lecture series began in her honor that often included a hike to her namesake prairie. The lecture series continued until at least 1993. On April 18, 1986, the first prescribed burn within Indiana Dunes National Lakeshore was conducted at Howe's Prairie. Since then and throughout the 1990's the prairie received seven more "research burns." Since the early 2000s, there have been 5 prescribed burns and one wildfire; the prairie's last prescribed burn was in 2019. The fire regime's return has led to a fire return of about 34%, providing the necessary conditions to help Howes Prairie flourish. The National Park Service occasionally offers hikes to the rare prairie, check with the Indiana Dunes Visitor Center to learn of upcoming visits.
---
The content for this article was written by Joseph Gruzalski, a researcher with Indiana Dunes National Park. Funds were made possible by a National Park Foundation grant. 
Last updated: December 29, 2022