Person
Dr. Clyde Wahrhaftig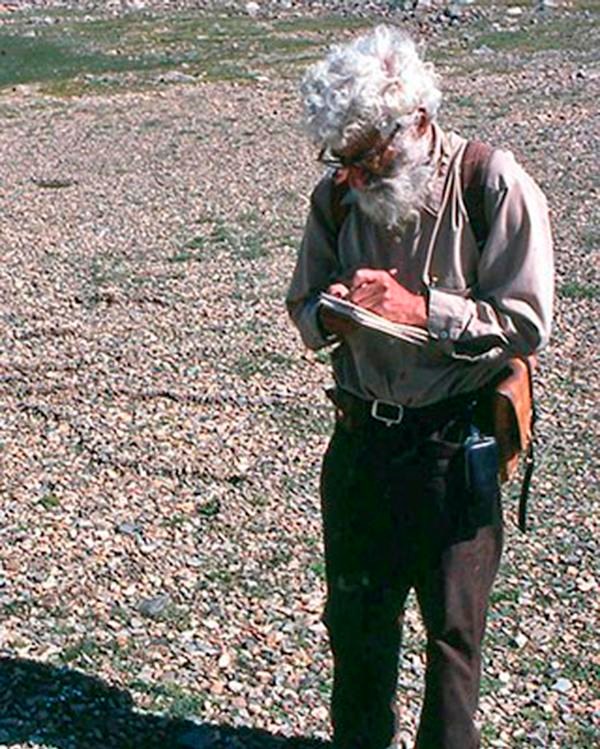 Significance:
Geologist, LGBTQ activist, environmentalist, and scientist who studied the Golden Gate National Recreation Area and Yosemite National Park.
Place of Birth:
Fresno, California
Date of Birth:
December 1st, 1919
Place of Death:
San Francisco, California
Date of Death:
April 6th, 1994
Dr. Clyde Wahrhaftig was an American geologist, professor, environmentalist, and LGBTQ+ leader. He worked with many national parks to improve their understanding around the geological features enjoyed by millions of people every year. Dr. Wahrhaftig studied the fascinating geology of Golden Gate National Recreation Area. He also worked in Yosemite National Park, where he studied glacial geology for many years. Though closeted through his career, Dr. Wahrhaftig came out publicly in 1989. Dr. Wahrhaftig pushed for LGBTQ+ representation and inclusion in science. He also worked to create opportunities for people of color in the field of geology. He helped change the way we understand geology and the science community as a whole. 
Clyde Wahrhaftig was born in Fresno, California on December 1, 1919. He became familiar with Berkeley when his mother took classes at the University of California. He ended up teaching field work in the very hills where he played as a child. He taught at the University of California, Berkeley for 22 years, from 1960 to 1982, after getting his Ph.D. in geology at Harvard in 1953. He said of his teaching, "If I am a good teacher, it is only in a field situation. As all my students will attest, I am a lousy lecturer, and had to hand out lecture notes to be sure the students understood me." (1) One of his students, famous Bay Area Geologist Doris Sloan, said of his teaching:
"... he was one of the best field geologists, I think, in the country, not only in terms of how he looked at the landscapes and the rocks but in how he encouraged his students to ask the right questions, explore the evidence in front of them, and do the science." (2)
While teaching was an important part of his life, his career focus was with the U.S. Geological Survey (USGS). He worked with USGS from 1941 until his death in 1994. 
Wahrhaftig conducted fieldwork in Alaska, Yosemite, and the California Coast. He spent much of his career working alongside his partner Dr. Allan Cox. His USGS work took him to Alaska, where he first met Allan while doing field research. Their research on rock glaciers and the resulting publication titled Rock Glaciers in the Alaskan Range (3) increased exploration into the subject. Their research in Alaska also led to improved understanding of the state's coal reserves and prevented landslides from impacting the Alaskan Railroad.(4) In Yosemite, Clyde Wahrhaftig spent almost 50 years mapping and interpreting the area's past ice ages. He worked to map the extent of Yosemite's most recent glaciation. Clyde Wahrhaftig knew he would never finish this map, so he left money in his will for others to continue the work. Yosemite's first park geologist continued his research in 2006 and finished the project in 2019.

Image Description: Dr. Wahrhaftig hand colored a USGS topographic quadrangle map to show the geography of the Mono Craters and glacial deposits just outside Yosemite National Park, Calif. Image Credit: USGS
In Golden Gate National Recreation Area (GOGA), Clyde studied the complex geology of the Marin Headlands and wrote a summary of the geology of the park for the National Park Service. He studied theories and the effects that geology has had on the landscape. He compiled a historical assessment of past geological theories of the area. Dr. Wahrhaftig wanted to better understand the ideas of geologists of the past. He wanted to help us to learn from their previous successes and missteps. Clyde Wahrhaftig used his knowledge of geology to create change and influence current environmental challenges. He was an active member of the Marin County Recreation Department. He worked with Marin County and the National Park Service to make Bolinas Lagoon a bird sanctuary and served on study committees for GOGA and the Bay Area Ridge Trail. In 1971 he was named the chairman of the new Environment and Public Policy Committee of the Geological Society of America (GSA).  
Clyde Wahrhaftig used his knowledge to influence California conservation and legislation also. His work in forestry began after conducting research with Allan Cox. To help protect a forest near Dr. Cox's home, they began researching the effects logging redwoods had on local water supplies. The pair took their findings to the state legislator and Dr. Wahrhaftig said: "The ultimate outcomes … were first, a law permitting a few urban counties to enact stronger timber harvest rules than the state's; and second a State Supreme Court decision that the then-existing State Forest Practice Act was unconstitutional, because it in effect asked the foxes to look after the chicken coop. A new state law had to be enacted." (5) This realization inspired them to expand the scope of their research. "We spent that Christmas vacation in Humboldt County, lurking through cutover company lands alongside the Redwood National and State Parks, comparing erosional phenomena in cutover, and untouched forest, where all other factors were the same, and I presented our testimony at a hearing a month or two later." Clyde Wahrhaftig later wrote an in-depth study on the subject called Statement on Erosion Problems in Redwood Creek. This was an unprecedented angle, as it brought together applicable research and utilized geological perspective. After presenting their testimony, Dr.Wahrhaftig said, "We turned out to have some influence on the resulting legislation…" After this success the Resource Secretary of California at the time, Claire Dedrick, asked Clyde Wahrhaftig to serve on the California Board of Forestry in 1975. He continued to push for sustainable forestry practices. His work on the forestry board utilized an approach to forest management that had impacts far beyond the California border. 
Much of his work was shaped by Allan Cox, Dr. Wahrhaftig said years later, "Nearly everything I did professionally after we met was strongly influenced by him… Most of the assignments I accepted - teaching at Berkeley ... The Forestry Board, for example - I did chiefly to keep his good regard." The inspiration for one of his most influential projects came from a conversation the pair had at breakfast. Dr. Cox was planning a "fun run" for the American Geophysical Union. Dr. Wahrhaftig says of the day:
"I told him that that wasn't a very intellectual way for geophysicists to get exercise... I offered instead, for their exercise, to write a walking guide to the outcrops in San Francisco that exemplified Plate Tectonics, that we could call "A Streetcar to Subduction" and he immediately exclaimed "Sold". So the next six months I spent all my spare time walking around San Francisco, photographing, sketching, and writing about pillow basalt, chert, greywacke, and serpentine." (6)
A Streetcar to Subduction became his most popular book. It made geological perspectives accessible to the reader, no matter their previous knowledge or experience. The book is still sold in park service bookstores and has been updated as a digital guide. A guide for seeing the geology of the Bay Area, the routes are designed with public transportation directions only.
A fierce environmentalist, Dr. Wahrhaftig, followed the early evidence of the warming effects of carbon emissions discovered in the 1960s. When he went to Alaska, he would travel by boat. In Yosemite, he travelled by pack train or walked. In the Bay, he relied only on public transportation: bus, ferry, or train. He did this because he understood the environmental consequences of cars and airplanes, and how their energy and gas emissions would contribute to significant atmospheric change in the future.
Image Description: A young Clyde Wahrhaftig (center front) and friends sit on rocks outdoors. Image Credit: SLAC, courtesy AIP Emilio Segrè Visual Archives
Clyde Wahrhaftig was also passionate about making geological thinking accessible to everyone and the inclusion of underrepresented  communities in geoscience. He worked with education programs in Hunter's Point, to lead Black and Chicano students on geological field trips around the Bay Area and Sierra Nevada Mountains. He of course always used public transportation for the trips. In 1971, Wahrhaftig became the first chair of the Minority Participation in the Earth Sciences committee with the GSA. Other committee members included Randolph Bromery, the first African American President of the GSA, and Mack Gipson, the first African American man to obtain a Ph.D. in Geology. Dr. Wahrhaftig said of his experience, "I think I accomplished the most on the Minority Participation committee… We got the Minority Scholarship program going in AGI (American Geosciences Institute), and we were the inspiration for the USGS Minority Summer Internship program, with which I was connected for several years." (7) In 1972 this committee organized the First National Conference on Minority Participation in Earth Science and Mineral Engineering. The conference organized federal agencies, civil rights leaders, people from academia and from industry to talk about the lack of diversity in geoscience. 
The Geological Society of America awarded Dr. Wahrhaftig with the Distinguished Career Award in 1989. Much of Clyde Wahrhaftig's speech was centered around his partner, who had passed away just two years earlier. The pair had never been public about the nature of their relationship. Wahrhaftig ended his speech by saying, 
"Receiving this award for longevity has made me realize that my time to do good is running out. So I have decided to use the opportunity you have given me, by gracing my career with the adjective "distinguished", to do a little good with the accolade. The Committee on Minority Participation in the Earth Sciences recognizes that one of our goals was to create role models, successful Black or Chicano geoscientists who would attract others to follow their paths. I am now going to provide a role model for a minority that has been demanding a modicum of the civil rights the rest of the country possess - a minority that has managed to survive largely because it is invisible. It is a minority to which Allan Cox and I belong. We are both homosexuals, and the force that caused us to do so much for each other, and because of each other, was homosexual love… Allan was the only one of all my field assistants or students who ever had any indication from me that I am homosexual. Now when I say a role model, I don't mean that I am trying to convince young geologists to become homosexual. That is impossible, for one is either born with one's sexual orientation or acquires it in infancy. It is nothing one has any choice over whatsoever. And I would not wish on anyone the life of repression, self-doubt, and dissimulation that Allan and I had to go through… The group whose attitudes I wish to affect are those of you who are not homosexual, but who may find yourselves with students, subordinantes or colleagues who are. I ask you to recognize that homosexuals can make as much of a contribution to science and humanity as anyone else. In the last 20 years the homosexual (or gay) community has moved out of the shadows, and there are gay student organizations on almost every campus. So it is likely that some gay students who enter geoscience will not be closeted as Allan and I were. You will have to deal with them as they are. The other group whose attitudes I wish to affect are gay students who would like to become geoscientists, but are afraid to because they think being gay and being a geologist are incompatible. I want my life, and Allan's and my relationship, to tell them that this is not so. If they are lucky, as we were, their love and their careers will sustain each other. And I hope that by making this revelation here, I contribute in some small way to the creation of a society with a sufficiently intelligent, open and compassionate attitude toward sexuality." (8)
After an incredible career Dr. Wahrhaftig passed away of heart failure on April 6, 1994 at the age of 74. He left an indelible impact on the field of geology, the National Park Service, and LGBTQ+ scientists everywhere. His approach to scientific study as well as the way he lived his life bore a legacy to be admired. LGBTQ+ scientists like Dr. Clyde Wahrhaftig have made incredible contributions to their fields and to our society at large.
Citations:
1. The Distinguished Career Award Speech by Clyde Wahrhaftig, 1989. https://higherlogicdownload.s3.amazonaws.com/GEOSOCIETY/6a6e8f75-ed6a-411c-adbf-ca5cd0594175/UploadedImages/Newsletters/archive/v30n1-March1990.pdf 2. Howley, K. D. R. (2019), The layered legacy of Clyde Wahrhaftig, Eos, 100, https://doi.org/10.1029/2019EO136549. Published on 06 December 2019. 3.Clyde Wahrhaftig and Allan Cox (1959) Rock glaciers in the Alaska Range. Bulletin of the Geological Society of America 70(4): 383-436  4. The Distinguished Career Award Speech by Clyde Wahrhaftig, 1989. 5. Distinguished Career Award Speech. 6. Distinguished Career Award Speech. 7. Distinguished Career Award Speech. 8. Distinguished Career Award Speech.
Additional Sources:
Wahrhaftig, Clyde. (Jan. 15 1976) Statement on Erosion Problems in Redwood Creek. Humboldt State University Library. 
Christensen, Mark. Curtis, Garniss. Sloan, Doris. Clyde Wahrhaftig (1919-1994) Earth and Planetary Science, University of California, Berkeley.
Keisling, B.A. "Life as a gay man in geology:" The legacy of Dr. Clyde Wahrhaftig and the history of efforts towards inclusion of underrepresented groups in the Geosciences. American Geophysical Union, Fall Meeting 2019.
Last updated: February 9, 2021