Person
Theophilus Eugene "Bull" Connor (1897-1973)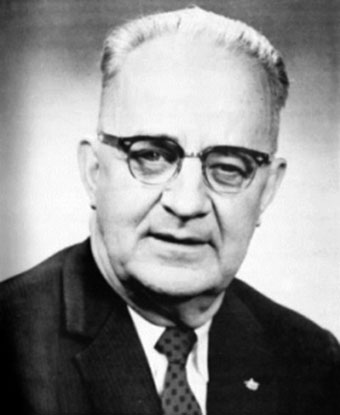 Significance:
Staunch segregationist. Known for his use of police dogs and fire hoses to quell the Civil Rights demonstrations in 1962-1963.
Place of Birth:
Selma, Alabama
Date of Birth:
July 11, 1897
Date of Death:
March 10, 1973
Place of Burial:
Birmingham, Alabama
Cemetery Name:
Elmwood Cemetery
Theophilus Eugene "Bull" Connor (1897-1973) was a successful Alabama politician who held a variety of public offices for over four decades, among them Birmingham, Alabama's Commissioner of Public Safety. Connor, a staunch white supremacist, was at the center of white efforts to impede the work of the civil rights movement in Birmingham.
Connor began his political career in 1934, winning a seat in the Alabama House of Representatives. In 1936, he was elected Commissioner of Public Safety for the city of Birmingham serving until 1952 and again from 1956 to 1963. This position gave him responsibility for administrative oversight of the Fire Department, Police Department, schools, public health service, and libraries.
In 1961, during the Freedom Rides, Connor ordered Birmingham police to stay away from the bus station while Klansmen attacked the arriving buses and Freedom Riders. In April of 1963, Martin Luther King, Jr. and the Southern Christian Leadership Conference (SCLC) decided to focus their civil rights efforts on Birmingham. On May 2nd, as part of these efforts, more than a thousand students ranging in age from eight to eighteen left school and gathered at the 16th Street Baptist Church intending to march downtown. By the end of the day 1,200 children had been arrested. On May 3rd, another thousand students gathered to march in protest. Connor ordered the use of fire hoses and attack dogs to disperse the marchers, eventually incarcerating over 3,000 demonstrators. These brutal tactics helped focus national attention on the civil rights movement.
After leaving office in 1963, Connor was elected to two terms as president of the Alabama Public Service Commission. He died as the result of a stroke on March 10, 1973.
Last updated: September 24, 2018