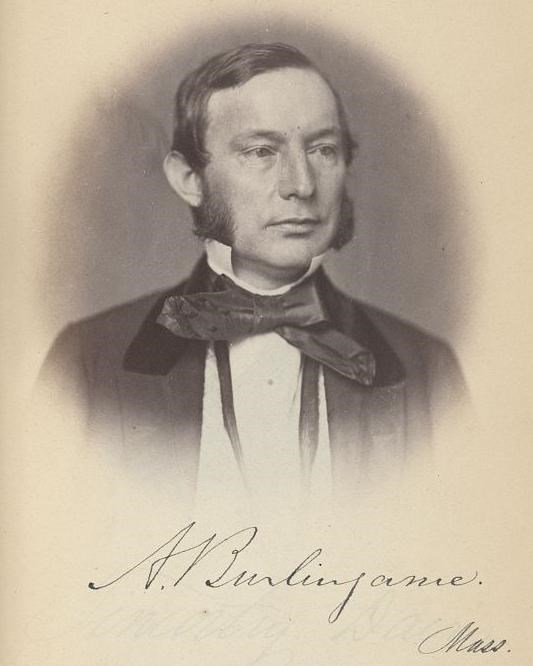 Significance:
Diplomat, politician, lawyer, member of the Boston Vigilance Committee
Place of Birth:
New Berlin, New York
Date of Birth:
November 14, 1820
Place of Death:
St. Petersburg, Russia
Date of Death:
February 23, 1870
Place of Burial:
Cambridge, Massachusetts
Cemetery Name:
Mount Auburn Cemetery
Political leader and diplomat Anson Burlingame dedicated himself to the abolitionist cause and served in the 1850 Boston Vigilance Committee.
Born in New Berlin, New York in 1820, Anson Burlingame spent his early years there and in the Midwest. He later moved to Boston to attend Harvard. Following his studies, Burlingame worked as "counsellor" in offices at the Old State House in the city, while living in Cambridge.1
Burlingame participated in the abolition movement and anti-slavery politics by the late 1840s and throughout the 1850s. The Liberator quoted him as saying, "We must have an anti-slavery Constitution, an anti-slavery Bible, and an anti-slavery God."2 He initially joined the Conscience Whig party, which demanded federal action to end slavery.
Burlingame then moved on to the Free Soil party, which dedicated itself to stopping the spread of slavery. Black activist and fellow Vigilance Committee member William Cooper Nell noted Burlingame's enthusiasm and oratory at local Free Soil meetings. He wrote about how Burlingame praised the "courageous and romantic escape of William and Ellen Craft..." and how he hoped "that when Thomas Sims should again fly for freedom, thousands of others might find it with him."3 In a speech at Faneuil Hall, Burlingame protested the forced rendition of Sims. He argued that the rendition "put our fellow-citizens under practical martial law... our temples of justice in chains" all to send a man back "to the degradation of a slavery which kills out of a living body an immortal soul."4
Elected in 1852, Burlingame served as a Massachusetts state senator for one term as a member of the Know-Nothing Party. A couple of years later, he got elected to the United States House of Representatives, in which served until 1861. He owed his 1856 reelection to Congress, which defied expectations, to the Black voters of Boston.5
Following the brutal beating of Senator Charles Sumner by Congressman Preston Brooks in 1856, Burlingame gave his "Defense of Massachusetts" speech in Congress. In this powerful address, Burlingame attacked slavery, praised his state's personal liberty laws that helped negate the Fugitive Slave Law, and showed his support of his state's efforts to settle Kansas with anti-slavery citizens to keep slavery from spreading there. He also strongly denounced the actions of Preston Brooks for his attack on Sumner and called Brooks' honor into question.6 In response, Brooks publicly challenged Burlingame to a duel. Burlingame quickly accepted and told Brooks to meet him on a specific date on the Canadian side of Niagra Falls. Hearing of Burlingame's renown as a marksman and not wanting to travel through the Northern states, Brooks soon declined. This only enhanced Burlingame's reputation as an anti-slavery hero in the North.7
Burlingame served in Congress until President Abraham Lincoln appointed him minister to China. He held this position for several years, helping to foster a cooperative relationship with China and the Western powers. Because of his efforts, China named him an imperial envoy in 1867. He traveled across the United States and the world on behalf of China. During this trip, he became ill and died in St. Petersburg, Russia.8
Sent back to the United States, his body laid in state at Faneuil Hall before being buried at Mount Auburn Cemetery in Cambridge.9 A portrait of Anson Burlingame still hangs in Fanueil Hall today.
Footnotes
Austin Bearse, Reminiscences of Fugitive Slave Law Days in Boston, (Boston: Warren Richardson, 1880), 3, "Members of the Committee of Vigilance," broadside printed by John Wilson, 1850, Massachusetts Historical Society. Boston City Directory, 1850-1851, page 104. The directory states Burlingame had an office at 18 Old State House. NPS maps geo-locate Burlingame at the Old State House.  
Liberator, March 30, 1855, 1.
"The Colored Citizens of Boston," William Cooper Nell,, December 22, 1852, found in William Cooper Nell: Selected Writings, 1832-1874, Dorothy Porter Wesley and Constance Porter Uzelac, editors (Baltimore: Black Classic Press, 2002), 318.
Burlingame quoted in William Cooper Nell, Colored Patriots of the American Revolution, (Boston: Robert Wallcut, 1855), 19, Internet Archive. 
Stephen Katrowitz, More Than Freedom: Fighting for Black Citizenship in a White Republic, 1829-1889 (New York: Penguin Books, 2012), 229.
Anson Burlingame, "Defense of Massachusetts, Speech of Hon. Anson Burlingame, in the United States House of Representatives, June 21, 1856" (Cambridge: Allen and Farnham, Stereotypers and Printers, 1856), Internet Archive.
Matt Seybold, "The Calculated Incivility of Anson Burlingame, the Only Congressman Mark Twain Could Tolerate," accessed March 29, 2023, https://marktwainstudies.com/the-calculated-incivility-of-anson-burlingame-the-only-congressman-mark-twain-could-tolerate/.
The Editors of Encyclopedia Britannica, "Anson Burlingame," Encyclopedia Britannica, February 19, 2023, accessed 3/28/2023; John Schrecker, "'For the Equality of Men – For the Equality of Nations': Anson Burlingame and China's First Embassy to the United States, 1868," Journal of American-East Asian Relations 17 (2010) 9–34, https://cms6.revize.com/revize/burlingamelibrary/Anson%20Burlingame/Burlingame%20JAEAR.pdf.
"Anson Burlingame," New York Times, April 22, 1970, 1.
Last updated: May 3, 2023