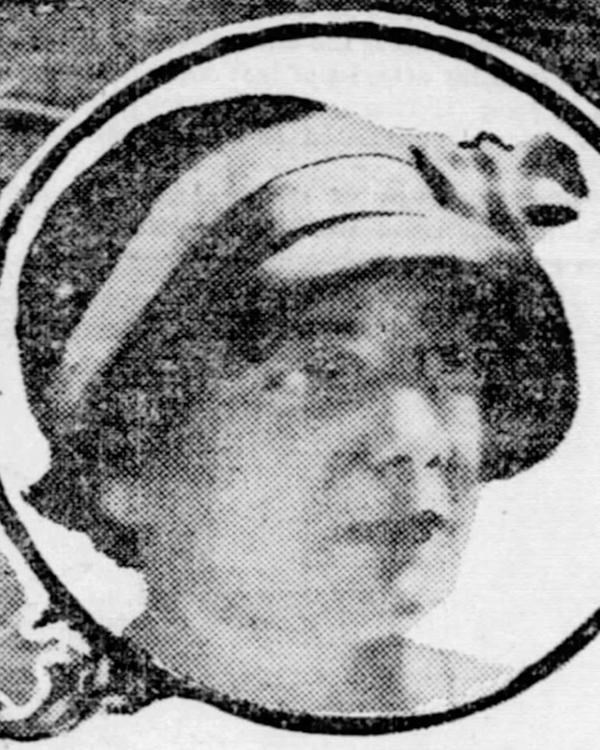 Significance:
Conservationist and solitudinarian in Chicago and Northwest Indiana
Place of Birth:
Chicago, IL
Date of Birth:
March 25, 1881
Place of Death:
Ogden Dunes, IN
Date of Death:
February 9, 1925
"Diana of the Dunes"
In 1915, Alice Gray's extraordinary life took a twist when she shunned the conventional world to live along Indiana's wild shore. As Diana of the Dunes, she spent nearly a decade among the sands in makeshift lakeshore shacks before her untimely death near today's West Beach; she seeked solitude, advocated for dunes conservation and left an eternal imprint in the sands.
Quote from her:
"I feel sure, someway, that I shall always be a braver and stronger woman than I was before..."
-Alice
Quote about her:
"To study Alice Gray is to learn about digging our toes in the sand and standing firm, despite the inevitable shifting that takes place beneath our feet."
-Janet Zenke Edwards
Alice Mabel Gray Biography
Alice Mabel Gray was the fifth of six children of Sallie and Ambrose Gray. Her parents moved to Chicago from Brown County, Indiana in 1873, just a couple years after the Great Chicago Fire. They brought with them their two little girls, Nannie and Lenora and their son Hugh. The fourth child, Harry, was born a few years after their move. Alice was born in Chicago on March 25th, 1881.
Alice began at South Division High School in 1893, known for its emphasis in classical studies. As a sophomore she was awarded one of the school's two Victor F. Lawson medals for academic excellence. Alice later wrote:
It was a poem of Byron's called `Solitude' that gave me my first longings to get away from the conventional world, and I never gave up the idea, although a long time passed before I could fulfill it.
High school may have been where Alice was introduced to Lord Byron's work.  The poem reads:
To sit on rocks, to muse o'er flood and fell,
To slowly trace the forest's shady scene,
Where things that own not man's dominion dwell,
And mortal foot hath ne'er or rarely been;
To climb the trackless mountain all unseen,
With the wild flock that never needs a fold;
Alone o'er steeps and foaming falls to lean;
This is not solitude, 'tis but to hold
Converse with Nature's charms, and view her stores unrolled.
But midst the crowd, the hurry, the shock of men,
To hear, to see, to feel and to possess,
And roam alone, the world's tired denizen,
With none who bless us, none whom we can bless;
Minions of splendour shrinking from distress!
None that, with kindred consciousness endued,
If we were not, would seem to smile the less
Of all the flattered, followed, sought and sued;
This is to be alone; this, this is solitude!

By 1895, Alice was the oldest sibling still living at the Gray home in Chicago. Her father suffered incapacitating burns from his employment that year. Ambrose was a city lamplighter, and an accident with leaking gasoline ignited his clothing. Alice, who was just 14 years old, had to absorb major responsibilities as her father was bedridden for the rest of his life. This included looking out for her younger brother, Chester. Her mother Sallie managed household affairs, and kept the family together by hard work, raising poultry, and vegetables.
In high school, Alice and two classmates were collectively known as the "College Class." Fittingly, Alice continued her education by enrolling at the University of Chicago in fall of 1897. During her undergraduate years she studied two languages, French and German. She excelled in mathematics, and she also focused on astronomy and theology. She studied these classics at a time when much of academia considered those subjects primarily for men. Alice's mother died of tuberculosis in February of 1902, during her fourth year at the university. Although her grades dropped temporarily, she brought them back up the next semester. Years later she wrote in her diary, "Just think, dear. I have never had a friend, except my mother, who died thirteen years ago." Despite this hardship, Alice graduated in 1903 with the University's mathematics department's highest distinction, an "Honorable Mention for Excellence in Senior College Work."
That fall, Alice left Chicago for Washington D.C. at age 22. She worked at the U.S. Naval Observatory as a "computer," performing tedious calculations at a time when women were just given the opportunity for this type of work. Although other computers left photographic trails of luncheons and get-togethers, traces of Alice have not been found. Her employee file reads "Miss Gray… had cut her hair short. She also worked in pants!" After about three years of this work, she moved across the globe to Germany to study higher mathematics at the University of Gottingen, an international mathematics center of the time. From the winter of 1906 through the summer of 1908, Miss Gray was admitted as a "guest-listener."
She left Europe as a second-class passenger on the ship Kensington, which brought her back to North America by way of Montreal. Within a month of arriving home to the Windy City, she enrolled in graduate studies at the University of Chicago. She took theoretical mathematics courses for a year before pivoting her focus to philosophy for three more years; before discontinuing her formal education altogether. Years later she wrote of some regret:
If I had had faith and gone on energetically with either mathematics, or logic, or ethics, or literature, or politics, or any combination of two or more of the five, or anything else under the sun, doubtless it would have been well with me.

Alice was drawn to leave the city again. She had longings to get away from the conventional world. She wrote, "I wanted to live my own life— a free life. The life of a salary earner in the cities is slavery, a constant fight for the means of living. Here it is so different." Seeking solitude, the thirty-four year old boarded the South Shore train with little more than a blanket, and two pistols on Halloween of 1915. She rode the rails to the Indiana Dunes. Alice would say a year later: 
I was working in Chicago, making little in the way of money, doing little of importance in the world, it seemed. I had measured myself with the world—and the results were not encouraging. I came here to measure myself with nature.

The first four nights in the dunes Alice spent under the stars that she marveled. Requiring more shelter than a blanket, she quickly found a new home. She was permitted to use William and Flora Richardson's nearby "Sassafras Lodge" in today's Dune Acres, so long as the couple was not using it. Their "lodge" was a tee-pee nestled into the back of a high dune, providing relief from the harsh winds and winter storms near the shore. After just over a week in the Dunes, she wrote of their beauty in her diary:
Now, on this cloudy afternoon, as I sit and look over the milky green on the lake between the trees defined at the horizon with something darker that I should not know whether to call greenish or bluish or reddish. I feel sometimes as if I could faint with the rapture of it.

At the end of November she wrote of her conflicting emotions towards leaving the city:
Generally, especially when I write, or walk, or sing, or read, or recite my favorite poems—-I am very, very happy and contented with my lot and my course. Then once in a while I wonder if I am childish, futile, foolish, a 'skulker' as some one called Thoreau—-a nonentity, a shirker and a deserter and a coward and egoist. Yesterday was one of the days of such doubt of myself.
The highest bravery in the world is loyalty to one's trust. It may simply withstanding the world, refusing to stoop to court, to compromise, letting the world and its glory pass by without a regret or a thought, willing to be thought nothing, but in reality, in one's self possessing one's own desire.

In December she wrote of some of the joys of her experience:
How glorious this outdoor life is—how good life feels and tastes and smells down close to the elemental things; this blazing fire, with the white brilliance in the west, just one star high up in the southeast, the dull white snow patches in the hollow and on the southern slopes, and the snow-flecks brown of the western slope, and the light gone for writing and the time come for supper.

She continued a few days later, reflecting on the wisdom in her decision:
If I had not been so desperate I should not have thought of coming up here; and how wonderful, how unspeakably healing and sanctifying it has been living in all this beauty and this keenly vital air and in the blessed solitude.
And now forever a sadder and wiser woman—let me forget that acridly chemical atmosphere—even corrosive atmosphere that I knew—now that I am living in the world that belongs to me and to which I belong.

Wilderness enshrouded her and necessitated a walking trip for any outside needs. Alice crossed miles of sand to local communities for supplies. Alice had a habit of visiting many families in nearby Baillytown, whom she would visit for fresh eggs, milk, and baked goods. She spent time speaking with Agnes Larson over coffee or Swedish limpa (rye) bread in her 1910 Sears Catalog House near today's Dunes Learning Center. Agnes' daughter Margaret recalled:
One day when I returned home from school my mother happily said, 'I had company today! You know people have been talking about a woman who seems to be in the dunes just like George Blagg.' 
Well, this woman came to the door and had been told that mother had known all about the Bailly family…
My mother invited her to come in, although she said she was perturbed since her visitor was dressed in men's clothing and had a 'deep voice.' As it turned out they visited several hours when Alice got ready to leave mother loaned her our copy of Frances Howe's French Homestead in the Old Northwest. Alice noticed the rows of books in the bookcase and said, 'I'll be back, please.'

After living among the sand hills for a few months, she wrote on February 14, 1916:
Friday I walked to Oak Hill and while waiting for Mrs. Larson to come home with my groceries I had the first good look I have had at myself in some time. To tell the truth, I was rather shocked. My eyes seemed to have a rather wild, strained look as if the life I was leading were very wearing on me. I said to myself that I would be afraid if I met myself alone at the crossroad in the moonlight. However, I was not so bad with my hat and coat on.
 …I feel sure, someway, that I shall always be a braver and stronger woman than I was before…

Alice's agreement with the Richardson's was apparently broken by Alice's lack of cleanliness; Flora said, "We finally had to ask her to leave because the camp was so filthy and she herself so unkempt." In the spring, Alice found an abandoned shack on the beach, and quickly made it her own. She named it Driftwood, and wrote in her diary, "Everything I have here, this chair, this cap I wear, these tins, are driftwood, drifting in from the lake—I too, am driftwood." Alice began to bathe nude in Lake Michigan that spring, which drew the attention of local fishermen. When gossip spread to newspapers, reporters were dispatched to investigate the curious woman living on her own. Early papers often romanticized her— focusing more on selling papers than the truth. The Lake County Times reported in 1916:
Cleaving the water like a milk white dolphin came a mermaid. She made the shallows, rose up out of the water, then like a fabled nymph, flitted off into the shadows.

Alice wrote of her dips in Lake Michigan: 
Just don't imagine that I spend my days and nights up here going in bathing (I did go in yesterday, but I'd like to see myself going in just now with the frost still in the air), climbing hills to gaze at views and wiggling my toes before the fire. Far from it.. 

Published in July of 1916, a number of articles give a deep glimpse into Alice's first summer in the Dunes. First she was interviewed by a reporter at her shack "Driftwood."  Alice said had been living in Flora's "Sassafras Lodge" for nearly four months in "the pines," and then a fisherman told her of a shack on the beach. She had a bed of pine boughs covered with an oil cloth and her blankets. Of her past, Alice called herself "a Chicago product." She was a secretary and stenographer and the "literary nurse" for some of her instructors. Her last job was an editor at Rand, McNally Co., a rather large publishing company. She was said to speak both French and German. The article quoted Alice:  
Out on the lake, where all observers are at least three-quarters of a mile distant, I can't see why a woman, if she chooses, may not take a daily plunge without a bathing suit. I glance up and down the shore and know how far away the intruders are and also know that their vision of me is blurred. I shall not discontinue my habits because a coroner or a sheriff has seen me bathing from miles afar.

Two days after the first article was released, a second was written of her visiting the city she left behind. She is referred to as the "nymph of the dunes," clad in a tan suit, white oxfords and a floppy hat with pink ribbons. The article stated, "The city's clothes and ways were heavy and wearisome and she longed for the solitude of the sands almost the moment after her arrival." In the paper, Alice wrote of the city's development on the lakefront, "...your millions for this, and not a quarter million to save the dunes… Is this forward looking Chicago?" She wrote of exploring today's Navy Pier and seeing her first motion picture, although everything seemed to remind her of the lake and dunes. She wrote:
…I love the great silent darkness up there; the silence that lives in the noise of the winds and water, the darkness that finds itself in the fleeting, eternal waves of those reaches of waste sand; the only reality of life for me is there… I must go back to them at once.

In November 1916, her image from nymph shifted to "Diana." A newspaper commented on her duck-shooting prowess, likened her to Diana, the Roman goddess associated with wild animals and the hunt, and her moniker "Diana of the Dunes" was born. Now she reportedly wore heavy lumberman socks, a man's cap and an overhanging gray wool skirt extending nearly to her knees.
Alice found companionship with the dunes around her. She saw the region swiftly changing as development began to grab hold. She used her notoriety as a wonder from local newspapers to amplify her voice for protecting the region. Alice gave a speech at the Art Institute of Chicago in 1917 on behalf of the Prairie Club, a group of early conservationists who organized the first effort to save Indiana's dunes. Some members of the Prairie Club at this time included Professor Henry C. Cowles, landscape architect Jens Jensen, and first Director of the National Park Service, Stephen Mather. The meeting was to arouse interest in the Save the Dunes movement and to arrange preliminary details for the Dunes Pageant. Alice's voice had been described as beautiful and lilting. She spoke to the crowd:
Besides its nearness to Chicago and its beauty, its spiritual power, there is between the Dune Country and the city a more than sentimental bond—a family tie. To see the Dunes destroyed would be for Chicago the sacrilegious sin which is not forgiven.

The papers indulged in her appearance. Although she was 35 at the time, one paper wrote:
The girl, who is in her early twenties, shows in her face of beaming good health and happiness the reasons why she loves the dunes and will do anything to save them. She has a voice like a bird for its lilting quality, and walks with the spring of a native woodsman. Side by side in her cabin are the roughest implements for life in the open, and volumes that indicate her taste for abstruse reading and study.

While some articles romanticized Alice, press shifted negatively when her companion Paul Wilson began living with her. Sometime towards the end of 1918, Alice took in Paul, a Michigan City man who dropped his family's last name "Eisenblatter" for unknown reasons. One paper wrote, "If romance has finally come into the life of 'Diana of the Dunes,'... it took a 'cave man' to bring it to her." Paul was noted as a "powerful man," standing 6'2" and weighing 225 lbs. Paul had just begun to live with Alice when butter, eggs, guns, and blankets began to disappear from distant neighboring cottages. Tracks in the sand leading to Alice's cabin led to Paul's capture by a Chesterton marshal. The Chicago Eagle reported:
Diana came [to the jail] and gazed through the bars at the being to whom she had given shelter. He hung his head and turned away. Diana came sorrowfully forth and wept. 
'The man asked for shelter and I had no idea he was paying for it by robbing my neighbors,' she said. 'I took him in because he was cold and wet and hungry.'

The two were separated as Paul was sentenced to 6 months work on a penal farm.
Early 1919 was an especially harsh winter; for six weeks Alice took refuge in the home of Charles and Hulda Johnson, Swedish immigrants living in Baillytown off of today's Route 12. She used their address for her mail, and that winter she received letters from Paul on the penal farm. The Johnson's daughter, Irene, 10 years old that winter, recalled her time with Alice when she was 94. She remembered Alice making "the best hot cocoa," and that they referred to her as Ms. Gray, and Paul as "jailbird." Alice returned often, she bought bread, eggs, and blueberries from the Johnsons.
After Paul was released from his work at the penal farm, he claimed they made a quick trip to Knoxville, Tennessee where they wed. Although no records have been found of a wedding, Paul devoted himself to Alice, and her company was said to subdue his temper. Around the summer of 1919, Alice and Paul moved westward down the beach to today's West Beach in Indiana Dunes National Park. A shack built of odd planks and mismatched boards became their home, and Alice named it "Wren's Nest." Samuel Reck, a founder of Ogden Dunes, later described Wren's Nest:
…just back of the first dune in a sheltered place near Polliwog Pond.  The shack was built of drift lumber and roofed with tar paper.  It consisted of one large room with a fire place in it and a smaller room, or rather closet, off the southwest corner of the shack.  The fire place was quite large, capable of taking a six foot log and equipped with a crane from which cooking pots could be suspended.  The chimney consisted of a heavy steel stack off of a tugboat.

Inside Wren's Nest, simple furniture inevitably sank into the sand floor. Books and papers were commonplace. She wrote manuscripts and diary entries. Outside, fragrant sand cherries surrounded their rowboat and fishing gear. A newspaper described Paul doing the "man-sized duties" for Alice, including fishing, gathering wood, foraging, and repair jobs. Paul relied on Alice to visit nearby towns for food and supplies.
Reck described Alice and Paul: 
Diana was very pleasant to meet, quiet, cultivated voice, animated countenance when speaking, and able to converse well on a great many subjects.  She had great command over her big husband, who adored her in his uncouth way.  He was apt to fall into violent rages, though perhaps, this was an attitude assumed to keep away the curious.
Their principal occupation was fishing.  Paul had several boats, and gill net equipment.  Diana would hike to Miller with a gunny sack full of perch, sell them and with the proceeds buy such things as they needed.  She often went to the Public Library in Miller, where she was well known as a discriminating reader of good books and scientific works.  She would take an arm full of books with her and she had full library privileges.

But antagonizing and fabricated stories accelerated after the pair moved to Wren's Nest. Paul's burglarious past fueled skepticism in his honest living with Alice. Eugene Frank, deputy sheriff and hired watchman for nearby cottages, kept "an eagle eye" on Paul and on speaking terms they were "anything but friendly." In 1922, a gruesome murder was discovered nearby; Paul and his unconventional partner Alice became easy scapegoats. Without evidence, newspapers unleashed unyielding allegations that haunted Alice. She responded in a newspaper herself:
I have long been considered the romantic property of the press, and I have been given a lot of undesirable notoriety. I have refused to profit by it, but I see no reason for mentioning my name, or that of my husband, in this investigation.

During these intensified tensions, Paul and Alice were confronted by a pair of fisherman brothers who dwelt near them on the beach. They told Paul that Deputy Frank said that he had seen Paul and Alice rob their fishing nets, and then warned him to stay away from their cottage.
Upon hearing this, Paul and Alice decided to go to Eugene to, "ask him what he meant by saying such things." As Paul later recalled, the deputy was noticeably drunk and shouted vile names at them. He pushed Paul off his porch, grabbed his gun from inside the fish house, and shot Paul in the foot before ramming the butt of his gun into Alice's head.
The dent in her head, Paul recollected, was half the size of his hand. Deputy Frank rounded up two of his sons with a horse and a rifle, and together they marched Alice and Paul two miles down the beach. Paul said, "When I tried to go to my wife's assistance, Frank threatened to shoot her." They were met by police patrol at Drusilla Carr's dancing pavilion. Alice had a three inch skull fracture and she was taken to Mercy Hospital in Gary. Frank and Paul were taken to Miller's police station. Paul was taken into custody and Frank was booked and charged with assault and battery with intent.
A 1922 article relaying this story also stated that Alice and Paul had recently been linked with the mysterious charred remains found miles down the beach, but they had a diary that freed them of any connection. Alice recalled how she "hovered between life and death for a period of 5 days." Alice would remain hospitalized for weeks. While Paul was in custody and Alice was in the hospital, Wren's Nest was ransacked. Looters stole clothing, furniture, books, and most egregiously to Alice, her manuscripts. That summer's physical and emotional trauma took an immense toll on Alice. Eugene Frank died in an accident before Alice could make her case to the grand jury. On July 19, 1924 it was reported that Eugene was thrown off his horse at his beach home, with the horse then falling over onto him and the saddle catching the pit of his stomach.
Considering the development of the area with the construction of Dunes Highway and Ogden Dunes, and amid tensions, it's understandable that Alice and Paul decided to move away. On November 21, 1923, a headline read, "Picturesque Characters Have Left Duneland - Diana of the Dunes and Her Cave Man Pack Belongings in Boat and Start for Mississippi River". The article echoed recent animosities, "Few of the beach residents liked Paul, and of late years had little or no love for Diana." Samuel Reck later described the scenario:
When Alice and Paul approached us about their status in the late spring of 1923, I assured them that they would not be evicted. I even had Paul build porch furniture out of dogwood and hired him to take visitors out in his boat. But in the autumn of 1923, as the first roads were being cut through the dunes and a few cottages and homes were being constructed, Alice and Paul began to make plans to abandon their cabin and to sail to Texas in a reconditioned twenty-four foot boat. I provided them with assistance and encouragement. Much to my dismay the couple returned the following spring. Unfortunately I had not torn down the cabin. For the next eleven months, they remained our neighbors.

Considering Paul's connections to local robberies, Samuel Reck wrote, "I was convinced that most of the depredations were committed by others."
That summer, Alice stayed close to her shack. She was busy with writing and bringing a libel suit against some newspapers. On June 9, 1924, Alice and Paul filed a suit against two newspapers in Hammond's U.S. District Court. They claimed the articles contained false and malicious defamatory statements that incorrectly and unjustly reflected on their character. Like in the outcome of the incident with Deputy Frank, justice eluded Alice again.  
Janet Zeneke Edwards sets the scene in her book, Diana of the Dunes, the True Story of Alice Mabel Gray:
Throughout the day on Sunday, February 8, 1925, the weather was unsettled outside Wren's Nest. Shifting winds prevailed, and the already cold temperature was expected to drop. Rain or light snow was forecast for the hours after dark. Icy foam marked the shoreline of Lake Michigan, while ice floes dotted the wild waves. In the midst of yet another difficult winter, Alice Gray lay seriously ill on her pallet, as she had for nearly a week, refusing medical treatment.

As Alice's condition worsened, Paul ran to Samuel Reck's home to get help. Mr. Reck recalled:
After we had gone to bed, there was a tapping on the bedroom window and I got up to let in Paul Wilson, he told me, 'Diana is awful sick, Mr. Reck, I wish you would get a doctor.'
I dressed and drove to Gary for Dr. De Long. [The DeLongs also had a cottage in Ogden Dunes.]  As the sand was frozen, I drove down the beach to be near their shack. The doctor soon diagnosed the case. Uremic poisoning. Diana was then in a coma. 
 …I took the doctor back to town and came back with some medicine. About 5 a.m. she quietly passed away in the arms of Paul.

On February 9, 1925 it was reported that Diana of the Dunes was dead. Following Alice's death, Paul was inconsolable. Paul was described as having "sobbingly protested he had no money to bury her or to carry out her last request that her body be cremated and the ashes scattered to the winds of the dunes they both loved so well." Alice had allegedly told him that she wished to be cremated on Mount Tom with her ashes scattered by the North Wind, and he began to make plans to carry out her wishes. Samuel Reck is said to have convinced Alice's family to bury her, threatening to contact the newspapers after they had washed their hands of the ordeal. Alice's family decided on a funeral and refused to allow cremation.
When Paul reached her casket he became grief-stricken, drawing and waving his gun in the air. Set on carrying out her request, before being taken away by authorities, he yelled, "Anyone who takes her body will be sorry!" Paul was not released until after Alice's burial in Gary's Oak Hill Cemetery. He spent the next decade in and out of courts, penal farms and prisons. At some point he moved to California where he would die in October of 1941. A paper reported, "An unidentified white man, believed to have been approximately 55 yeard old, was found dead on the floor of a lonely desert cabin about a mile north of Freeman Junction."
Over 100 years ago, a highly educated woman decided to live freely at the Indiana Dunes. Longing to find peace and simplicity among the sands, she left the bustling city for the rhythmic shore. Her story made ripples in the region, and to commend her conservationism and wild spirit, Indiana Dunes National Park has dedicated a dune at West Beach in her honor. Complete the Diana of the Dunes Dare by following her story on the Dunes Succession Trail.
Bibliography
Edwards, Janet Zenke. Diana of the Dunes: The True Story of Alice Gray. Arcadia Publishing, July 1, 2010.
Urbanik, Vicki. "Alice Gray, woman of the dunes." Chesterton Tribune, Digital, https://www.chestertontribune.com/previous-articles/Local%20History/alice_gray.htm.
Spiers, Al. "Hoosier at Large." The Culver Citizen, Culver, IN. 19 July 1961, p.1
"Diana of the Dunes." The Times, Munster, IN. 25 October 1987, p. 1-2
"Nymph of the Sand Dunes." Chicago Tribune, Chicago, IL. 24 July 1916, p. 3
Gray, Alice. "Back to the Dunes, Says Alice Gray After City Tour." Chicago Tribune, Chicago, IL. 26 July 1916, p. 1
"Nymph Alice Now A 'Diana.'" Chicago Tribune, Chicago, IL. 14 November 1916
"'Diana of the Dunes' to Appear on Platform." Chicago Tribune, Chicago, IL. 4 April 1917, p. 11
"Nymph of the Dunes is Heard From Again." Chicago Tribune, Chicago, IL. 6 April 1917, p. 7
"Cave Man? Hist Alice Wake Up!" The Times, Munster, IN. 10 December 1918, p. 6
"'Diana of the Dunes'" Weeps Over a Giant Friend." Chicago Eagle, Chicago, IL. 4 January 1919, p. 8
"Dunes' Diana in Hospital Badly Hurt." The Times, Munster, IN. 14 June 1922, p. 1
Typed recollections, signed by Samuel Reck, about 1930, https://odhistory.org/diana-of-the-dunes-myth-and-reality/
"Frank Killed By Bronco." The Times, Munster, IN. 19 July 1924, p. 1
"Picturesque Characters Have Left Duneland." The Times, Munster, IN. 21 November 1923, p. 5
"Diana of the Dunes Reported Dead In Her Lonely Shack." The Times, Munster, IN. 9 February 1925, p. 1
Hoppe, David. "Child of the Northwest Wind: Alice Gray and "Diana of the Dunes." http://spicerweb.org/miller/MillerHistory/Diana_TracesArticle.pdf
The content for this article was written by Joseph Gruzalski, a researcher with Indiana Dunes National Park. Funds were made possible by a National Park Foundation grant. 
Last updated: December 29, 2022