The Fogelsons - Buddy and Greer
For several decades, Buddy and Greer Garson Fogelson were an important part of Pecos National Historical Park and the Pecos community. Their generosity and philanthropy are still very much in evidence at the Park and in the communities where they lived, worked, and played.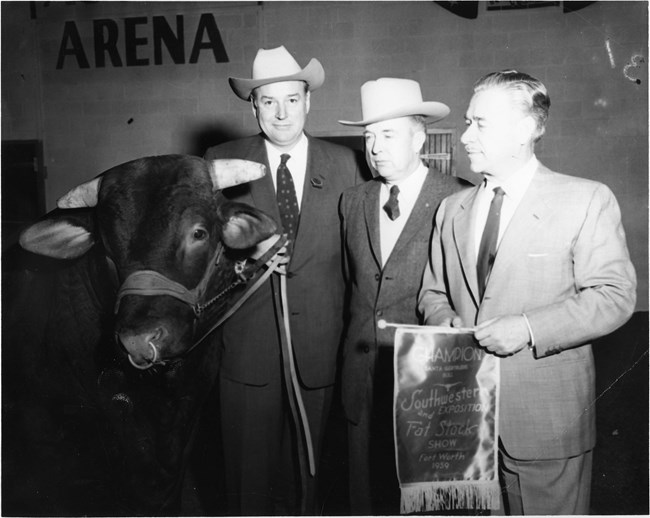 From Oil Fields to Ranching
Col. Elijah Edwin "Buddy" Fogelson was born in Nebraska in 1900 but made his mark, and his fortune, speculating in the oil fields of Texas. Studying on his own, he passed the Texas bar exam to become a lawyer in 1927. After obtaining degrees from Texas Christian University and the U. S. Army School of Military Government at the University of Virginia, he served under General Dwight Eisenhower during World War II and helped implement an oil pipeline that facilitated the Allied invasion of Europe. He was recognized for his wartime work by the governments of France and Finland.
In 1941, Fogelson purchased the 5,500-acre Forked Lightning Ranch on the Pecos River, which had been operated as a dude ranch during the 1920s and '30s by
Tex Austin
. Soon thereafter, he began raising and breeding cattle for feed and show.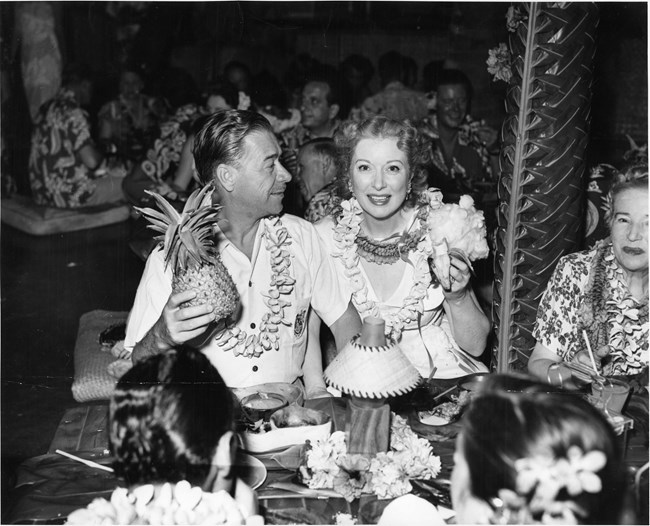 The Hollywood Connection
In addition to his interest in ranching, Fogelson loved music, opera, and the theater. In 1949 he met and married the actress Greer Garson. Garson described Buddy as "very quiet and very nice; exactly what I didn't expect from Texas. I expected someone a little loud and with big boots." Through the following decades, Buddy and Greer divided their time between Dallas and Forked Lightning, making the ranch the center of lavish social parties that attracted guests from the world of Hollywood, art, and finance.
Garson, already a major Hollywood star, had won the Oscar for Best Actress in 1942 for her role in
Mrs. Miniver
and went on to receive six more nominations for Best Actress over the next 18 years. Buddy Fogelson also aspired to act, and in 1960 he and Greer appeared together in brief cameo roles in the movie
Pepe
. This was the same year Garson starred as Eleanor Roosevelt in the award-winning
Sunrise at Campobello
, Unlike
Sunrise,
however,
Pepe
proved to be a major box-office flop. Commenting on his short-lived acting career, Fogelson remarked that he was probably "the only movie extra in the world in the 92 percent tax bracket."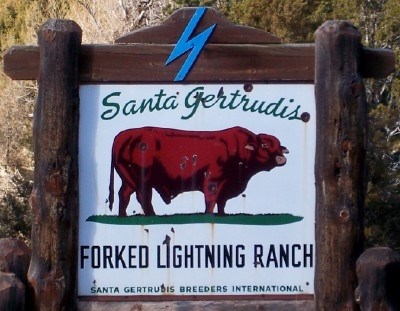 Gee-Gee and Ack Ack
Initially, Fogelson raised and bred Hereford cattle at Forked Lightning, but in 1958 he bought a registered Santa Gertrudis bull named "Gee-Gee" and three heifers from the Winthrop Rockefeller herd in Arkansas. The Santa Gertrudis breed, a blend of Brahmin and Shorthorn, was originally developed on the King Ranch in Texas and was known for its ability to withstand harsh weather conditions. They thrived at Forked Lightning and became the foundation of a herd of Santa Gertrudis cattle as Forked Lightning cattle developed a reputation for quality beef foundation stock.
Fogelson was also well known as an owner and breeder of thoroughbred racehorses. In 1971 he purchased five-year-old "Ack Ack," who became the dominant thoroughbred of that year and received the 1971 Eclipse Award as "Horse of the Year."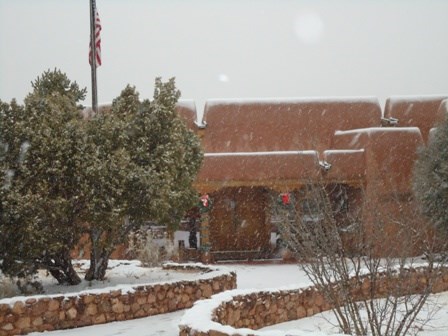 Benefactors and Philanthropists
Buddy and Greer were also major philanthropists and patrons of the arts in Texas, New Mexico, and California. They established the Greer Garson Theater and the E. E. Fogelson Library at the College of Santa Fe, endowed scholarships for high school and college students, and established chairs in medicine at the University of Texas. In the 1980s, the Fogelsons donated a portion of land and contributed funding for the construction of the E. E. Fogelson Visitor Center at Pecos National Historical Park.
Buddy Fogelson died in Dallas in 1987, just three years after the Visitor Center was completed. In accordance with his will, the original 5,500 acre Forked Lightning Ranch passed to Greer and the later-acquired southern half of the ranch to his son Gayle. In 1990, Greer arranged for the sale of her portion of the ranch to The Conservation Fund, which donated it to the National Park Service to become part of Pecos National Historical Park. Greer Garson Fogelson died in Dallas in 1996, at the age of 96, and is interred there beside her husband.
Buddy and Greer Garson Fogelson added ranching, Hollywood glamor, and philanthropy to the many elements that make up the multi-faceted history of Pecos National Historical Park.
Last updated: January 22, 2021