TIME OF THE ACES: Marine Pilots in the Solomons
by Commander Peter B. Mersky, U.S. Naval Reserve
---
The Marine Corsair Aces of Bougainville and the Central Pacific, 1943-44
The campaign and victory on Guadalcanal signaled the containment of the seemingly unstoppable Japanese, and the beginning of the long, but ultimately successful, Allied drive through the Pacific to Japan. The first step of the long journey began with the island with the strange name.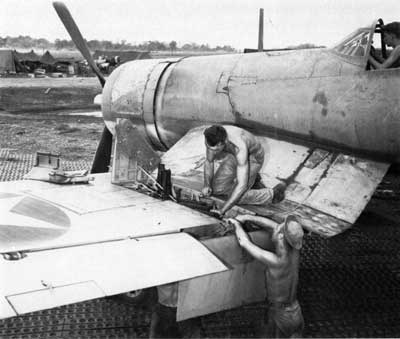 Marine mechanics service an early F4U Corsair, perhaps of VMF-124. on Guadalcanal in early 1943. "Bubbles" is already showing the effects of its harsh tropical environment as well as the constant scuffing of its keepers' boots. Note the Corsair's large gull wings and long nose, which prohibited a clear view forward, especially during taxi and landings. National Archives 127-N-55431
Once secured, however, by 7 February 1943, Guadalcanal quickly became the major support base for the remainder of the Solomons campaign. While Marine ground forces slugged their way up the Solomons chain in the middle of 1943, Allied air power provided much-needed support, primarily from newly secured Guadalcanal. Marine and Navy squadrons were accompanied by Army and New Zealand squadrons as they made low-level sweeps along the islands, or escorted bombers against the harbor and airfields around Rabaul. The U.S. Army Air Force sent strikes by B-24 Liberators against Kahili, escorted by Corsairs, P-38s, P-39s, and P-40s. For Marine aviators, it was the time of the Corsair aces.
---