TIME OF THE ACES: Marine Pilots in the Solomons
by Commander Peter B. Mersky, U.S. Naval Reserve
---
Cactus Victory
By Christmas 1942, the Japanese position was clearly untenable. Their troops who remained on Guadalcanal were sick and short of food, medicine, and ammunition. There was still plenty of action on the ground and in the air, but not like the intense engagements of the previous fall. On 31 January 1943, First Lieutenant Jefferson J. DeBlanc of VMF-112 led six Wildcats as escorts for a strike by Dauntlesses and Avengers. He encountered a strong force of Zeros near Kolombangara Island and took his fighters down to meet the threat before the Japanese could reach the Marine bombers.
In a wild melee, DeBlanc, who already had three Zeros to his credit, shot down three more before hearing a call for help from the bombers now under attack by floatplane Zeros. DeBlanc and his flight climbed back to the formation and dispersed the float Zeros.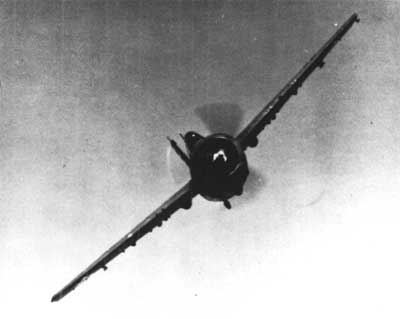 This front view of an F4F-4 shows an unusual aspect of Grumman's tubby little fighter. Author's Collection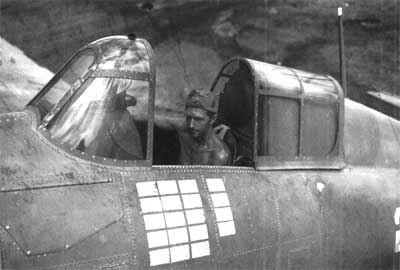 A good closeup of a Wildcat's cockpit and the aircraft's captain on Guadalcanal. Although this F4F displays 19 Japanese flags, it is doubtful that it flew with these since such a large scoreboard would have attracted unwanted attention from the Japanese. Note the reflector gunsight inside the windscreen. National Archives Photo 80-G-37929
Soon after the SBDs and TBFs made their attacks on Japanese ships, DeBlanc discovered two more Zeros closing from behind. He engaged and destroyed these two attackers with his badly damaged Wildcat. DeBlanc and a member of his flight, Staff Sergeant James A. Feliton, had to abandon their F4Fs over Kolombangara. A coast watcher cared for the two Marine aviators until a plane could come from Henderson to retrieve them. DeBlanc received the Medal of Honor for his day's work.
The Japanese evacuated Guadalcanal on the night of 7-8 February 1943. The campaign had been costly for both sides, but in the longer term, the Japanese were the big losers. Their myth of invincibility on the ground in the jungle was shattered, as was the myth surrounding the Zero and the pilots who flew it. The lack of reliable records by both sides leaves historians with only wide-ranging estimates of losses. Estimates placed 263 Japanese aircraft lost, while American losses were put at 118. Ninety-four American pilots were also killed in action during the campaign.
| | |
| --- | --- |
| On 31 January 1943, 1stLt Jefferson De Blanc of VMF-112 earned the Medal of Honor while escorting Marine dive bombers and torpedo-bombers to Vella Gulf. His flight encountered a larger enemy force and during the melee, DeBlanc shot down three float planes and two Zeros before being forced to abandon his own plane at a very low altitude over Japanese-held Kolombangara. Department of Defense Photo (USMC) 57750 | 1stLt James E. Swett of VMF-221 was in a flight which rose from Guadalcanal to challenge a large group of enemy planes bent on destroying shipping off the island on 7 April 1943. In a 15-minute period, Swett shot down seven Japanese bombers, a performance which earned him the Medal of Honor. Department of Defense Photo (USMC) 310555 |
---