TIME OF THE ACES: Marine Pilots in the Solomons
by Commander Peter B. Mersky, U.S. Naval Reserve
---
Combat in October
October was a pivotal month for the air campaign on Guadalcanal. It was a time when the men who had arrived in August were clearly at the end of their endurance, for sickness and fatigue hit them after they had survived Japanese bullets. However, new squadrons and crews were arriving, among them VMF-121, led by Major Leonard K. "Duke" Davis. His executive officer, Captain Joseph J. Foss, would soon make a name for himself.
Foss came from Sioux Falls, South Dakota, and as a boy had developed a shooting eye which would stand him in good stead over Guadalcanal. He enlisted in the Marine Corps in February 1940 and received his wings of gold 13 months later. Originally considered too old to fly fighters (he was 27), he was ordered to a photo reconnaissance squadron in San Diego. However, he kept submitting requests for transfer to fighters and was finally sent to VMF-121.
A few days after arriving at Henderson, Foss scored his first victory on 13 October. As an attacking Zero fired and missed, Foss fired his guns sending the enemy fighter down. Three more Zeros then at tacked Foss, putting holes in his Wildcat's oil system. The newly blooded pilot had to make a dead-stick landing back at Cactus Base.
Other veterans of the campaign had not stayed idle. Major Smith of VMF-223 had taken his squadron up on 2 October against a raid by Japanese bombers and fighters. The Zero escorts dove on the climbing Navy and Marine Wildcats, quickly shooting down two fighters from VMF-223. Smith exited a cloud to confront three Zeros. He blasted a fighter into a ball of flame. However, the two remaining Zeros got on his tail and peppered the struggling little blue-gray F4F with can non and machine gun fire. Listening to a repaired radio from a damaged SBD back at Guadalcanal, the crews of Dennis Byrd's VMSB-232 heard Captain Carl call to his skipper. "John, you've got a Zero on your tail!" "I know, I know," Smith replied, "shoot the SOB if you can!" Then all was silence.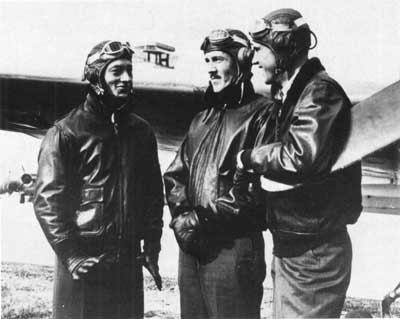 Maj John L. Smith, LtCol Richard C. Mangrum, and Capt Marion E. Carl pose for photos after returning to the States. LtCol Mangrum commanded an SBD squadron at the height of the Cactus campaign and was universally admired. He eventually attained the rank of lieutenant general, while Marion Carl retired as a major general after fighting in three wars — World War II, the Korean War, and the Vietnam War. Department of Defense photo (USMC) A707812
Smith's aircraft was mortally wounded, and he tried to regain the field. He finally had to make a dead-stick landing six miles from the strip and walk back, watching all the time for roving Japanese patrols.
Second Lieutenant Charles H. Kendrick was not as fortunate as his skipper. The Zeros had gotten him on their first pass, and he tried to guide his stricken fighter to a crash landing. He apparently landed close to Henderson, but his fighter flipped over on its back, killing the young pilot.
Major Smith led a party to the crash site. They found Kendrick still in his cockpit. They released and buried him beside his plane. Stan Nicolay recalled, "I don't know how many we lost that day. We re ally took a beating." Actually, six Wildcats had been shot down or returned with strike damage. Several others required major repair.
VMF-224's skipper was also shot down. Bob Galer bailed out over the water — his third shootdown in less than three weeks — and was rescued. He had accounted for two Zeros, however. He recalled:
I was up with six fighters, cruising about at 20,000 or 25,000 feet. Suddenly, 18 Zeros came at us out of the sun, and we took 'em on. The day was cloudy and after a few minutes, the only other Marine I could find was Second Lieutenant Dean Hartley. In the melee of first contact, I heard several Jap bullets splatter against — and through — my ship, but none stopped me. At about the same moment, Hartley and I started to climb into a group of seven Zeros hovering above us. In about four minutes, I shot down two Zeros and Hartley got a possible. The other four were just too many and we were both shot down. Hartley got to a field, but I couldn't make it. The Jap that got me really had me boresighted. He raked my ship from wingtip to wingtip. He blasted the rudder bar right from under my foot. My cockpit was so perforated it's a miracle that I escaped. The blast drove the rivets from the pedal into my leg. I pancaked into the water near Florida Island. It took me an hour-and-a-half to swim ashore....I worried not only about the Japs but about the tide turning against me, and sharks.
Major Galer struggled ashore where he encountered four men armed with machetes and spears. Fortunately, the natives were friendly and took the bedraggled pilot to their village. After enjoying what hospitality his hosts could offer, Major Galer rode in a native canoe to a Marine camp on a beach five miles away. He made his way back to Henderson from there.
Marine Aircraft Group 23 and the rest of its squadrons also left the following day, having earned a rest from the intense combat of the last two-and-a-half months. Between 20 August and 16 October, the squadrons of MAG-23 and attached Army and Navy squadrons had shot down 244 Japanese aircraft, including 111.5 by VMF-223 and 60.5 by VMF-224. The score had not come free, though. Twenty-two pilots of the group, as well as 33 aviators from other Navy, Marine, and Army squadrons assigned to the Cactus Air Force, had been lost.
John Smith had seen his last engagement. He received the Medal of Honor for his leadership during the Guadalcanal campaign and finished the war as the sixth highest on the list of Marine Corps aces, closely followed by his friend and rival, Marion Carl. Much to his initial chagrin, Smith found himself on the War Bond circuit, and then training new pilots. It was not until two years later, in 1944, that Lieutenant Colonel Smith got a combat assignment again. As commanding officer of MAG-32 in Hawaii, he took the group to Bougainville and the Philippines.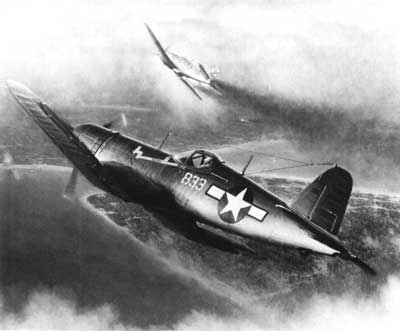 Marion Carl, now a major and commanding his old squadron, VMF-223, made his 17th kill in December 1943, when he shot down a Japanese Tony over Rabaul. Carl was escorting Marine PBJ (B-25) bombers in his F4U-1 Corsair when the enemy fighter jumped the raiders. The victory was Carl's next-to-last score. Painting by William S. Phillips, courtesy of The Greenwich Workshop
Marion Carl assumed command of his old squadron, VMF-223, in the United States in January 1943 and took the newly renamed Bulldogs to the South Pacific late in the fall. He gained two more kills — a Ki.61 Tony (a Japanese Army fighter) and a Zero, on 23 December and 27 December 1943, respectively — this time in a Vought F4U Corsair. His final score at the end of the war was 18.5 Japanese aircraft destroyed.
The night of 13-14 October saw the Japanese pound beleaguered Henderson Field with every gun they could fire from their assembled flotilla offshore, as well as the entrenched artillery positions hidden in the dense jungle surrounding the field. The night-long barrage might very well have been the end for the Cactus Marines.
The new day revealed that of 39 Dauntlesses, only seven could be considered operational, only a few Army fighters could stagger into the air, and all the TBF Avenger torpedo bombers were destroyed or down. The only saving factor was that the fighter strip was relatively untouched. By the afternoon, a few Wildcats were sent up to mount a patrol over Henderson while it pulled itself together. For the next few days, the Cactus Air Force — Marine, Navy, and Army — flew as though its collective life was on the line, which it was.
---