. . . AND A FEW MARINES: Marines in the Liberation of the Philippines
by Captain John C. Chapin, USMCR (Ret)
---
Close Support for Guerrillas
Another decision of the planning conference also affected MAGSDAGUPAN. The AAF 308th Wing assigned the SBDs to show again their flexibility — this time in support of the growing guerrilla operations in northern Luzon. Accordingly, an ALP team was landed 50 miles behind the Japanese lines on 22 February. There it made contact with a most unusual man, Lieutenant Colonel Russell W. Volckmann, USA, who was the leader of the Filipino guerrillas in northern Luzon. His forces had no heavy arms and were stalled in their attack to capture the important city of San Fernando. Both AAF planes and Marine SBDs were called in to drop their 500-pound bombs on the enemy's defensive positions, sometimes as close as 100 yards from the Filipinos. After two days of these strikes, it was all over, and the Japanese were routed.
There were many similar occasions where the ALP and its radio jeep and truck found its way to seemingly inaccessible spots to direct close air support for the guerrillas. During the period from 5 to 31 March, for example, 186 such missions were flown, and the heavy enemy casualties could be clearly attributed to the dive bombers, since no artillery fire was available.

Close Air Support for the Army
Together with missions supporting the guerrillas, MAGS DAGUPAN continued its mission of close air support of the Army divisions — at one time or another working with each of the 10 fighting on Luzon. One refinement, late in February, was the use of airborne coordinators to receive tar get information and instructions from the ALP, and then make a marking run over the objective when the SBDs arrived for their dive bombing runs.
There were other marking techniques, e.g., white phosphorous shells. An example was a strike against cave positions on 23 February, when 18 planes from VMSB-142 were called in to bomb some Japanese dug into a hillside, from where neither artillery nor mortar fire had been able to dislodge them. First Lieutenant W. E. Dickey, Jr., described the SBD strike that hit the enemy positions:
The air-ground jeep called for Captain Austin Wiggins to dive singly at a given target, marked by white phosphorous mortar shells. He went down and thereafter we went in, one plane at a time, each plane having personal control by the jeep on the ground. He would tell us, "Now the next plane drop your bomb 50 feet west of the last one," or "100 feet south," etc., until all 18,000 pounds of bombs had been placed exactly where he wanted them.

All the time we were in the attack the [air controller in the] jeep was very elated and would tell us after each bomb hit — "Man, that was right in their laps."
In the end the Army infantry was able to move forward against no opposition.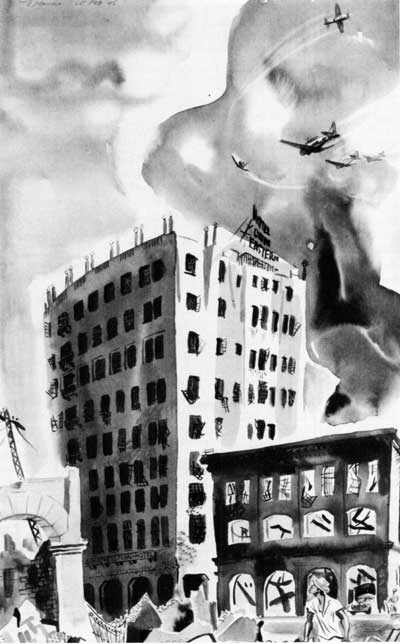 A Marine combat artist in Manila while the battle there still raged, Sgt Paul Arlt described this wash drawing: "Sharply outlined against rising clouds of smoke, the gutted steel and concrete shell of the nine-story Great Eastern Hotel is one of the countless buildings destroyed by retreating Japs. Down on the rubble-strewn street, a Philippine citizen glances apprehensively over his shoulder as Marine dive bombers of the 1st Marine Aircraft Wing sweep overhead. Seconds later, these planes dropped 20 tons of high explosives on enemy ships in the harbor, knocking out lap antiaircraft batteries set up on the hulks."
As Luzon duty drew to a close, the Marine flyers could look at their exploits with some pride. One ground observer, for instance, had reported after a dive bombing strike on 21 February, "Bodies, guns, papers blown all over the place. Kisses from commanding officer of adjacent ground units."
A more formal evaluation came from Major General Edwin D. Patrick, the once skeptical commander of the 6th Infantry Division:
. . . Particularly noteworthy have been the skillfully coordinated and accurate air strikes of the SBDs of the MAGD based at Mangaldan Field. In one strike made on 28 February against Mt. Mataba, these Marine pilots dive-bombed a pinpointed target located between two friendly forces with accuracy comparable to that obtained by field artillery. The courage, patience, and willingness displayed by these men deserve high praise.
This kind of punishing performance by the SBDs naturally caused the Japanese to try to strike back against them. They resorted to an ingenious ruse. On 2 March an enemy bomber, flying very high, appeared over the Marine field at Mangaldan, causing great consternation amongst those on the ground. Searchlights sought the plane; every antiaircraft gun opened up; the troops poured out to watch. Suddenly, roaring in at 300 feet, came two bombers, scattering antipersonnel and 500-pound bombs on the unsuspecting men and their planes. This attack resulted in four dead and 78 wounded, but it was only a limited blow, for operations continued as usual.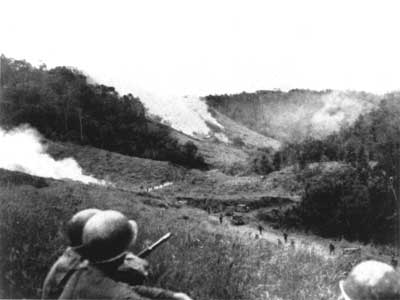 U.S. Army 37th Infantry Division troops move up Highway 5 on Luzon after a Marine dive bomber attack on enemy hill positions. Department of Defense Photo (USMC) A700603
Despite such episodes, for the 45 days preceding their departure, the SBDs had averaged 159 sorties a day, running up a total of 49.7 percent of the individual sorties by Luzon aircraft with only 13 per cent of the planes. (It should be noted that many of the AAF missions were time-consuming and long-range ones, quite different from the continuous requests from infantry units which directed Marine missions to close-by tar gets.)
This high level of operations took place in spite of various handicaps: limited radio capacity and limited range for the obsolete SBDs; no extra auxiliary fuel tanks for dropping napalm bombs (which burst into flame when ignited by contact); and — although it is hard to believe that after 50 years of American military presence in the Philippines — they had totally inadequate maps.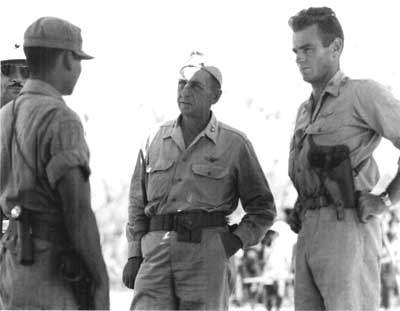 1st Marine Aircraft Wing Commander, MajGen Ralph I. Mitchell, confers with a Filipino guerrilla lieutenant in northern Luzon in February 1945. Department of Defense Photo (USMC) 112060
The combined figures for MAG 24 and -32 for Luzon operations showed 8,842 combat missions and 19,167 bombs dropped. Lieutenant General Walter Krueger, USA, commander of the Sixth Army, had this to say:
. . . Commanders have repeatedly expressed their admiration for the pin-point precision, the willingness and enthusiastic desire of pilots to fly missions from dawn to dusk and the extremely close liaison with the ground forces which characterized the operations of the Marine fighter groups.
Krueger's citation went on to note the "constant visits" of commanders and pilots to front line units in order observe targets and to gain an understanding of the ground soldiers' problems, the care which Marine commanders and pilots took to insure the "maximum" number of hits, and the "continuous, devoted work" of ground crews in maintaining an unusually high average of operational planes.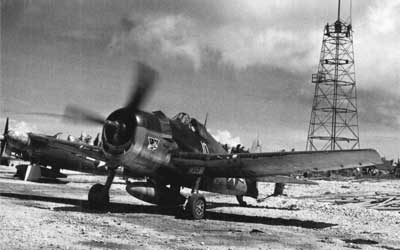 The F6F Hellcat night fighter represented a new and very successful weapon for the Marine Corps. Department of Defense Photo (USMC) 92399
---