. . . AND A FEW MARINES: Marines in the Liberation of the Philippines
by Captain John C. Chapin, USMCR (Ret)
---
After Manila
The dash to Manila led to four events. The Army started slowly to clear the city of dug-in Japanese die-hard soldiers; the next objective would become the 50,000 Japanese deeply entrenched and fortified in the Shimbu Line outside the city; Jerome and his staff went calling on a variety of Army division commanders to try to explain to them the help that Marine dive bombers could give to their infantry; and the 308th Bombardment Wing directed the Marines to assist the guerrillas on Luzon.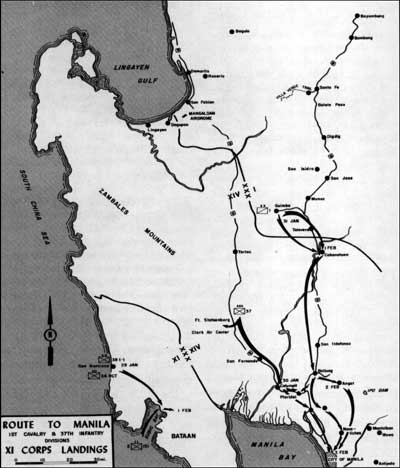 (click on image for an enlargement in a new window)
When the Army came up against the Shimbu Line, it soon became more receptive to the use of the SBDs. The 1st Cavalry Division was already a convert, of course, and it had an opportunity to give a practical demonstration to the skeptical commander of the 6th Infantry Division, who was visiting it on 8 February. Faced with very heavy enemy fire from a key hill, the 1st Cavalry commander called in the dive bombers. When they had finished their precision work, patrols moved up the hill unopposed and found the shattered remains of eight machine gun and 15 mortar emplacements, with 300 Japanese dead nearby. In addition, 11 unmanned heavy machine guns were found. Now the 6th Division was convinced.

Plans for the Southern Islands
A major planning conference took place on 11 February to make decisions on future ground and air operations. Mitchell and Jerome were able to get agreement that three more Marine squadrons, Marine Bomber Squadron (VMB) 611 and Air Warning Squadrons (AWS) 3 and 4, would be moved up from the Solomons to participate in the next major phase of the Philippines campaign: the invasion of the main southern island, Mindanao. These squadrons represented two new and different resources for Marine aviation. VMB-611 was equipped with the PBJ North American medium bomber, called by the AAF the Mitchell B-25. It had a range of over 1,300 nautical miles and could carry 2,800 pounds of bombs and rockets. The AWSs were equipped with extensive radar and radio communications capabilities for warning of enemy air attacks.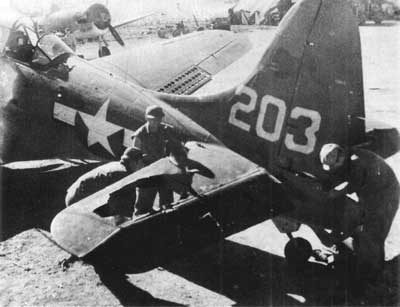 Enemy antiaircraft artillery fire could tear big holes in a dive bomber, as this SBD shows after a mission over Manila. The pilot, 1stLt Frank H. McFadden of VMSB-236, made it back to his base on this one of the 113 missions he flew in the Philippines. Marine Corps Historical Center
Also, in preparation for the Mindanao operation, there was a 15 February shuffling of Marine squadrons already on hand: VMSBs-236 and -341 transferred to MAG-32, and VMSB-244 went to MAG-24. This was a prelude to the new plan to redeploy MAG-32's dive bombers from Luzon and MAG-12's fighters from Leyte to Mindanao. Mitchell had wanted a full-scale role for Marine aviation in the upcoming invasion — and he got it.
---