. . . AND A FEW MARINES: Marines in the Liberation of the Philippines
by Captain John C. Chapin, USMCR (Ret)
---
Phase Three: Mindanao
With the first phase of Marine aviation on Leyte long gone, and with the second phase focused on Luzon successfully over, the complex operations in the southern Philippines now took center stage as phase three. The Army planned five major operations (code named VICTOR) to seize eight different islands. Marine planes would be called upon to provide fighter cover and landing zone bombing for these, and then to furnish close air support for both guerrillas and Army divisions as they battled the Japanese. Thus, MAGs-24 and -32 would close down their MAGSDAGUPAN operations on Luzon and move to Mindanao when an airfield was ready to receive them. MAG-12, under a new commanding officer, Colonel Verne J. McCaul, would leave Leyte to join them. Jerome would be in charge of all three air groups. Meanwhile, MAG-14 would remain on Samar to support operations on Panay, Cebu, and also Mindanao. The new squadrons would also play their part: Marine Bomber Squadron 611 with its North American Mitchell PBJ medium bombers and Air Warning Squadron 4 with its electronic capabilities would come into Mindanao early, with AWS-3 joining later.
The attack on Mindanao began in a unique way. A week before the first Army landing, two Marine officers and six enlisted Marines were inserted behind Japanese lines. They were taken to a guerrilla-held airstrip near the town of Dipolog, 150 miles from the main assault objective, Zamboanga on the far western tip of Mindanao. Within a few days, 16 Corsairs were there on the primitive Dipolog field to support the guerrillas, as well as cover the landing of the 41st Infantry Division at Zamboanga on D-day, 10 March. Also coming ashore on D-day was Jerome; his objective was the nearby San Roque airstrip. Taking over that site, the Marines renamed it Moret Field after Lieutenant Colonel Paul Moret, a well-known Marine aviator who had died in a transport crash after taking off from Noumea, New Caledonia in 1943.
Another D-day arrival was AWS-4. It would set up its radio and radar equipment to serve as the 76th Fighter Control Center, coordinating air-ground attacks. As one veteran aviator noted, "The air warning squadrons were the heart and soul of air defense and air traffic control."
Right behind them came McCutcheon. His assignment was to organize Marine Aircraft Group, Zamboanga (MAGSZAM) at Moret similar to MAGSDAGUPAN which had been so successful on Luzon.
On 15 March, the VMF-115 fighters of MAG-12 came in from Leyte. With Japanese air threats nearing zero, the F4Us would now shift their emphasis to close air support. A Marine aviation history explains the plane's versatility:
The Corsairs, although designed as fighter planes, proved to be well adapted for close support work. They had three bomb racks capable of carrying a variety of bomb and napalm loadings, and they were armed with six forward-firing machine guns. Faster than the SBDs, they possessed ample speed to get in and out of a target area in a hurry. Also, since Corsairs were equipped with both VHF and MHF radio sets, they fitted into the air-ground liaison system easily, without a necessity for additions or alterations to existing equipment.
When combined with the slow speeds of the L-4 Cub spotter planes, the fast F4Us were able to get pin-point directions for their targets from the jeep radios of their ALP Then the Marine fire-power grew even heavier as the SBDs of MAG-32 came wheeling in from Luzon on 24 March. The combination of F4Us and SBDs at Moret again gave the 41st Division daily close air support to the Army infantrymen. At a ceremony held at Moret on 29 March, Major General Jens A. Doe, USA, commanding the 41st Division, formally presented to Colonel Jerome and his Marines a plaque which commemorated the close cooperation between the Army and the Marines.
The plaque was six feet high and four feet wide, with Japanese naval signal flags, an enemy light machine gun, and a silk Japanese battle flag. The inscription read, "IN APPRECIATION - 41ST INFANTRY DIVISION." At the bottom their combined campaigns were listed: Jolo, Sanga Sanga, Basilan, and Mindanao.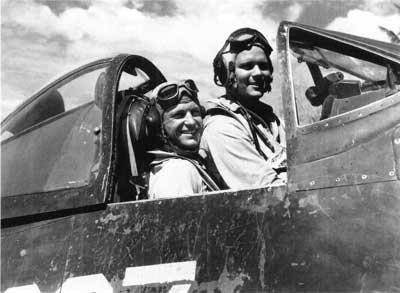 2dLt Willard C. Olson, left, and 1stLt Winfield S. Sharpe show how Sharpe doubled up in the cockpit of a VMF-115 Corsair, which supported guerrillas in their rout of Japanese forces threatening the Dipolog airstrip on Mindanao. Department of Defense Photo (USMC) 117637
During the ceremony, General Doe spoke of the Marines' "outstanding performance . . . . readiness . . . to engage in any mission . . . their skill and courage as air men, and their splendid spirit of cooperation in aiding ground troops . . . the most effective air support yet received . . ."
As always in war, there was a painful aspect to this massing of squadrons at Moret. First Lieutenant Charles F. Flock later wrote of the cruel fate of one flight to Mindanao when, on 24 March, Second Lieutenant Charles T. Rue (VMSB-142) encountered engine trouble off Panay Island:
One of the escorting transport planes accompanied Rue's SBD to a point over a small strip at San Jose on the SW coast of Panay. This strip had been labeled as friendly according to intelligence reports prior to take-off. Rue executed a safe landing, and he and his gunner, SSgt Robert R. Stanton, were seen to wave by the pilots in the transport before it continued on its way to Zamboanga. (The strip was too short for the heavily-laden transport to attempt an evacuation of the men.)
As it turned out, the strip was actually in enemy hands, and both Marines were taken prisoner. Later, when San Jose came under U.S. control, it was established that Rue and Stanton had been killed by the Japanese and buried near the airstrip.
Besides the missions on Mindanao, the Marine planes covered the successive landings on Basilan, Panay, Cebu, and Negros. One of the veteran squadrons over Cebu was VMF-251 from MAG-14 on Samar; it had previously been awarded the Presidential Unit Citation (PUC) for its superb record at Guadalcanal.
The squadron history of VMF-115 describes a memorable occasion when it provided close air support for guerrillas. This featured one of the most unusual air-ground tactics used during the entire Zamboanga operation. On 27 March, in answer to a request from the American officer in charge of the guerrillas, Major Donald H. Wills, AUS, a division of four VMF-115 Corsairs (led by Captain Rolfe F. Blanchard) was dispatched to the guerrilla-held airstrip at Dipolog. About 150 Japanese troops, armed with knee mortars, a light machine gun, and automatic rifles, had advanced to within 16 kilometers of Dipolog. They were well-seasoned troops who had been moved into the area from Zamboanga about five weeks earlier. Major Wills felt that an air strike might boost the Filipino guerrillas' morale and damage the enemy at the same time.
However, control of the strike by normal means was impossible, because there were no maps or photographs of any kind available, no method for marking targets, and no means of communication with the troops. But VMF-115 ingenuity found a way:
Into the cockpit of a Marine Corsair climbed Major Wills, who was thoroughly familiar with the enemy positions; after him climbed the smallest of the Marine pilots in the division, First Lieutenant Winfield S. Sharpe. Both men squeezed into the narrow confines of the cockpit, with Sharpe sitting on Wills' lap.
Soon afterward, with the major pointing out targets to the pilot, Lieutenant Sharpe's Corsair led a four-plane division in six strafing passes over the enemy's positions. The enemy area was thoroughly strafed, and the Japanese were compelled to withdraw.
The Marines' aerial capabilities were once again dramatically expanded when VMB-611, with its 16 PBJ medium bombers, flew in to Moret on 30 March. Besides their rocket and bomb capacity, its PBJs had a massive array of .50-caliber machine guns, plus radar, long-range radio, and extensive navigational equipment. In a letter, one of the squadron co-pilots, First Lieutenant Willis A. Downs, sketched the varied missions of this squadron:
. . . During the Philippine campaign we strafed, bombed, skip bombed, fired rockets, photographed, flew observers, were sent on anti-sub patrols, were sent up at night as night fighters, and bombed at medium altitudes. In fact, one member of VMB-611 shot down with his fixed guns, and using his bomb sight as a gunsight, a Japanese twin-engine light bomber . . . .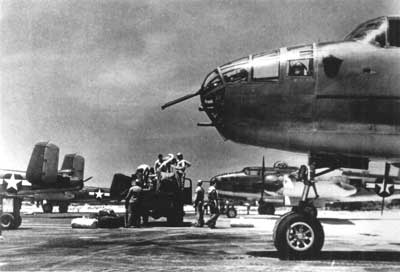 A Marine flight crew arrives to board a VMB-611 North American PBJ medium bomber (called the B-25 Mitchell by the AAF). Although a late arrival, the squadron made a major contribution with these planes in the Mindanano campaign. Department of Defense Photo (USMC) 123037
During early April there were more Army landings, this time on the exotically named Sanga-Sanga and Bongao Islands. Bongao was a little island that commanded the invasion beach at Tawi Tawi for the Sanga Sanga landing. The PBJs had instructions to knock out the radar and radio installations, then strafe and rocket the barracks area in a night attack. A pilot of VMB-611 remembered years later the squadron's strike after it solved the problem of how to bomb, rocket, and strafe something it could not see in the night:
. . . Then a pilot (nobody knows who) suggested a simple, yet most ingenious solution. The flight leader would load his bombs (I think they were 500-pounders) with the bottom rack holding a parachute flare of one million candlepower. Each of the other five planes in the flight would load a parachute flare first, followed by the bomb load.

The tactic was simplicity itself. The flight leader would make a dummy run, dropping only his parachute flare. The second plane in the flight would bomb on the first flare, then drop his flare; the third plane would follow suit, followed by the fourth and fifth plane. By the time the fifth plane dropped his flare, the flight leader would be in position to drop his load on the last flare. It worked to perfection.
As the tempo of air operations on Mindanao rose, so did the use of Moret Field. Before long it housed a total of 299 widely varying types of AAF and Marine air craft: 96 F4Us, 151 SBDs, 18 PBJs, 2 F6Fs, 18 SBCs (Curtis Helldiver dive bomber), 1 FM (General Motors F4F Wildcat fighter), 2 TBFs (Grumann Avenger torpedo bomber), 5 R4Ds (Douglas Sky-train cargo plane), and 6 P-61s.
The Secretary of the Navy takes pleasure in commending
MARINE AIRCRAFT GROUPS, ZAMBOANGA
consisting of the following Marine Aircraft Groups:
Marine Aircraft Group Twelve — March 10 - June 30, 1945
Marine Aircraft Group Thirty Two — March 16 - June 30, 1945
Marine Aircraft Group Twenty Four — April 11 - June 30, 1945
for service as set forth in the following citation:
"For exceptionally meritorious service and outstanding heroism in support of elements of the Eighth Army during operations against enemy Japanese forces on Mindanao, Philippine Islands, and in the Sulu Archipelago. After landing with the assault forces, Marine Air Groups, Zamboanga, effected wide coverage of battle areas in flights made extremely hazardous by dense jungles, precipitous cloud-obscured mountains and adverse weather conditions.
The gallant officers and men of these groups penetrated hostile defenses to press relentless attacks and reduce vital enemy targets, disrupt communications and troop concentrations, and destroy ammunition and fuel dumps despite intense antiaircraft fire over Japanese objectives. The vital service rendered during these campaigns in providing convoy cover, fighter defense and close aerial support of ground forces is evidence of the courage, skill and devotion to duty of the pilots, air-crewmen and ground personnel operating as a well coordinated team, and reflects the highest credit upon Marine Aircraft Groups, Zamboanga, and the United States Naval Service.
---