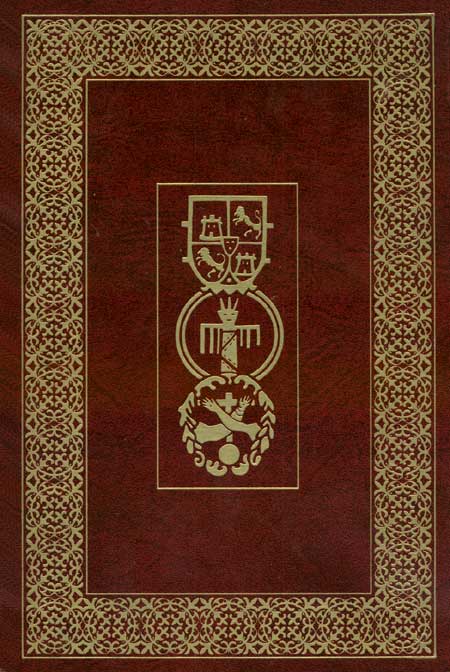 ---
Contents

Foreword
Preface

The Invaders
1540-1542

The New Mexico: Preliminaries to Conquest
1542-1595

Oñate's Disenchantment
1595-1617

The "Christianization" of Pecos
1617-1659

The Shadow of the Inquisition
1659-1680

Their Own Worst Enemies
1680-1704

Pecos and the Friars
1704-1794

Pecos, the Plains, and the Provincias Internas
1704-1794

Toward Extinction
1794-1840

Epilogue

Abbreviations
Notes
Bibliography

---

Espejo Offers His Services
Antonio de Espejo, an enterprising Cordovan of some means, had spent a most active eleven years in New Spain. Lay officer of the Inquisition, cattle rancher and buyer, convicted accomplice in a murder case, don Antonio had removed to the frontier to avoid his sentence, a considerable fine. There he meant to recoup his fortune. As it happened, according to Espejo, one Fray Bernardino Beltrán of the Franciscan convento in Durango had volunteered to embark on a relief expedition to New Mexico. "As I was in that area at the time and had heard about the just and compassionate wishes of said friar and the entire Order, I made an offer—in the belief that by so doing I was serving Our Lord and His Majesty—to accompany the friar and spend a portion of my wealth in defraying his costs and in supplying a few soldiers both for his protection and for that of the friars he meant to succor and bring back." [13]

After Lienzo de Tlaxcala, central Mexico, 16th century.
Despite some confusion about who had authorized the entrada and which friars should go, they got off from the Santa Bárbara district on November 10, 1582. A month later, just before heading up the Rio Grande, the dozen or fourteen soldiers, outfitted by Espejo, "elected" don Antonio their captain. Because the religious superior, who was supposed to catch up, did not, Father Beltrán remained the only friar. The whole party, counting the wife and three small children of one of the soldiers, cannot have added up to many more than forty. And they had begun their venture just as winter set in.
Espejo cut a wider swath through the pueblos than Sánchez Chamuscado. By the end of February 1583, bluffing and cajoling, he had visited and "taken possession of" Piros, Tompiros, Southern Tiwas, and Keres. He had learned for sure that the Tiwas of Puaray had put to death Father Francisco López and Brother Agustín Rodríguez. Over the objections of Father Beltrán, who considered their mission accomplished, don Antonio resolved to see all the pueblos and potential mines he could.
Among the Zuñis, where he found four Mexican Indians left behind by Coronado in 1542, Espejo jettisoned his dissenting chaplain and a number of others, pressing on to the awed Hopi pueblos with only nine soldiers. From there with four of them, he rode southwest over a hundred miles in search of mines. By the time the entire party reassembled at one of the Zuñi pueblos in early June, the breach was irrevocable. A mutiny miscarried. Seizing the royal standard, Espejo and eight loyal soldiers allowed the mutineers, including Father Beltrán, to depart for Santa Bárbara. Unencumbered, the captain now led his diminished column back to the Tiwa pueblos.
The Ravage of Puaray
News of what happened at Puaray spread. In the words of Diego Pérez de Lujan, the only eyewitness who recorded the event, "all the provinces trembled and received the Spaniards very well." The people of Puaray had taken to the hills, all but about thirty men on the rooftops who greeted Espejo's request for food with mocking. "In view of this," wrote Pérez de Lujan,
the corners of the pueblo were taken by four men, and four others with two servants began to seize those natives who showed themselves. We put them in a kiva. Because the pueblo was large and the majority had hidden themselves in it, we set fire to the great pueblo of Puala [Puaray], where some we thought were burned to death because of the cries they uttered. At once we took out the prisoners, two at a time, and lined them up against some cottonwoods close to the pueblo of Puala where they were garroted and shot many times until they were dead. Sixteen were executed, not counting those who burned to death. Some who did not seem to belong to Puala were set free. This was a remarkable deed for so few people in the midst of so many enemies. [14]
Ten days later, in early July, the terrible invaders appeared before Cicuye, which Espejo wrote "Ciquique" and Pérez de Lujan "Siqui." One of the soldiers, whose impressions were recorded the following year, considered this "the best and largest of all the towns discovered by Francisco Vázquez de Coronado. It is set down on rocks, a large part of it congregated between two arroyos, The houses, of from three to four stories, are whitewashed and painted [inside?] with very bright colors and paints [or paintings]. Its fine appearance can be seen from far off." [15]
Cicuye Intimidated
The Spaniards camped two arquebus shots away, perhaps three to four hundred yards. When they asked for food, the natives indicated that they had none to spare. They pulled up their ladders and refused to come down. Pérez de Lujan thought the pueblo "must have contained about two thousand men armed with bows and arrows." Yet when Espejo and five soldiers, threatening to burn the place, entered and began firing their arquebuses "in the plaza and streets," nearly every one hid.
Just then a Mexican Indian who had been with Coronado appeared, perhaps the "interpreter of these people" mentioned in one of the Sánchez Chamuscado accounts. He begged the Spaniards to desist. The people of Cicuye wished to be their friends and would give them food. "Thus a compromise was reached between the natives and the six Christians." After the Spaniards had withdrawn to their camp, the Indians brought them quantities of provisions, enough to last them all the way back to Santa Bárbara.
Before they left, Espejo's soldiers abducted two Cicuye men. Ideally these Indians would learn Spanish and then serve as guides and interpreters in the pacification of their land, a common practice of the conquerors. One got away. The other, closely guarded, had no choice but to accompany the Spaniards down the Río de las Vacas—the Pecos—and back to the mines of Santa Bárbara, which they reached on September 10, 1583. [16]

A Native of Cicuye in Mexico City
Bent on gaining for himself the royal contract to pacify New Mexico, don Antonio Espejo used his Indian captive from Cicuye to good advantage. He arranged in Mexico City that the native be placed under the tutelage of Fray Pedro Oroz, Franciscan commissary general for New Spain. A most compassionate teacher and scholar, Oroz was profoundly interested in the distant land where three fellow friars had so recently died martyrs. On April 22, 1584, the Franciscan wrote to the king urging that Espejo "be pardoned for a certain unfortunate episode" so that he might continue "to serve the Lord, disseminate Our Holy Catholic Faith, convert souls created in the image and likeness of God, and expand your royal domain." [17]
Later in 1584, Father Oroz commented on the progress of his New Mexico pupil.
In this city of Mexico there is an Indian whom they brought from that land, and he is a man of great intelligence, very friendly and conversant with everyone, and he is learning doctrine so that he may be baptized, and together with it he learns the Mexican tongue. Four Indians from here are learning the language of this Indian of the new Mexico (for thus they call the new country), so that after they have learned it they may go with the first religious who should enter that country for its conversion. [18]
When he did receive the sacrament of baptism, this native of Cicuye took the name Pedro Oroz, Although Pedro died before the pacification of New Mexico finally got under way, one of the Mexican Indians he taught, Juan de Dios, came among the people of the great eastern pueblo in 1598 to preach the foreign gospel for the first time in their native language.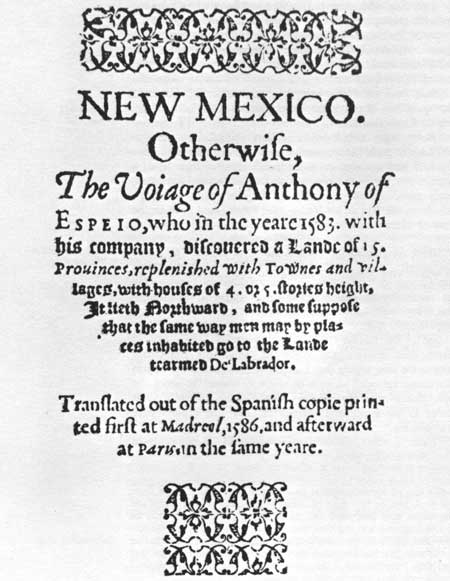 English translation of Espejo's narrative, published in 1587. Wagner, Spanish Southwest, I.