---
Survey of Historic Sites and Buildings
SAN JOSÉ MISSION NATIONAL HISTORIC SITE
(part of San Antonio Missions National Historical Park)
Texas



Location: Bexar County, on U.S. 281, about 4 miles south of San Antonio.
One of the finest surviving Spanish missions in North America, San José was one of a series of frontier missions that stretched across the Southwestern part of the present United States in the 17th and 18th centuries. It was named San José y San Miguel de Aguayo Mission when it was founded in 1720, at the instigation of the Franciscan Fray Antonio Margíl de Jesus, one of the greatest of the Spanish missionaries on the northern frontier of New Spain. Margíl was responsible for establishing the earlier east Texas missions of Dolores, Guadalupe, and San Miguel—all of which Spanish officials closed in 1720 because of fear of French aggression from Louisiana.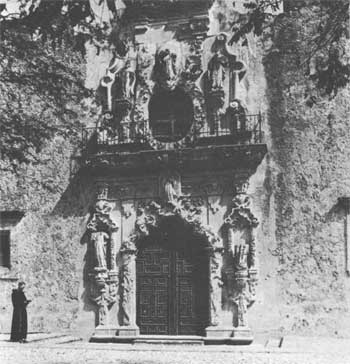 Main entrance to San José Mission, Texas. Founded in 1720 by Fray Antonio Margíl de Jesus, the mission is a fine example of an 18th-century Spanish mission in the Southwestern United States.
San José Mission grew rapidly and steadily, the first temporary adobe structures being replaced by stone buildings. By the middle of the 18th century, it was one of the most flourishing on the northern frontier. More than 200 Indian convert residents cared for 2,000 head of cattle and 1,000 sheep and produced 3,000 bushels of corn annually. When the Franciscans departed from the mission, after the civil authorities secularized it in 1794, diocesan priests (the secular clergy) presided until the Franciscans returned again, in 1931. The dome and roof of the central building had meanwhile caved in, and vandalism and neglect resulted in other damage. In 1912, the Catholic Church initiated a restoration program, to which the people of San Antonio contributed generously.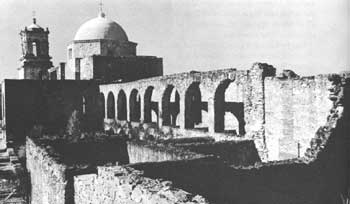 Cloisters of San José Mission, Texas.
During the period 1934-37, the program was intensified and the church was restored and rededicated to religious uses. In 1930, the San Antonio Conservation Society had bought the ruins of the granary from the descendants of Pedro Huizar, the artist responsible for the famous rose window and facade.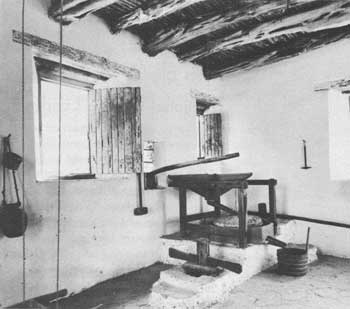 Grinding room in the old grist mill overlooking San José Mission, Texas.
The entire San José Mission property was designated a National Historic Site in 1941, under an agreement with the Texas State Parks Board and the Archbishop of San Antonio, who administer the property in cooperation with the National Park Service. A special advisory board for the site provides advice on matters of preservation, development, and general administration. It is composed of representatives from the U.S. Department of the Interior, the Texas State Parks Board, the Archbishopric of San Antonio, the County of Bexar, and the San Antonio Conservation Society.
In 1978, San José Mission, along with Missions San Juan, Espada, and Concepción, were incorporated within San Antionio Missions National Historical Park. The park covers about 819 acres.
---
http://www.cr.nps.gov/history/online_books/explorers-settlers/siteb3.htm
Last Updated: 22-Mar-2005