---
Survey of Historic Sites and Buildings
GLORIA DEI (OLD SWEDES') CHURCH NATIONAL HISTORIC SITE
(part of Independence National Historical Park)
Pennsylvania



Location: Philadelphia County, Delaware Avenue near Christian Street, South Philadelphia; address, Columbus Boulevard and Christian Street Philadelphia, PA 19147.
Only 8 years after the Swedes established the first European settlements along the banks of the Delaware River, a group of colonists at Wicaco, now South Philadelphia, began to use a small log blockhouse, originally utilized for defense against the Indians, as a mission of the state church of Sweden. In 1700, they built the present Gloria Dei, or Old Swedes', Church, on the same site.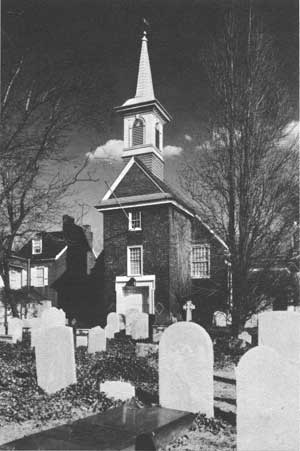 Gloria Dei (Old Swedes') Church, constructed in 1700 by Swedish settlers, is the oldest church in Philadelphia. It is still an active church.
One of the finest public buildings and the oldest church in Philadelphia, it is an ivy-covered, red-brick building in Flemish and common bond and has glazed headers. The only touches of Swedish architecture are a steep-peaked gable over the main entrance, a square belfry, and a small spire. Some of the interior embellishments were brought from Sweden by the settlers. These include a stone baptismal font near the pulpit and a cherubim figurehead, once a decoration on the prow of a Swedish ship, which hangs below the organ loft. The church also contains many relics and documents pertaining to the English colonial and War for Independence periods.
In 1789, the church separated from the mother church in Sweden, and in 1845 was admitted into the Convention of the Protestant Episcopal Church of the Diocese of Pennsylvania. Still an active religious center, as well as an important historic site, in 1942 it was declared a National Historic Site.
---
http://www.cr.nps.gov/history/online_books/explorers-settlers/siteb2.htm
Last Updated: 22-Mar-2005