---
Survey of Historic Sites and Buildings
COLONIAL NATIONAL HISTORICAL PARK
(Green Spring Plantation Site)
Virginia



Location: James City County, junction of Va. 5 and 415.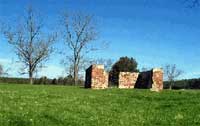 Jail at Green Spring, Colonial National Historical Park.
Sir William Berkeley, Royal Governor of Virginia during the periods 1641-52 and 1660-77, began construction of the mansion at Green Spring about 1646. When completed, it was the largest and most imposing in 17th-century Virginia and a forerunner of later pretentious colonial mansions. A road ran directly from the estate—where considerable colony business was transacted—some 3 miles to Jamestown. Unfortunately, little more than the foundations of the once great house and its dependencies now remain. Because the extensive archeological remains, complicated by later construction, are difficult to interpret, the exact out side appearance and interior arrangement of the house in Berkeley's time can only be conjectured.
Berkeley's activities at Green Spring were diverse. They included winemaking, cultivation of rice and flax, production of silk from mulberry trees, maintenance of a large fruit orchard, the raising of oranges in a hothouse, and the harvesting of timber products. Berkeley also raised livestock, including racehorses, and had a windmill and pottery kiln.
An act of Congress, approved June 5, 1936 (49 Stat. 1483), authorized the inclusion of the Green Spring site in Colonial National Historical Park.
---
http://www.cr.nps.gov/history/online_books/explorers-settlers/sitea30.htm
Last Updated: 22-Mar-2005