---
Survey of Historic Sites and Buildings
COLONIAL NATIONAL HISTORICAL PARK and JAMESTOWN NATIONAL HISTORIC SITE (Non-Federal Ownership)
(Jamestown Island)
Virginia



Location: James City County, 10 miles southwest of Williamsburg on the Colonial Parkway; address, Superintendent, Colonial National Historical Park, P.O. Box 210, Yorktown, VA 23690.
At Jamestown Island, originally a peninsula, is commemorated the first permanent English settlement in America, in 1607. The first years at Jamestown were difficult for the settlers, who struggled constantly against sickness, starvation, and hostile Indians, and nine-tenths of them died. After 1699, when the seat of government was moved to Williamsburg, the settlement was virtually abandoned. About the time of the War for Independence, the isthmus connecting Jamestown with the mainland was washed out and the town ceased to exist.
In 1893, the Association for the Preservation of Virginia Antiquities acquired title to 22-1/2 acres on Jamestown Island. In 1940, the Secretary of the Interior designated this acreage as Jamestown National Historic Site, under an agreement between the association and the Department of the Interior to provide for unified development of the whole island. Except for the association tract—now reduced to 20 acres because of donations to the park—the remainder of Jamestown Island is in Federal ownership. Visitors may take a walking tour and 3- and 5-mile driving tours of the island.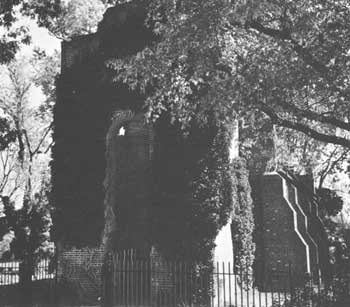 Old Tower, in the foreground, believed to have been a part of a brick church begun in 1639, is the only standing ruin of 17th-century Jamestown, Virginia. Today it adjoins a memorial church, in the right rear background, erected in 1907 by the Colonial Dames of America on the foundations of the original church.
From a parking area, near the original townsite of Jamestown Island, a footbridge leads to the visitor center. From there, a walking tour extends over the townsite along the old streets and paths to the church, the statehouse sites, and the ruins of early houses, taverns, and shops. The visitor is guided along the way by various markers and recorded messages. In nearby Festival Park, the Commonwealth of Virginia maintains exhibits relating to the history of Jamestown.
---
http://www.cr.nps.gov/history/online_books/explorers-settlers/sitea31.htm
Last Updated: 22-Mar-2005