---
Survey of Historic Sites and Buildings
COLONIAL NATIONAL HISTORICAL PARK
(Cape Henry Memorial)
Virginia



Location: Princess Anne County, on U.S. 60, about 10 miles east of Norfolk; address, Superintendent, Colonial National Historical Park, P.O. Box 210, Yorktown, VA 23690.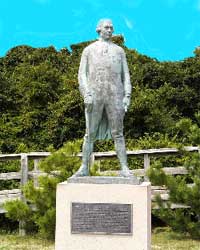 Cape Henry Memorial, Colonial National Historical Park.
Sea-weary English colonists, who were soon to found the first permanent English settlement in the New World, caught sight of Cape Henry, at the entrance to Chesapeake Bay, on April 26, 1607—their first view of Virginia. Having spent almost 5 months crammed aboard three tiny craft, they stopped off at Cape Henry for 4 days before proceeding up the James River to Jamestown, where they settled permanently.
The Cape Henry Memorial comprises a quarter acre, on which stands a memorial cross erected in 1935 by the National Society, Daughters of American Colonists, to mark the approximate site of the landing. It is completely surrounded by the Fort Story Military Reservation, of which it was formerly a part. The War Department transferred the memorial area to the Department of the Interior in 1939. The memorial is administered as part of Colonial National Historical Park, which also includes Jamestown, Yorktown Battlefield, and the Colonial Parkway.
No facilities or special services are available. Visitor passes are issued by military personnel at the entrance to the Fort Story Military Reservation. Religious and patriotic observances are held annually at the memorial, usually on the Sunday closest to April 26. These are sponsored by the Order of Cape Henry, 1607.
Nearby, and of special interest although not under National Park Service jurisdiction, is the old Cape Henry Light (1791), the first lighthouse erected by the Federal Government.
---
http://www.cr.nps.gov/history/online_books/explorers-settlers/sitea29.htm
Last Updated: 22-Mar-2005