---
Chapter Five:
Selling Sequoia: The Early Park Service Years
(1916-1931)
(continued)
Campgrounds, Water Lines, and Government Buildings
Important as roads and trails were for making the parks accessible to the public, Mather and his men believed that much more was necessary, particularly as guests packed into Giant Forest and other popular areas. Twenty-six years of previous park use had generated a disorganized array of ramshackle temporary structures, scattered and messy campsites, a profusion of litter and waste, and grossly inadequate water and sewage systems. Mather and White aimed to correct these problems. Three specific issues had to be addressed. First, the Park Service needed to organize and enlarge government controlled camping. Hitherto campers had simply thrown up tents or crude cabins wherever they found space. Second, they needed to construct basic infrastructure like water systems, garbage dumps, and parking lots. Finally, to benefit the touring public, assist the rangers who hosted them, and realize the image Stephen Mather promoted, the park needed scenic overlooks, amphitheaters, museums and visitor centers, as well as administrative buildings at Giant Forest, at General Grant, and somewhere in the lower elevations for winter residence. [36]
One of the first tasks was to solve the chaos of miserable camping facilities that beset Giant Forest. Years later Colonel White described the grim scene that met his eyes upon his arrival at his new assignment in 1920:
. . . it was barely possible to see Round Meadow because of the tents which surrounded it. The very choicest places were preempted by public campers and by those who had permits to establish little cabins at Giant Forest. The whole of the Hazelwood, Firwood, Nob Hill and other central camp areas was given over to camping and in every direction there were pit toilets, cess pits, and a criss-cross of water lines under the Big Trees. [37]
During Fry's administration an effort had been made to improve the situation by installing a sewer system, but this merely encouraged an increased density of campsites, many of them using sequoias as braces for their lean-tos and tents.
White quickly decided that the Park Service needed to organize developed campgrounds within Giant Forest, but at the edge of the central belt of sequoias. Here camping could be restricted to planned sites and excluded from the premier scenic attraction of the park. Thus, from 1921 to 1928, the Park Service designed and constructed four campgrounds called Firwood, Highland, Paradise, and Sunset Rock, with access roads, parking areas, and comfort stations. As they moved campers away from Round Meadow, rangers razed nearly three hundred campsites and by 1932 had restored most of the central area to a semblance of the natural scene. In addition to the four campgrounds in Giant Forest, the Park Service also established a large camp development in the Lodgepole Valley five miles from Giant Forest. By 1928, park officials decided to make Lodgepole the primary camping area for the park, a role it still holds today. Although these steps to clear Round Meadow and the sequoia belt were commendable, later hindsight would find the solution insufficient. Hundreds of campsites still occupied Giant Forest, albeit in less sensitive sections. And, to the later dismay of park officials, some of the former camping areas were later occupied by the concessioner's cabins and tent-structures. [38]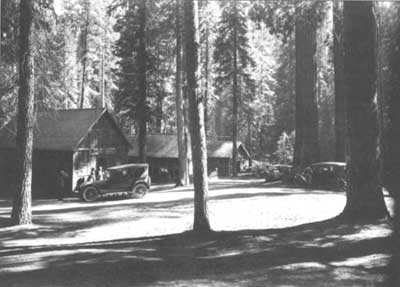 The first commercial "village", in Giant Forest developed in the 1920s adjacent to Round Meadow. After the Generals Highway opened in 1926, many of these buildings were moved to the new village site one-quarter mile away. (National Park Service photo)
Even as the Park Service worked to relocate and organize the camping chaos at Giant Forest, it made a startling decision. After surveying the scene in Giant Forest, particularly the sites occupied by San Joaquin Valley residents for up to four months at a time, Mather gave permission in 1920 for locals to construct "semi-permanent camps." Initially this meant erection of simple roofs to shelter the campers and their equipment from summer thunderstorms. However, within a short time the fifty families who secured permits began to add to their complexes, stringing lines between trees, and building walls, sheds and even rudimentary fences. The reaction of campers was so swift and the implications of "ownership" in a national park so disturbing, that the director reversed his decision only a year later. However, as the Park Service would come to find out many more times, once something becomes acceptable practice it is next to impossible to reverse the policy. Colonel White, who dealt daily with local citizens and courted their favor for the park expansion bill, tried for several years to convince Mather to reestablish the practice, but the director resisted. Meanwhile, each campsite that was not reassumed at the opening of a season was quickly torn down and removed. Thus, in fall 1932 only nine sites remained when Park Service officials unceremoniously revoked their permits and removed the few remaining structures. The reason for allowing the practice is clear—local support for a national park was a priority for survival and in this case expansion. However, the policy of allowing semi-permanent camps flew in the face of Secretary Lane's letter, composed from Mather's own ideas, which flatly stated, "you should not permit the leasing of land for summer homes." Colonel White argued that these could scarcely be called homes, nevertheless even for development-minded officials like Mather and Albright, the semi-permanent camps constituted an aberration from principles and policies. [39]
As they solved the camping problem in Giant Forest, park officials also looked for ways to improve the basic infrastructure of the parks' developed areas. Haphazard trash and sewage disposal, inadequate water supply, and confusion created by cars pulled alongside Generals Highway and amidst the trees all begged quick resolution. One of the earliest and most important steps was construction in 1923 of a new water supply system for Giant Forest. Before that date water came from tiny Sherman Creek near the development area. However, by 1923 Sanitary Engineer H.B. Hommon realized that this supply would always be inadequate, particularly during dry seasons. He proposed that a four-inch redwood pipeline be run from the reservoir at the old Mt. Whitney Power Company site at Wolverton Meadow. The cost was significantly higher, but the potentially disastrous consequences of doing nothing convinced White and his bosses. By the end of the season, the new system brought 350,000 gallons a day of fresh water to Giant Forest and allowed rapid expansion of both government and concession developments in the grove. [40]
During this same period, the Park Service added a new water system at Ash Mountain, sewage systems at General Grant and Giant Forest, and a new garbage incinerator at Bear Hill, which promised to ease a rapidly mounting garbage and litter problem. In addition, park officials constructed dozens of new parking areas in campgrounds at concession facilities, and at scenic attractions like the Sherman Tree and Moro Rock. Sequoia in particular had be come a zone of auto borne recreation, with the number of auto permits rising from 766 in 1918 to nearly 21,000 in 1930. Each of these completed projects enabled the Park Service to absorb a greater number of tourists in the parks' popular areas. [41]
Once visitors arrived in the parks, they hungrily combed the developed areas for scenic attractions, visitor contact stations, and various amusements. In response, the Park Service concentrated on improving and making available these features. During the twenties, laborers built amphitheaters, a museum, and several visitor centers. In 1917, an elaborate and somewhat intimidating wooden staircase had been erected to the top of Moro Rock. After fourteen years of exciting climbs, the Park Service replaced it with a stone stairway carved into the famous outcrop and added a handrail two years later. A fallen sequoia was graded and converted into an "Auto Log" and quickly became a major attraction. At General Grant rangers cut dozens of smaller trees to provide a scenic vista of the Grant Tree which, as the "Nation's Christmas Tree," had become part of several pageants and rituals. Finally, the Park Service built a new winter headquarters building at Ash Mountain and a new maintenance complex at Lodgepole. It was a busy time for the parks' administration, one filled with ambition and optimism, and one which met with popular approval every step of the way. [42]