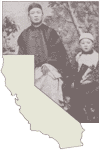 Five Views: An Ethnic Historic Site Survey for California
---
MENU
---

Introduction
Early Contacts
1850s
1860s
1870s
1880s
1890s
1900s

Historic Sites
Selected References
---

---

A History of Chinese Americans in California:
HISTORIC SITES
---
Bodie Chinese American Community
Mono County
Three buildings remain from Bodie's historic Chinese American community. They are located on King Street, which was the center of the Chinese American community on the outskirts of town. One structure is a commercial building of fieldstone with a wood plank roof covered with tar paper. Half of the building appears to have had a gable roof, and the other half a hip roof.
The other two buildings are made of wood, including board-and-batten walls. Their wooden roofs are also covered with tar paper. The larger of the two buildings is a simple rectangle with a gable roof. The smaller building is also rectangular with a gable roof, though it has an attached shed in back. All three buildings are badly deteriorated.
South of the historic Chinese American community lie the ruins of the town of Bodie and nearby mine buildings. In Bodie is a saloon once operated by a Chinese American, Sam Leon, when the town flourished. West of town at the north end of the main cemetery it is said that there was a Chinese American cemetery.
W. S. Bodey and mining companions found gold north of Mono Lake in 1859. The Bodey (Body or Bodie) Mining District was organized the following year. In 1863, the Bodie Bluff Consolidated Mining Company, the first mining corporation, was formed. In 1878, the Bodie Mining Company made a phenomenally rich strike of gold and silver ore. Peak production was reached in 1879-80. Between 1879 and 1881, Bodie's population was between 10,000 and 13,000.
Chinese miners came to Bodie early, but were soon excluded from the mines and confined to service occupations. The 1880 Census shows several hundred Chinese Americans in Bodie. Among the men, there were laundrymen, cooks, kitchen helpers, laborers, peddlers, servants, store keepers, wood haulers, teamsters, dish washers, a waiter, a druggist, a restaurant owner, a lodging house owner, and miners. Half the women were married, and the other half unmarried, but no occupations were listed. There were no children.
As in many other mining communities in California, the Chinese in Mono County experienced racial discrimination. In 1881, the Bodie Railway and Lumber Company was formed to haul wood and lumber from the Mono Hills to Bodie. When Chinese Americans were hired for construction of this railroad, excited White miners met at the Miners Union Hall. Subsequently, a band of White men traveled the 21 miles to Mono Lake by foot, horse, and buggy to confront Chinese workers grading the railroad line. Word preceded their approach, and all Chinese Americans were put aboard the steamer Rocket and ferried out to Paoha Island in Mono Lake. There, the Chinese Americans set up housekeeping with all their worldly goods. The frustrated miners arrived at the deserted railroad camp, but there was no way to cross the water to the island. They soon straggled back to Bodie.
In Bodie, on narrow King Street, Chinese Americans ran laundries, peddled vegetables (shipped in by express), supplied charcoal, and provided most of the wood used in the town. Bodie's Chinese American community had its own temple and recreational facilities. Newspaper accounts mention New Year celebrations, large funerals, and such individuals as Sam Chung and Sam Leon.
Bodie is a State Historic Park maintained by the California Department of Parks and Recreation in a condition of arrested decay to prevent further deterioration of the town's resources. Bodie is listed on the National Register of Historic Places and is a California State Historical Landmark.


Bodie, Mono County
NEXT> Bok Kai Miu