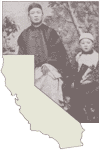 Five Views: An Ethnic Historic Site Survey for California
---
MENU
---

Introduction
Early Contacts
1850s
1860s
1870s


1880s
1890s
1900s

Historic Sites
Selected References
---

---

A History of Chinese Americans in California:
THE 1880s
---
Exclusion
The Burlingame Treaty was amended in 1880. After steadily mounting agitation, the Chinese Exclusion Law was passed in 1882 by the United States Congress, and signed by President Chester A. Arthur. Under this law, Chinese laborers, unskilled or skilled, were excluded from entering the United States for 10 years. Only merchants, diplomats, tourists, students, and teachers were allowed to enter the country. Under these categories, professional people, such as herbalists, were sometimes considered as laborers. Merchants could bring their wives to this country, but laborers could not. Chinese American workers were forced to decide whether they should return to China, or remain in this country to work and possibly never see their families again. [99]
Expulsion
Enactment of the Exclusion Law was followed by expulsion of Chinese Americans from various localities. Before 1885, for example, Chinese American miners faced hostility in Humboldt County despite the amount of Foreign Miners' taxes they had paid that contributed to the economy of the country. Before 1885, restaurants in Eureka, the county seat, advertised in local newspapers that they did not employ Chinese help. In addition, there was considerable agitation in the county for the Chinese Exclusion Law. Finally, on February 6, 1885, an event occurred that provided a pretext for moving all Chinese Americans out of the county and shipping them bodily to San Francisco, along with as much of their property as they could pack in 48 hours.
On February 6, Councilman David Kendall was accidentally shot and killed, allegedly by Chinese Americans. Instead of punishing the guilty, White citizens decided that all Chinese Americans must leave the country, never to return. Chinese American merchants lost the goods in their stores since they could not pack them in time, and Chinese American families lost their household furnishings. The steamer Humboldt carried 135 to San Francisco, and the steamer City of Chester took 175. When this news reached the Chinese Six Companies, they brought suit against the City of Eureka for $6,000,000 in damages they claimed the Chinese Americans from Eureka had suffered. After several months, the suit was concluded with the ruling that the Chinese Americans should be compensated for property damage (there was none) but not for business losses, which were extensive. [100]
Del Norte County, on the coast of California north of Humboldt County, followed suit. Citizens of Del Norte County had no particular pretext of their own, but on January 31, 1886, they expelled virtually all Chinese Americans from the county, and sent them by boat to San Francisco. [101]
Around the time of these expulsions, a series of fires occurred throughout the state, some of suspicious origin. In 1881, buildings of the Chinese American community in Dutch Flat burned a second time, causing a loss of about $30,000 and some 60 buildings. [102] In 1886, a group of 30 masked men from Wheatland, Yuba County, raided Chinese American workers on H. Roddan's ranch, beat 11 hop pickers, then burned down the Chinese American bunkhouse on C. D. Wood's ranch. [103] In May 1887, a fire destroyed San Jose's Chinese American community under suspicious circumstances. Newspapers on the following day noted that the fire had started in three places at once and that water tanks were empty at the time. Three months earlier, the San Jose City Council had discussed the abatement of Chinatown, and had directed their attorneys to find legal ways of doing so [104] About a week after the San Jose fire, a fire destroyed about $50,000 worth of property in Fresno's Chinese American community. There was a high wind and no water. [105] In October 1887, fire almost totally destroyed Chico's Chinese American community, and "to cap the disaster, the firehose was chopped in four places during the conflagration, evidently by persons who hated the Chinese at this time." [106]
In 1888, Congress passed the Scott Act, which barred re-entry of Chinese laborers to the United States, even if they left the country only temporarily. [107] Many men who had gone back to China to visit their families and had left property and business ventures in this country were prevented from returning. As a result of the Chinese Exclusion Law, the Scott Act, and racial discrimination, Chinese immigration to the United States showed a 40% decline between 1880 and 1890. [108] Before 1880, Chinese immigration to the United States had increased steadily.
Ironically, one of the results of the Exclusion Law and the Scott Act was a shortage of Chinese American workers. Since there were not enough of them to fill the demand, they were able to obtain a higher rate of pay. [109]
NEXT> The 1890s