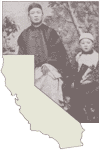 Five Views: An Ethnic Historic Site Survey for California
---
MENU
---

Introduction
Early Contacts
1850s
1860s
1870s
1880s
1890s


1900s

Historic Sites
Selected References
---

---

A History of Chinese Americans in California:
THE 1900s
---
Quarantine And Its Aftereffects
After the turn of the century, discrimination against Chinese Americans culminated in two acts, the quarantine of San Francisco's Chinatown, and indefinite extension of the Chinese Exclusion Act of 1882. The reason San Francisco's Chinatown was quarantined was that the body of a Chinese laborer was found, and it was suspected that he had died of bubonic plague. While the cause of death was still undetermined, a cordon was placed around Chinatown, and no Chinese American was allowed to leave the area bounded by California, Kearny, Broadway, and Stockton streets. This restricted the freedom of movement of people, some of whom were American citizens. It caused them many hardships, for they had difficulty in obtaining goods and services from people outside Chinatown. There was a shortage of food, and prices increased sharply. Chinese American businessmen faced a loss of income, and workers a loss of wages. Finally, after three and a half months, it was found that there were no cases of bubonic plague within Chinatown. This lengthy quarantine of Chinatown was motivated more by racist images of Chinese as carriers of disease than by actual evidence of the presence of bubonic plague. [115]
Chinese American pioneers lived throughout the state of California, wherever there was a chance to earn a living. But they were driven off mining claims, terrorized by vigilantes, removed on short notice from two counties and shipped to San Francisco. Once in San Francisco, they could not live where they pleased, but had to crowd together in one section of the city, the so-called "Chinese Quarter," later referred to as Chinatown. The quarantine represented the final step in segregation of San Francisco's Chinese Americans. The symbolism of the rope cordon was carried forth for four decades as an invisible boundary, beyond which Chinese Americans dared not pass without the risk of being insulted and even physically abused.
The Chinese Exclusion Law of 1882 was renewed in 1892 and 1902, and then extended indefinitely in 1904. [116] It prevented Chinese Americans who were not merchants from bringing their families to this country. Since there were far more unmarried Chinese American men than women here, and since the anti-miscegenation laws prevented Chinese American men from marrying White women, it condemned the men to bachelorhood.
Recovery From San Francisco Earthquake
These events were capped by a natural disaster, the San Francisco earthquake and fire of 1906. Virtually all buildings in Chinatown were destroyed, and efforts were made to relocate Chinese Americans from the downtown area to less desirable portions of the city. These efforts failed, and thus represent a turning point in the fortunes of Chinese Americans. Destruction of birth certificates in the earthquake enabled some Chinese Americans to claim citizenship by reason of birth in this country. When the offices of the Chung Sai Yat Pao in San Francisco were destroyed, the newspaper moved to Oakland. Its editor, Dr. Ng Poon Chew, went on to become a spokesman and advocate of civil rights for the Chinese American community. [117]
When the offices of the Precita Canning Co. in San Francisco, whose officials and board of directors were all of Chinese ancestry, were destroyed in the earthquake, the company changed its name to the Bay Side Canning Co. and relocated to Alviso in Santa Clara County. It had been founded in 1890 by Sai Yin Chew, whose son, Thomas Foon Chew, later increased the size of its operations to include canning plants in Alviso, Isleton, and Mayfield, and extensive farm lands in the Sacramento Delta. Commodities canned at the Alviso plant were spinach, asparagus, cherries, apricots, plums, peaches, pears, tomatoes, catsup, tomato sauce, hot sauce, tomato puree, fish sauce, fruits for salad, vegetables for salad, and later, fruit cocktail. The Isleton Plant canned mainly spinach and asparagus. The Bay Side Canning Co. was one of the largest canning companies in the early twentieth century, even surpassing Del Monte at one time. [118]
One of the unique institutions of San Francisco's Chinatown was the Chinese American Telephone Exchange. In 1891, the first public telephone pay station was installed in Chinatown. In 1894, a small switchboard was set up to serve subscribers to the telephone system. Telephone operators knew each subscriber by name, so telephone numbers were not necessary. They also knew the address and occupations of subscribers so they could distinguish between two subscribers of the same name. In addition, they had to know several Chinese dialects besides English. Although the offices of the exchange were destroyed by the earthquake, they were rebuilt afterward, and remained in operation until 1949. [119]
Though the ambitions of many Chinese Americans were thwarted by racism and employment discrimination, these people did not give up. For example, on September 21, 1909, young Chinese American inventor and aviator Fung Joe Guey, circled through the air for 20 minutes back of Piedmont, Alameda County, in a biplane of his own manufacture, embodying his own ideas in aeroplane manufacture. [120]
The main focus of this Chinese American Survey is on nineteenth-century Chinese American historic sites. A few twentieth-century sites were included for continuity. Following are a few of the significant events in twentieth-century Chinese American history: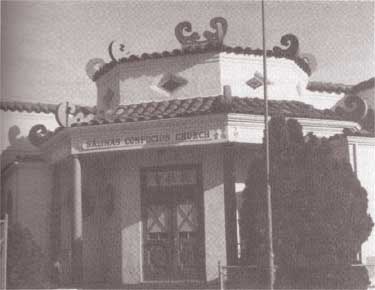 Salinas Confucius Church, Monterey County
NEXT> Historic Sites