Whitmore Canyon Overlook and Whitmore Point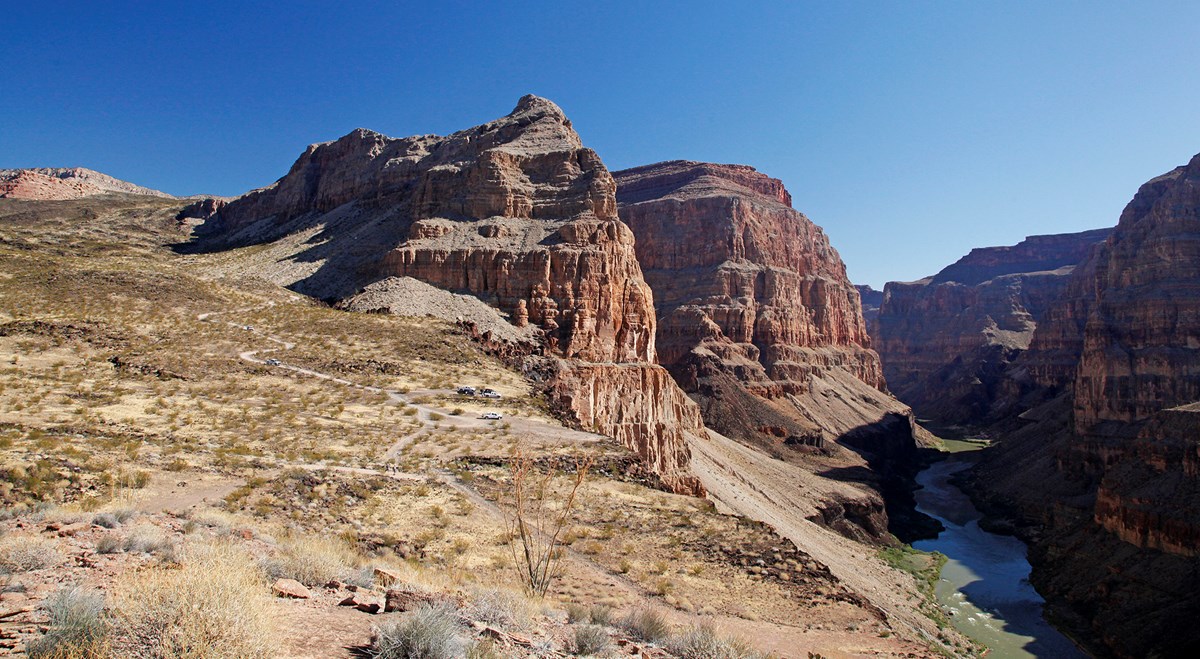 This is not a complete guide to all roads in the Whitmore Canyon area. This list includes numbered and unnumbered roads on the BLM map that are used by the recreating public frequently. Use this guide with the
BLM Arizona Strip Visitor Map.
For all other roads assume they are for specially modified short wheelbase 4x4s. Some are only for UTVs. Always turn around if it gets too rough for your vehicle.
BLM1045 - Usually appropriate for all high clearance 4x4s to the Bar 10 private ranch. Motorists may pass through the closed gate of the ranch but must stay on the main road heading south unless a guest of the ranch. One mile south of the ranch BLM1045 climbs up onto a lava flow (see photo below looking down on the lava flow and road). The basalt rock is sharp and will destroy tires not designed to be taken off pavement. Rugged all-terrain tires are necessary here. The road continues seven miles over lava rock down to Whitmore Canyon Overlook.
BLM1046/NPS1246 to Pa's Pocket ranch ruins. Rough but usually appropriate for all high clearance 4x4s. The road continues a short distance but is only appropriate for UTVs and short wheelbase high clearance 4x4s. It wraps around the flank of Mt. Emma to east views of the Grand Canyon.
NPS1247 - A few miles south of the Bar 10 ranch the road turns west across a broad bench of the Grand Canyon and ends at the mouth of Parashant Canyon near Frog Spring. Recommended for UTVs and modified short wheelbase 4x4s only. Rough and slow going.
BLM1063/NPS1263 to Whitmore Point - There are several road junctions on this route so be sure you have the BLM Arizona Strip Map to know which way to turn. From the Mt. Trumbull Schoolhouse take BLM1063 towards Whitmore Point. It becomes NPS1263 at the National Park Service boundary in the Parashant. This road is rough. Stock full size 4x4 pickups with experienced off-road drivers can make it out to Whitmore Point but if the vehicle has low front bumpers, steps, or running boards, those will likely be damaged or torn off on one of the rough sections. The road Y's at the end to an eastern and western view. A sheltered area at the end of NPS1263 is somewhat protected from the wind for camping.
NPS1248 - This is a spur off NPS1247 and is similarly rough.
CR257 - From the Mt. Trumbull Schoolhouse to the monument boundary this road is usually appropriate for all high clearance 4x4s. After heavy rain or snow this road will be impassible until dry due to deep ruts and mud.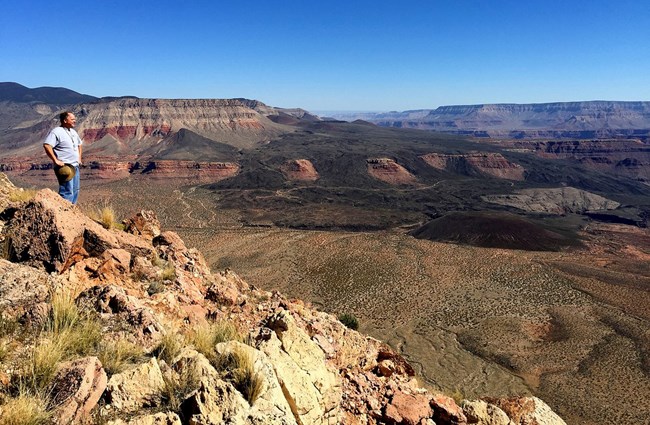 Whitmore Canyon's Dramatic Volcanism
After a long rough drive out to Whitmore Point visitors are treated to a stunning view of a seldom visited part of the Grand Canyon. As you can see from the photo, ancient cinder cones and several lava flows decorate this part of the Grand Canyon.
To learn more about why there are so many volcanoes here, see our
Volcanism section
.
Last updated: May 16, 2022