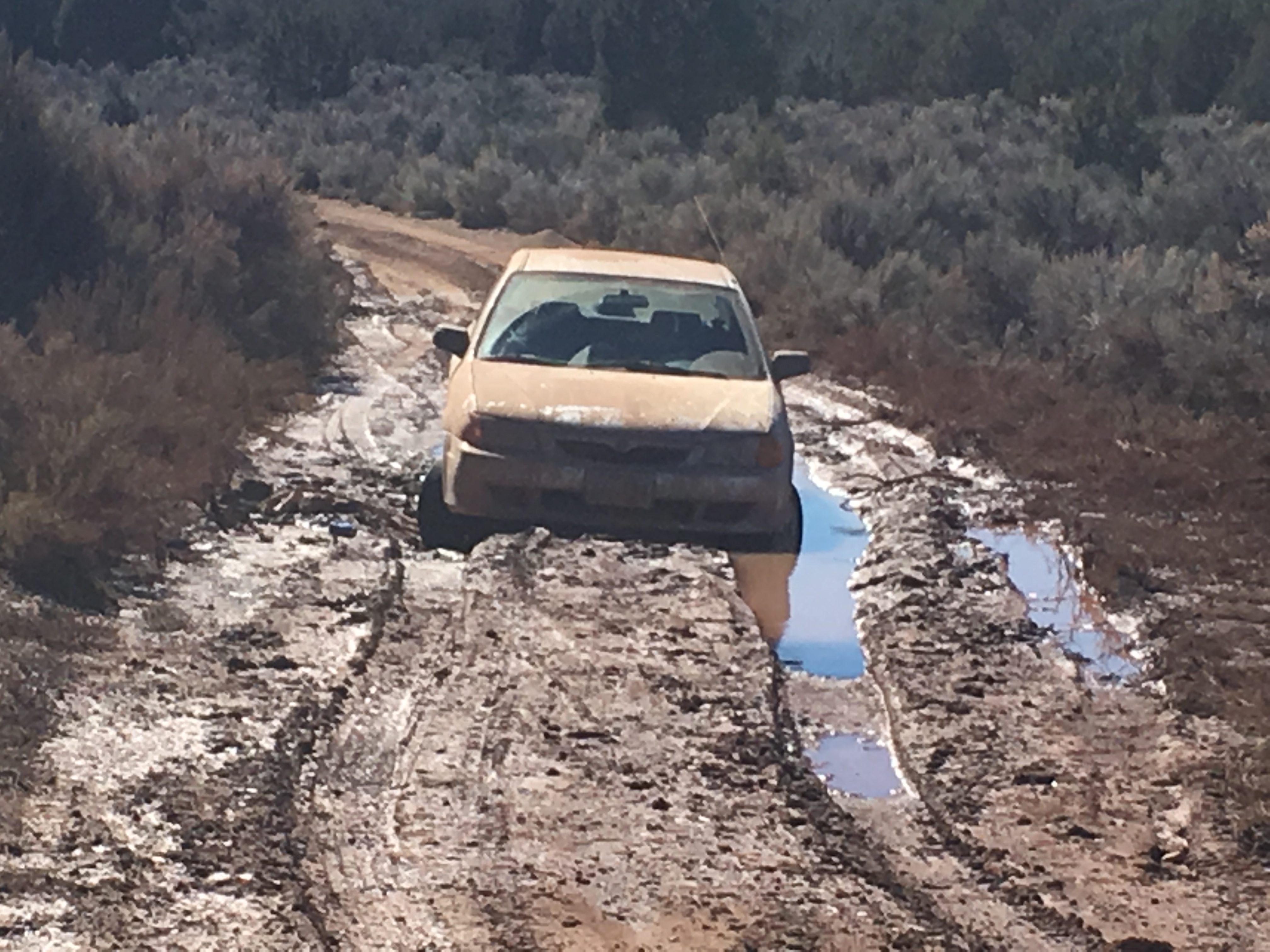 Driving Dangers
Parashant is a scenic monument but recreating there must not be taken lightly. Appropriate equipment in good working order and adequate supplies are critical to having a safer experience. Roads are narrow and winding. Getting stuck or having a mechanical breakdown are two of the highest risks on the Parashant because of the remote nature of the monument.

People have died here because their vehicle got stuck or broke down and no one came by who could help them.

In February 2017, a motorist died from complications of exposure after getting his car stuck in the mud just outside the monument boundary on a remote road near Black Rock Mountain. (photo above) He did not have the right vehicle or tires for the conditions. No one knew where he had gone or where to start a search. No one came by for three days. It was winter and conditions were cold. The driver was wet and hypothermic after trying to free his car from the mud. Even a high clearance 4x4 pickup with mud tires could have gotten stuck in a puddle like the one in the photo. Mud and deep puddles on the monument are common after rain and snow events.
Do not trust recommended routes from digital navigation systems. Roads in the Parashant are not shortcuts to ANYWHERE!

Recent Near Misses
2017 - A visitor drove his dirt bike over 100 miles into the Parashant to Kelly Point, a dead-end 4x4 road. He ran out of gas "trying to get to Kanab, Utah." He ended up walking over 30 miles in motorcycle boots down a rocky muddy road. Luckily he stumbled upon a group of campers and was rescued.

Numerous incidents of visitors following their GPS down remote dirt roads include
Family of six trying to find the Grand Canyon Skywalk (it is located on the other side of the Grand Canyon, a 6 hour drive from St. George via Las Vegas)
Two women trying to find the St. George Airport (stranded - near fatality)
Man looking for the North Rim Village of Grand Canyon National Park, which is a 3 hour drive east of the Parashant.
Off-road driving is prohibited. The desert environment is more fragile than it may look. Off-road driving creates ruts, upsets delicate drainage patterns, compacts the soil, and leaves visible scars for years. Crushed and uprooted plants may not recover.
Travel with extra water, food, blankets, and any other personal health items you need to last several days. If you experience car trouble, stay with your vehicle. Some roads are seldom traveled.

Watch out for reckless motorists. Some UTV/ATV and dirt bike drivers exceed safe speeds and can come flying around a corner into your vehicle. Do not swerve as you risk sending your vehicle out of control. Use your brakes to slow down as much as possible.