Two-tailed Swallowtail Butterfly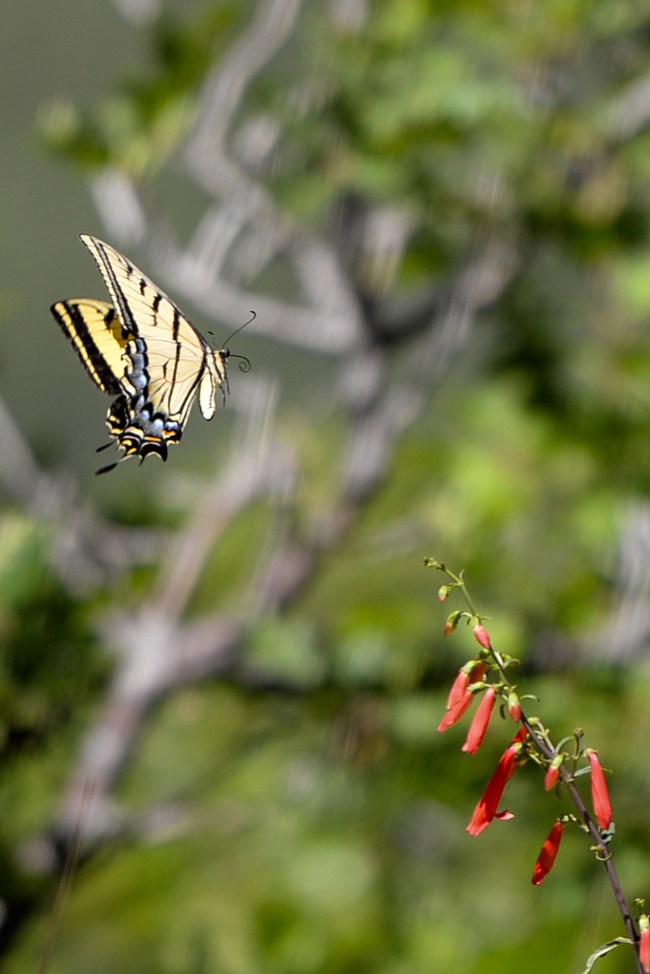 Beauty and size make the two-tailed swallowtail butterfly (
Papilio multicaudata
) a popular performer at Parashant National Monument. It is an impressive specimen with a nearly five-inch wingspan and a body that approaches two inches in length. So impressive that is was designated the Arizona state butterfly in 2001.
Near the top of the yellow wings are 4 markings of almost parallel black lines. The posterior portion of the wings hold blue dots surrounded by black markings that curve to form a "w" shape when the wings are open. Below these dots are more rectangular shaped orange bars emblazoned into the dark outline of the wing.
This giant of a butterfly has many nutritional requirements so it cannot afford to be fussy in choosing flowers. It feeds on penstemon, thistle flowers, milkweed, and just about anything else it can find. Swallowtails stay on the move. Lucky visitors to the monument can see these butterflies amongst flower patches on open slopes and valleys particularly near water. Insectivorous birds, large siders, and even coyotes or bobcats are all predators of the butterfly.
Last updated: December 3, 2019