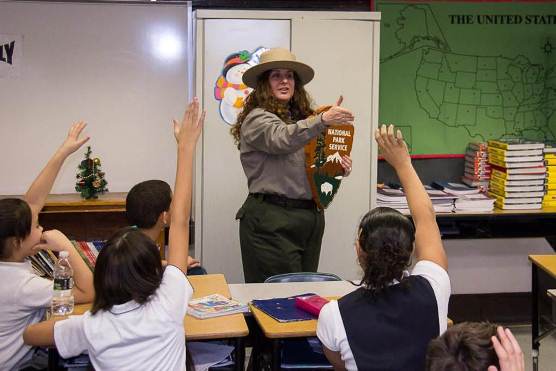 News Release Date:
December 3, 2012
Contact: Ilyse Goldman, (973) 523-5295
Paterson Great Falls National Historical Park 'Adopts' School #7
Paterson, N.J. - Paterson Great Falls National Historical Park and Paterson Public School 7 today announced the beginning of an educational partnership that will achieve the shared goals of educators and the new national park. The partnership will culminate during the National Park Service's 100th anniversary in 2016 when that year's graduating class will unveil their capstone service project to enhance the visitor experience at the park.
"The National Park Service is looking forward to a second century of stewardship of America's special places. But to be successful in the next century we have to begin teaching the values of historic and natural preservation to the next generation of park stewards," said Darren Boch, park superintendent. "With an eye to 2016, we've decided to launch an 'adopt-a-class' program with School #7, and hope that the pilot program serves as a springboard to further partnership opportunities throughout the school district."
The project will connect the educational goals of the National Park Service (NPS) with those of the school district and will focus on National History Day and the development of place-based lesson plans on art, science, technology, engineering and mathematics.
When asked why she was interested in partnering with Paterson's newest neighbor, Dr. JoAnn Cardillo, Principal of School #7, said that she "has a strong belief that the National Park Service could offer many educational and job-related opportunities for our students while instilling a sense of pride for the role that their city played in developing the nation."   
While the program will touch upon all classes at the school, it will foster a close relationship with the NPS and the 2016 graduating class. That class, currently in the 5th grade, will benefit from a 4-year spiraling curriculum designed to immerse students in the values and experiences to be found in the NPS as well as provide job skills and introduce them to career opportunities with the agency.

###
About Paterson Great Falls National Historical Park
Designated both a National Natural Landmark and a National Historic Landmark District, Paterson Great Falls NHP was established as a national park in November 2011. The Great Falls of the Passaic River is the second largest waterfall by volume and width east of the Mississippi River. The 77-foot-high falls inspired Alexander Hamilton, the first U.S. Secretary of the Treasury and Paterson's founder, to harness water power to drive manufacturing. The "raceway" system of channels and spillways built here in the early 1800s powered Paterson's bustling factories and helped to build the United States into the world's largest market economy.