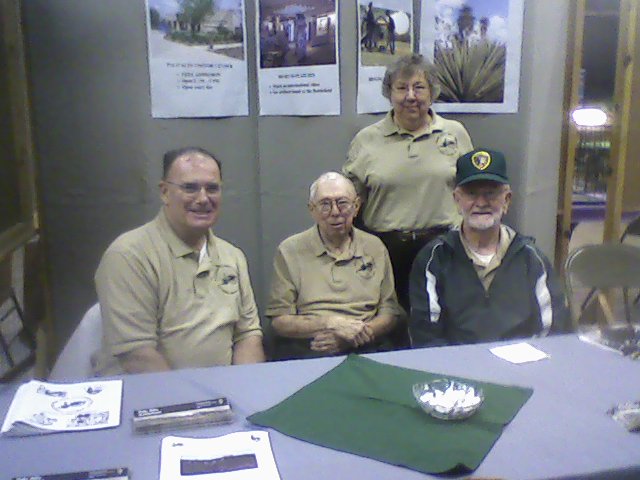 News Release Date:
February 18, 2010
Contact: Karen Weaver, 956-541-2785 x332
Each winter, thousands of "Winter Texans" invade the Rio Grande Valley, in their efforts to escape the cold and snow of the Northern U.S. and Canada. They establish their bases in local RV parks and proceed to occupy the region until the spring thaw arrives.
Like many regional attractions, Palo Alto welcomes this friendly onslaught. But the park remains relatively unknown and commonly receives only a limited number of scout parties and explorer groups. So the park has launched its own PR assault.
Armed only with their wits, pamphlets and Power-Point presentations, members of the Palo Alto staff have attacked Winter Texan stronghold, introducing the snow birds to the history of Palo Alto and the park's events, offerings, and opportunities. Park Ranger Karen Weaver, has been especially active as a special force, infiltrating dozens of RV parks and making contact with hundreds of interested residents.
Volunteer forces have also stepped into the fray. The park has mobilized a company of dedicated volunteers to capture interest at trade shows and exhibitions throughout the Rio Grande Valley. With their assistance, Palo Alto is able to make its presence known to thousands of visitors in a matter of hours.
This information offensive seems to be capturing hearts and minds. Since the middle of January, the park has made contact with more than 6000 Winter Texans. Of those contacts, hundreds have turned around and made visits to the battlefield, often braving dreary weather and construction to do so.
The park has declared this program to be a strategic success and will continue the campaign well into the month of March. At that point, the park will once again change tactics to confront the next challenge-armies of school students on field trips.