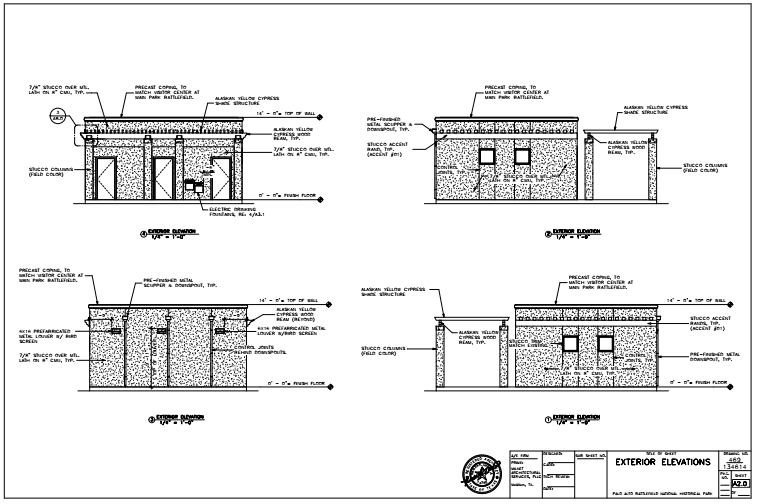 News Release Date:
February 8, 2017
Contact: Douglas Murphy, (956)  541-2785 x 330
Construction crews began preparing the ground in early February for a structure that will include restrooms, drinking fountain, and a shaded assembly area. Work on the project is expected to be completed by the end of June 2017.
The project is part of a continuing effort by the National Park Service to improve visitor access and services at the site. In 2016, the park constructed new parking facilities and Boy Scout Adrian Aguilar installed an entrance sign as an Eagle Scout project. The park also provides walking trails, interpretive panels, and picnic tables for the public.
The restrooms represent a great step forward for the site. Once Palo Alto Battlefield is able to provide facilities for the public, the park intends to increase its use of the Resaca de la Palma battlefield for public programs, tours, school field trips and special events.  

"We are excited to continue developments for the public enjoyment of this site." Resaca de la Palma is an important part of Brownsville's history and a wonderful place to get outdoors to walk, learn and enjoy nature." Superintendent Mark Spier
These facilities will not be the last improvements on the site. The park is currently seeking funding for the construction of a visitor contact station on the site and to improve the trail system across the field. Other activities include the removal of invasive plants and reestablishment of the native vegetation that would have been seen at the time of the 1846 battle of Resaca de la Palma.
The Resaca de la Palm site is currently open to the public Tuesday through Saturday, 9 a.m. to 3 p.m. The site will remain open during the construction process.