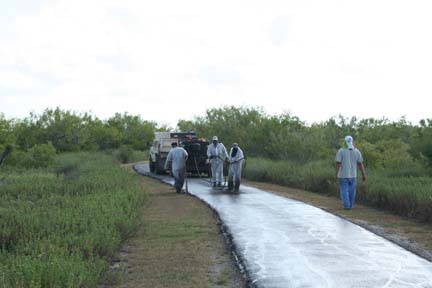 News Release Date:
September 2, 2010
Palo Alto Battlefield is on the path to recovery-or at least working to recover the paths that carry visitors onto the battlefield.
Six years after opening the park, the trails across the battlefield began to look like they had suffered through a war. The shifting soil of the site produced long cracks and deep fissures in the asphalt. Heat and the passage of several tropical storms and hurricanes pitted and pocked the surface. And a series of previous repairs detracted from the appearance of the routes.
In response, the park has embarked upon a campaign to preserve and rehabilitate the trail system. The first part of that process involves work on the primary park trail-a ¾ mile path that links the park visitor center to an overlook of the battlefield. In recent weeks contractors have moved in to clean the trail, fill cracks, and seal in with a new, uniform protective surface. Work on the trail was scheduled for August, when hot weather drives visitation to its lowest levels.
Next year, this project will continue with work on trails that branch off of this main trunk. The park's U.S. and Mexican line trails are both newer additions to the park and a currently in much better condition that the primary trail.
The trail work is also merely a portion of an effort to maintain a park that is just beginning to show signs of age. In coming months, Palo Alto will also begin to perform work on the park visitor center, to resolve some structural problems and make upgrades but primarily to provide the cyclic maintenance needed to ensure that the facility will endure for many years to come.