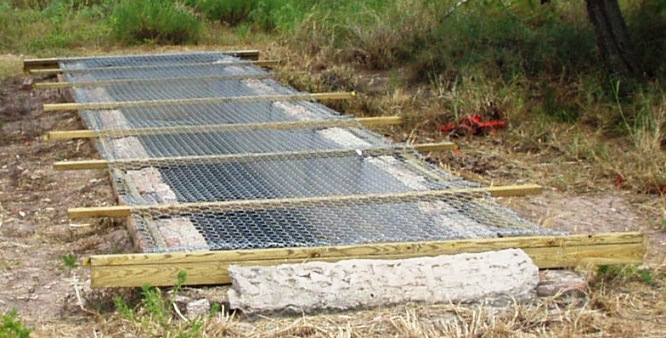 News Release Date:
February 18, 2015
Contact: Douglas Murphy, (956) 541-2785 x330
Contact: Jay Boisseau, (303) 969-2671
A former cattle-dipping operation area (the Site) is located within the boundaries of Palo Alto Battlefield National Historical Park. It was reported the dip tank was used for the treating of cattle for parasites from around the mid-1920's until the 1970's. In 1999, the NPS conducted an assessment of the site and determined that high levels of arsenic found in soil and groundwater was an environmental concern.
In 2004, the NPS conducted a more thorough investigation of the Site to determine the extent of arsenic contamination. In 2009, the park completed a time critical removal of soils containing the highest levels of contamination. This process reduced the exposure risk to workers, visitors, and wildlife, and greatly decreased the movement of arsenic into groundwater and significantly slowed the spread of contamination.
Currently
Lower levels of arsenic remain in soil near areas of public access and also in groundwater. There is a smaller, but continued risk of exposure to workers, visitors, and wildlife.In addition, arsenic continues to slowly spread through the movement of groundwater.
To halt this process, Palo Alto Battlefield is now seeking to undertake a non-time critical removal of a much larger area of soil to remove all contamination and to prevent exposure to arsenic and to prevent additional spreading of arsenic. This removal is being conducted pursuant to the Comprehensive Environmental Response, Compensation, and Liability Act (CERCLA). An Engineering Evaluation/Cost Analysis (EE/CA) has been initiated for the Site. The purpose of an EE/CA is to analyze cleanup options for effectiveness, feasibility, and cost.
Lend your voice
Community involvement is an important component of the EE/CA. The public has the opportunity to be involved in reviewing reports that document the investigations and cleanup actions that have already been completed as well as plans for future cleanup. An administrative record file has been established to store these documents and is available for public review at the following two locations:
Palo Alto Battlefield National Historical Park
National Park Service 1623 Central Blvd, Suite 213
Brownsville, TX 78520-8326
Mon. - Fri. 8 a.m. - 5 p.m.
National Park Service
Intermountain Regional Support Office
Lakewood, CO 80225-0287
Mon. - Fri. 9 a.m. - 5 p.m.
The public will have the opportunity to been involved in the cleanup and restoration of the Site through the participation in a public meeting.Input from the public will be considered as the EE/CA is completed, cleanup plans are prepared, and ultimately, the Site is cleaned up.This public meeting will be held on Wednesday, March 11, 2015 at 6:00 PM in the Palo Alto Visitors Center located at 7200 Paredes Line Road, Brownsville, TX 78526.
If you have questions concerning this project, please contact Douglas Murphy at (956) 541-2785 ext. 330, or Jay Boisseau at (303) 969-2671.