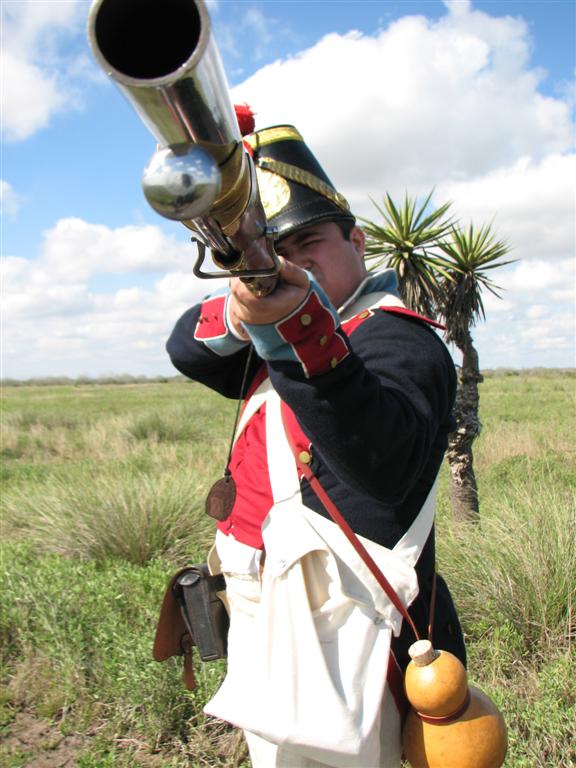 News Release Date:
September 2, 2010
Contact: Daniel Ibarra, 956-541-2785 x324
They're dusting off their muskets, prepping the cannon, and putting on the wool. It's time for Palo Alto Battlefield's Chaparral Company to get back to work. The crew is gearing up for a new season of living history and invites you to come out and experience history in person. The park will host a "soft opening" on September 4, 2010 and will offer living history programming once a month through May--weather permitting of course, black powder doesn't like the rain so much.
For the past several years, Palo Alto Battlefield has offered living history programming as a means to provide visitors with a deeper understanding of what it must have been like to be a soldier during the U.S.-Mexican War. "It brings history...alive and allows people to interact and gain a whole new understanding of what history means by seeing, touching, smelling, and hearing all the sights and sounds of the past" said Wade Marcum, a member of the Chaparral Company. To read about the soldiers is one thing, to see someone in regulation uniform performing marching and weapons drills is definitely another. The program's informal atmosphere allows the audience more interaction with the living historians. Sometimes they even become part of the program!
Living history presentations are usually held on the first Saturday of every month from September through May from 10 a.m. to 1 p.m. Check our calendar for specific dates. Depending on the weather, you are asked to dress appropriately as all demonstrations are held outdoors. For more information call 956-541-2785 ext. 324.