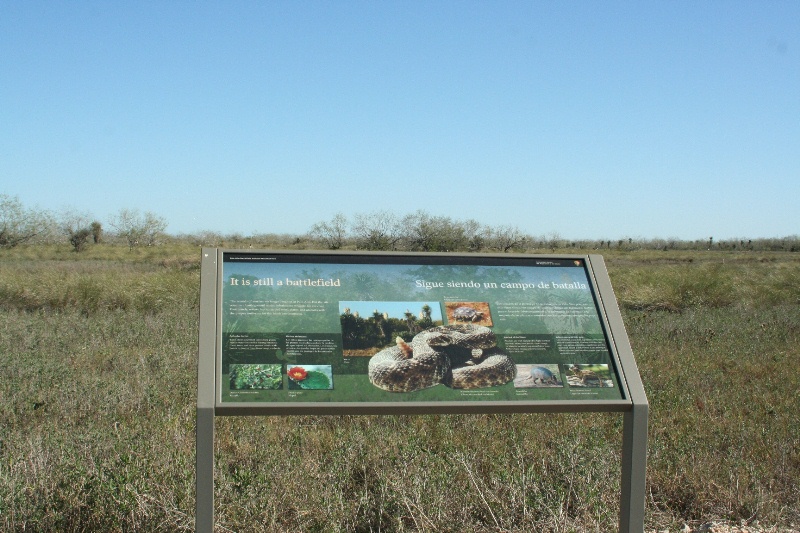 News Release Date:
March 2, 2012
Contact: Douglas Murphy
A number of soldiers who participated in the clash on this site referred to Palo Alto as a "natural battlefield." They meant that the site was a broad, flat plain, perfectly suited to military tactics of the era. But the field is also a natural battlefield in another sense.
The 3,400 acre site covered by Palo Alto Battlefield includes the wide coastal prairie, areas of dense brush, wetlands and the great variety of plants and animals that are abundant in South Texas. And, although the primary purpose of the park is to interpret the 1846 battle, many visitors are drawn to the natural features of the site.
In response to this interest, Palo Alto has recently unveiled a series of wayside exhibit about the natural features of the park. Several of the eight panels draw attention to some of the common birds, plants, and animals that inhabit the site. Others explain the types of habitat on the site and the methods for survival in the harsh environment of the region. The remaining panels examine natural resource management issues, like invasive species and vegetation changes.
The placement of these panels does not suggest a loss of focus for the park. Each of the panels relates the natural scene of the modern era with the surroundings experienced by the troops on the day of the battle. Moreover the project recognizes that many of the soldiers who engaged in the battle took an active interest in the nature of site. Not all were renowned naturalists, like Captain Jean Luis Berlandier of the Mexican army. Not all we avid birdwatchers like Lieutenant John Porter McCown, of the U.S. 4th Artillery Regiment. But many of the men were themselves fascinated by the unique environment of the Rio Grande delta and wrote about it in their own accounts of the war.
In retelling some of this information, the park hopes to encourage visitors to appreciate another facet of the soldiers and the battlefield.