Ranger Programs
A visit to a national park wouldn't be the same without a Ranger Program! Join a ranger for one of these daily activities. Other "once a summer" scheduled activities are listed on our calendar page. Make sure you check it out!
Alley Mill: You can visit the historic Alley Mill anytime, the grounds are always open. The building itself is open daily from 9:00 to 5:00 during the summer. Tours by request. Access to the mill is always free!
The Alley General Store Visitor Center will be open from 9:00 to 5:00 most days during the summer. It may be closed for a half hour during the lunch hour. This replica general store has historic craft items and books for sale, as well as free park information. A 24 hour passport stamping station is available on the screened porch.
Storys Creek School located at Alley open weekends only, from 9:00 to 5:00. Summer only.
Round Spring Cave is open for tours from Memorial Day weekend to Labor Day each year. Tickets are $10.00 for adults and $5.00 for children under 12. Tickets go on sale 30 minutes before each tour, and tour size is strictly limited to 15 people (Cash Only). Reservations are NOT accepted. Tours are held daily at 10:00, 12:00 and 2:00 pm. Schools only may make special arrangements for cave tours by calling 573-323-4236. Other groups should plan to purchase tickets for their group when tickets go on sale prior to each tour.
Big Spring Entrance Station: The Entrance Station, built by the Civilian Conservation Corps (CCC) in the 1930s, is once again open to the public. Stop in between 8:30 a.m. and 5:00 p.m., Monday through Friday (7 days a week between Memorial Day and September 30) to view the naturalistic architecture made famous by the CCC, get your passport stamped, and pick up free park information. A 24 hour passport stamping station is available on the front porch.
Evening Programs: Join us in the campground amphitheaters to learn about Ozark wildlife, geology, superstitions, history, dark skies, and a whole lot more. Friday and Saturday evenings at 8:30 p.m. at Big Spring, Pulltite, Round Spring and Alley Spring. Programs are also given Thursday at Pulltite at 8:30 p.m. and Saturday at Two Rivers at 8:30 p.m. Memorial Day weekend through Labor Day.
Junior Ranger Program: ask a ranger or campground host for a free Junior Ranger book. Complete some of the self-paced activities and turn it in at a Campfire Program, the Alley Mill, Big Spring Entrance Station, or Pulltite Visitor Center and get the Official Junior Ranger badge you've earned!
---
FREE LOAN OUT ITEMS
You can borrow a few things to make your adventure more fun:
River Exploration Kits, available at Big Spring, Round Spring, Pulltite, Park Headquarters and the Alley General Store. Some campground hosts will have them also. These kits include nets, field guides, bug boxes, all the stuff young minds need to explore nature along the river or at the campsite.
Life Jackets - forgot yours? Don't hit the water without one. We have them free to loan at the Pulltite Visitor Center. (Pulltite is usually only open Saturday and Sunday. Ask the campground host if the building is closed.)
---
Call 573-323-4236, ext 0 for more information
.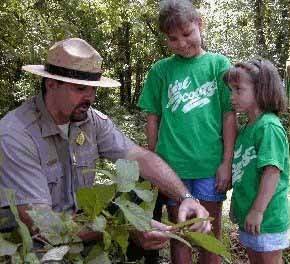 "Choosing to save a river is more often an act of passion than of careful calculation. You make the choice because the river has touched your life in an intimate and irreversible way, because you are unwilling to accept its loss". - (David Bolling, How to Save a River: Handbook for Citizen Action)


Last updated: May 11, 2023