Thing to Do
Round Spring Guided Cave Tour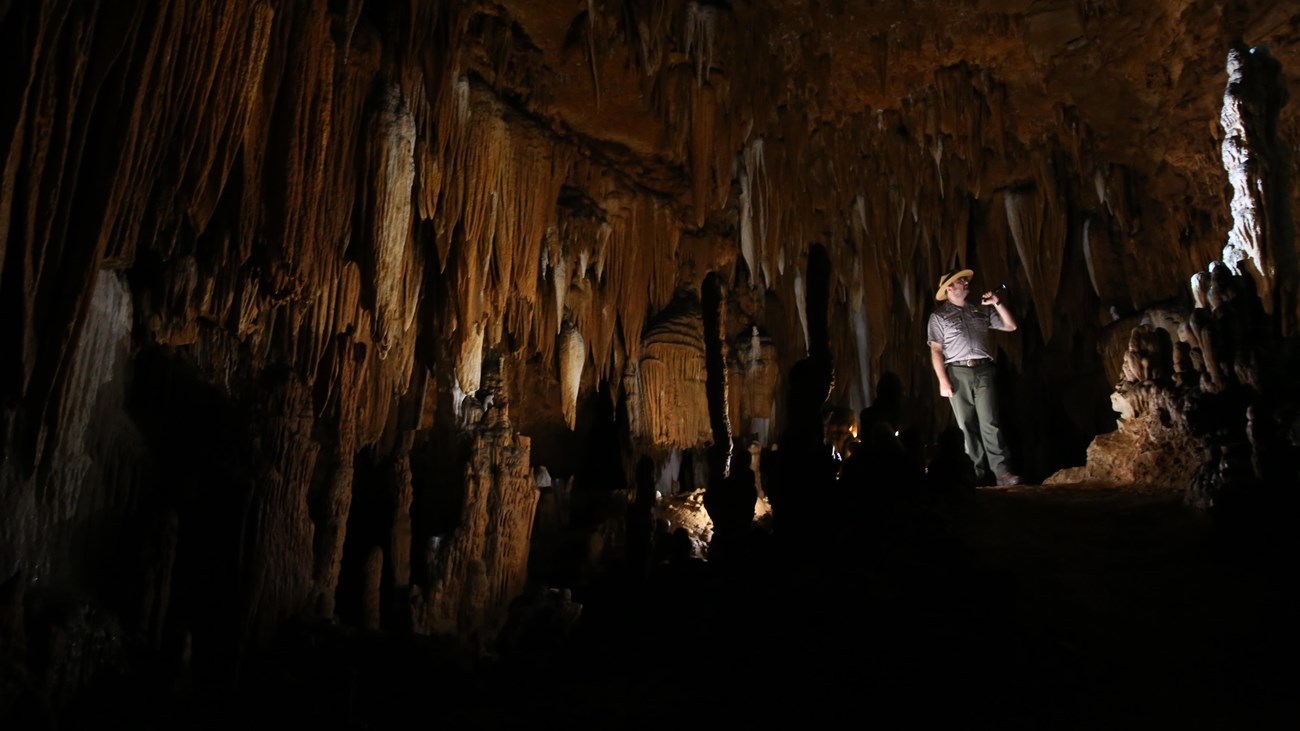 Round Spring Cave is a true show cave within the Ozark National Scenic Riverways. Large and numerous formations fill over a mile of cave passage. The tour is moderately strenuous and inaccessible to wheelchairs. Tours are available daily Memorial Day - Labor Day. All caves except Round Spring Cave are closed to visitation due to a highly contagious disease (White Nose Syndrome) that impacts bat populations. 
The 10:00 a.m. and 2:00 p.m. tour are a little longer, pushing 1 and 1/2 hours. The 12:00 p.m. is shorter in length, around 1 hour overall. 
Park Rangers conduct two hour lantern tours for the public of this beautiful natural cavern. These somewhat strenuous "underground hikes" are limited to the first 15 people. Wear sturdy shoes and bring a jacket or sweater, as it is cool in the cave. Tours are offered daily, at 10:00 a.m., noon and 2:00 p.m., during the summer months. 

ADVISORY: To help control the spread of White Nose Syndrome, a disease that is killing bats but is harmless to people, please do NOT wear or bring anything into the cave that you have taken into other caves. This includes cameras, belts, footwear, etc. Thank you. 

Tickets are $10.00 for adults, $5.00 for children.

Tickets are for sale at the fee bulletin board at the beginning of Round Spring Campground. 

Tickets go on sale 30 minutes before each tour and there are no reservations. (Cave tickets can only be purchased with cash only and change can not be made).
Children must be accompanied by an adult. 
$10 Adults
$5 Children 12 and under
Location
Round Spring Cave
Round Spring Cave tickets are available at the fee bulletin board at the beginning of the Round Spring Campground starting 30 minutes piror to each tour. The campground is off of Hwy 19. Turn off of Hwy 19 at the sign that says "Round Spring" , you will see the fee board on your right. 
Memorial Day-Labor Day, 7 days a week. 
Accessibility Information
The cave is not accessible to wheelchairs and may be difficult with those with mobility impairments. 
Tags
Last updated: May 4, 2023