Lodging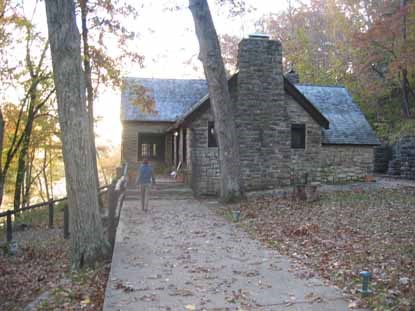 Big Spring Dining Lodge and Cabins
The Big Spring Dining Lodge and Cabins will be closed for an extended period beginning in January 2015 for much-needed repair and rehabilitation. Due to the broad scope of this project, the restoration process is expected to take several years to complete. This will allow the project to be completed more efficiently and safely, while eliminating the possibility of inconveniencing visitors or disturbing their solitude. For the latest information on the restoration of the Big Spring Lodge and Cabins.
Ozark National Scenic Riverways is excited about the opportunity to restore the Big Spring area to its former glory and to preserve the historic buildings and landscaping features constructed by the Civilian Conservation Corps in the 1930s. In addition, major upgrades to deteriorating utility systems and fixtures will be completed. Modern amenities and conveniences will be incorporated, while still retaining the rustic charm that makes the area so special.
When restoration is complete we envision that visitors will be able to enjoy not only improved lodging and dining facilities, but also additional recreational opportunities such as new hiking and biking trails, johnboat tours, and interpretive exhibits. At that time, a new concession contract will be awarded for operation of the facilities and recreational opportunities. For information about that concession contract, please contact the park's Concessions Specialist, Peggy Tarrence, at (573) 323-4864.
Other Lodging Outside the Park
Outside the park, there are numerous small motels, cabins and bed & breakfast establishments to meet your needs. Contact the Chamber of Commerce in the appropriate community for a list. You can also contact park headquarters at (573) 323-4236 for a list.
A brook can be a friend in a special way. It talks to you with splashy gurgles. It cools your toes and lets you sit quietly beside it when you don't feel like speaking." - (Joan Walsh Anglund)
Last updated: December 20, 2016