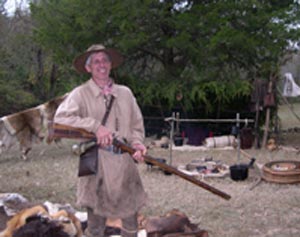 News Release Date:
September 9, 2013
Contact: Faye Walmsley, 573-323-4844
Eminence MO: Beginning on March 1, 2013, Federal law required Ozark National Scenic Riverways to reduce its annual budget.The park had to reduce staffing and services to absorb these cuts this fiscal year ending September 30th and into next fiscal year.As difficult as it was, the cancellation of the park's special events, including Haunting in the Hills, was one of the budget reduction decisions made.However, due to the support of the local communities to showcase the unique Ozark traditional folkway culture, the Haunting in the Hills will be offered at Alley Spring Saturday, October 12th and Sunday, October 13th.
The Ozark Heritage Project, in partnership with Ozark National Scenic Riverways, has stepped up to present Haunting in the Hills for the FREE benefit of the visiting public.The non-profit organization will be responsible for coordination of the event including funding; set-up and break down; securing traditional Ozark folkway demonstrators, dancers, and musicians; food vendors; and recruiting volunteers.Ozark National Scenic Riverways received a small grant to help off-set some of the Ozark Heritage Project's costs for the event.
Local skilled crafts people will demonstrate from 9:00 am to 4:00 pm on Saturday and 10:00 am to 3:00 pm on Sunday.Experience Ozark pioneer folkways and traditions such as blacksmithing, beekeeping, corn shelling, mandolin making, pottery, spinning, weaving, and wood working and the making of household items of candles, quilts, brooms, apple butter and hogshead cheese.Learn about Ozark history through the brush arbor, river camp and fur trapping rendezvous exhibited by the Ozark Long Rifle Association.
The Alley area will be filled with FREE music performances by The Faretheewells and clogging and square dancing demonstrations by the Fireside Cloggers and Western Grand Squares.Bring a blanket or lawn chair and wear your dancing shoes.
When night falls, a very different setting emerges during the Tales from Ozark's Dark Side on Saturday evening from 6:00 to 9:00 pm. Illuminated pathways will guide your way through Ozark legends, folktales, mysteries, superstitions, and natural wonders for spellbinding age-old storytelling.Visitors are encouraged to bring along flashlights and lawn chairs.
Alley Mill is located six miles west of Eminence, Missouri on State Highway 106.
For more information and to volunteer for the event, phone the Ozark Heritage Project at (573) 663-2269 or visit their website at www.ozarkheritageproject.org.
Ozark National Scenic Riverways preserves the free-flowing Current and Jacks Fork Rivers, the surrounding resources, and the unique cultural heritage of the Ozark people.