Riverways Superintendent Expresses Appreciation for Public Involvement
Date:
February 11, 2014
Contact:
Dena Matteson
, 573-323-8028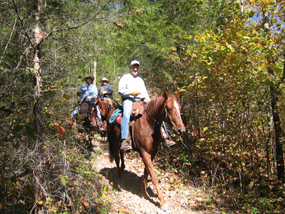 VAN BUREN MO: Today Superintendent Bill Black expressed appreciation on behalf of the National Park Service (NPS) for the tremendous level of public interest and participation in the planning process for the Draft General Management Plan for Ozark National Scenic Riverways. States Black, "We were very pleased by the attendance at the public open house sessions held in January and for the many well-articulated and sincere comments that have been received. I am extremely appreciative for the time and effort that folks have taken to become involved with development of a final General Management Plan, and am encouraged by the passion that so many have shown for the Riverways."
The public comment period for the Draft began on November 8, 2013, and concluded on February 7, 2014. During that time nearly 1,500 people attended the public open house sessions to learn about theDraftand to provide their comments. More than 2,700 comments were registered on the public comment website during the comment period. Over 10,000 names on several petitions were presented to the park. In addition, hundreds of letters have been mailed or delivered to park headquarters. 
According to Black, "We have begun the process of reading and considering every comment that was submitted to determine if modifications to theDraftare appropriate and necessary. We anticipate that it will take several months to evaluate all the comments and incorporate the appropriate changes."  The final General Management Plan is expected to be ready for release during the summer of 2014. Following the distribution of the final document and a 30-day no-action period, a record of decision approving the plan will be prepared for signature by the Midwest Regional Director for the National Park Service. 
At this time no final decisions have been made about any of the management proposals in theDraft.  Specifically, there has been no change in the current situations regarding horse trails or boat motor horsepower.  The current use of trails will be allowed to continue until the NPS has established a new system of designated trails.  Asserts Black, "The NPS is committed to developing a management plan that will protect park resources in the future, while still promoting recreational opportunity. We anticipate our visitors can enjoy the park this coming summer as they have in past years. "
We encourage all to visit the park's website atwww.nps.gov/ozar or our Facebook page for further updates. For more information, please contact Dena Matteson at (573) 323-8028 or e-mail us.
 Ozark National Scenic Riverways preserves the free-flowing Current and Jacks Fork Rivers, the surrounding resources, and the unique cultural heritage of the Ozark people.
Last updated: April 10, 2015