News Release
Riverways hosting B.A.R.K. Ranger hike April 27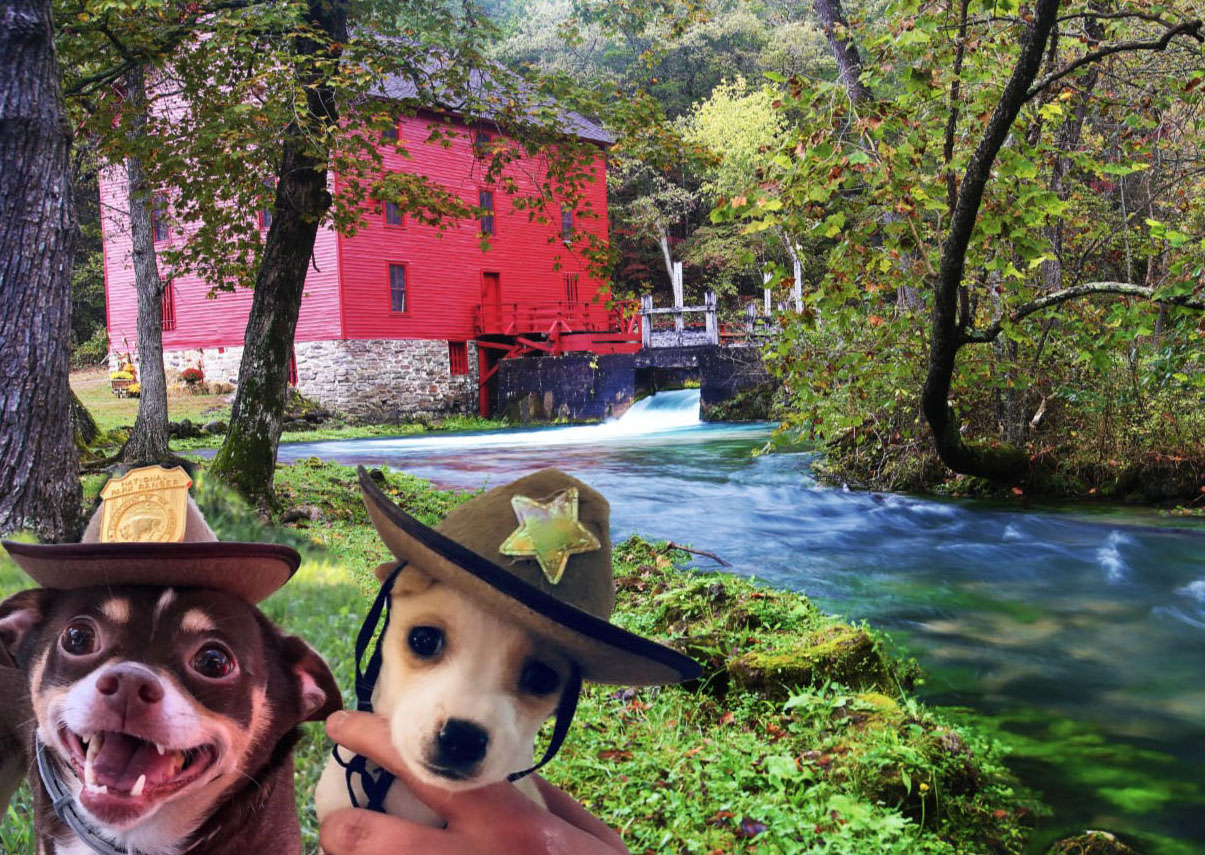 News Release Date:
April 9, 2019
Contact: Dena Matteson, 573-323-4814
Contact: Josh Chilton, 573-226-3945
EMINENCE, MO:  
Come celebrate National B.A.R.K. Ranger Day at Ozark National Scenic Riverways with a B.A.R.K. Ranger hike at Alley Spring on Saturday, April 27, from 10 to 11 a.m. This event is free and open to the public. 
Join a Park Ranger to hike your active four-legged friends up the overlook trail or, for a leisurely pace, along the spring branch trail. Following the hike B.A.R.K. Rangers will be officially sworn in as Ozark National Scenic Riverways B.A.R.K. Rangers and given an exclusive Riverways B.A.R.K. Ranger bandana. A group photo will be taken and a photo booth will be set up for taking individual pictures.
Thousands of dogs visit national parks annually with their owners and have a positive experience. Unfortunately, unleashed dogs can go missing or harass and disrupt native wildlife that call the park home. B.A.R.K. Ranger programs teach responsible pet visitation to national parks, so both pet owners and their pets have a more rewarding experience. 
Participants will learn about the B.A.R.K. code of ethics when visiting a National Park with their canine:
Bag your waste
Always wear a leash
Respect wildlife
Know where you can go
Pet waste collection bags will be provided. All dogs must remain on a six-foot leash at all times. Retractable leashes are discouraged unless they can be limited to a six-foot range. Owners must provide proof of current rabies vaccination. It is recommended that owners bring water and a watering dish for their pets. 
Please call Park Ranger Josh Chilton at 573-226-3945 or e-mail us for more information. 
Ozark National Scenic Riverways preserves the free-flowing Current and Jacks Fork Rivers, the surrounding resources, and the unique cultural heritage of the Ozark people.
www.nps.gov/ozar
About the National Park Service. More than 20,000 National Park Service employees who care for America's 418 national parks and work with communities across the nation to help preserve local history and create close-to-home recreational opportunities. Visit us at www.nps.gov, on Facebook www.facebook.com/nationalparkservice, Twitter www.twitter.com/natlparkservice, and YouTube www.youtube.com/nationalparkservice.

Last updated: April 9, 2019