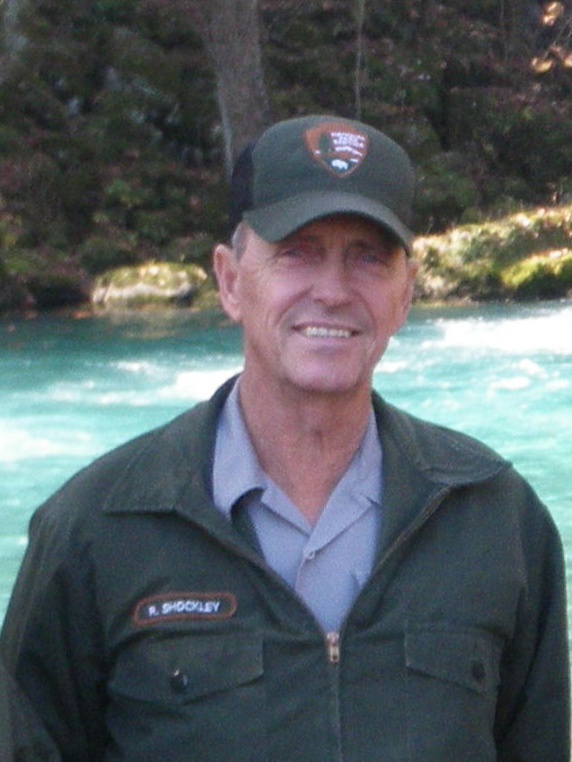 News Release Date:
December 18, 2014
Contact: Dena Matteson, 573-323-8028
VAN BUREN, MO: Richard Shockley will be retiring at the end of December after almost nine years working at Ozark National Scenic Riverways as an Engineering Equipment Operator. Richard has worked at the Shawnee Shop maintenance facility and been primarily responsible for maintaining roads and trails throughout the park. In that role, he has been an expert operator of heavy machinery and equipment. In addition, he has assisted with a variety of other projects and tasks. His skills as a sawyer and equipment operator have made him a critical member of emergency response teams that have been tasked with removing dangerous trees throughout the park.
Prior to being employed at Ozark National Scenic Riverways, Richard held several different positions in the local area, where he honed the skills that later benefitted the National Park Service and the public. He served in the U.S. Army until 1970, when he began an 18-year career with the Summersville School District as a bus driver and mechanic. In 1988, Richard began working for Kirkman Farms as a machinery operator and farm assistant. He began working seasonally at Ozark National Scenic Riverways in 2000 and was hired into a permanent, full-time position in 2006.
Richard has lived in the Summersville area his entire life and has been married to his wife Vicki for 42 years. They have raised three children and are enjoying watching their four grandchildren grow. Richard loves hunting and being outdoors. He plans to spend some of his much-deserved free time relaxing and cutting firewood.
A retirement celebration that included family, community members and coworkers was held in Richard's honor on December 16 at Shawnee Shop. His last day "in the driver's seat" will be December 31. His friends and coworkers throughout the Riverways will miss Richard's spirit of teamwork, mischievous smile, and cheerful whistling.
For more information, visit the park's Facebook page, follow us on Twitter, visit the park website at www.nps.gov/ozar, or phone (573) 323-4236.
Ozark National Scenic Riverways preserves the free-flowing Current and Jacks Fork Rivers, the surrounding resources, and the unique cultural heritage of the Ozark people.