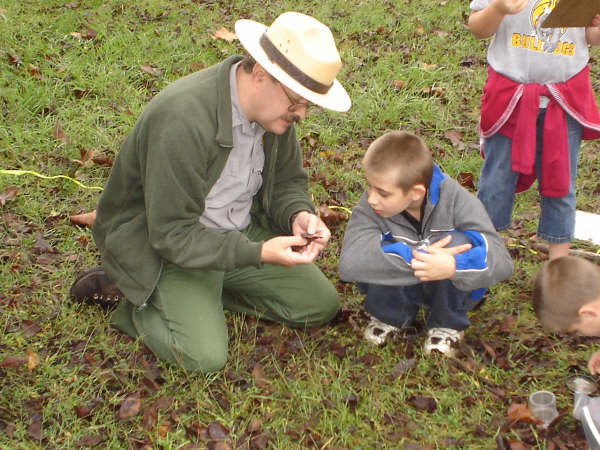 News Release Date:
December 18, 2014
Contact: Dena Matteson, 573-323-8028
VAN BUREN, MO: Ranger Bill O'Donnell will be retiring at the end of December after thirty years in the National Park Service, twenty-one of them at Ozark National Scenic Riverways. Known to children across the Ozarks simply as "Ranger Bill," he worked with schools throughout the region providing educational programs, field trips and cave tours as the park's Resource Education Specialist. He was also the supervisor at Alley Spring, Big Spring and Round Spring at various times. Several times over the past two decades he's been called upon to serve the park as Chief of Interpretation. Regardless of the title, he says working in the local schools was the best part. "Working with children has been the most rewarding part of this job" O'Donnell said, "if I have in any small way inspired a single young person to have a greater respect, appreciation and love of nature, then I've accomplished something with my life."
He began his career as a park naturalist at Mohican Sate Park in Ohio before joining the National Park Service in 1985. Before coming to Ozark Riverways, he had worked as an Interpretive Ranger at Shenandoah, Everglades, Yellowstone and Cuyahoga Valley National Parks as well as at Canaveral National Seashore, Pictured Rocks National Lakeshore and the C &O Canal National Historic Park. At Everglades and at Ozark he was a District Interpretive Ranger, supervising a staff of other interpretive rangers. "At the end of my career, I hope I have set a good example of professionalism and public service for my staff. I consider myself honored to have supervised, coached and mentored over 125 exceptional rangers, many at the beginnings of their careers. They are the future of the Park Service and I hope I have helped them along their way."
O'Donnell received several awards in his career, but the one that means the most to him is an award for helping save the life of a young girl injured in a traffic accident on Route 60 where the vehicle was upside down and on fire. Other adventures have included helping to rescue an injured manatee at Everglades, helping people in Gulfport, Alabama after Hurricane Katrina, riding in a helicopter that was part of the first President Bush's security while he was fishing at Everglades, fighting forest fires at Shenandoah and even being chased by both bears and alligators at different times. His accomplishments at Ozark Riverways include his role in the establishment of the Akers and Pulltite Visitor Centers, Junior Ranger Day, the park's Junior Ranger Program and managing the park's successful social media outlets and website. He designed and wrote most of the brochures and wayside exhibits found around the park.
In retirement he hopes to volunteer at other parks around the country, become more active in the Shannon County First Responders where he'll serve as Training Coordinator, volunteer with the Ozark Riverways Foundation, do some travelling with his wife Julie and son Paul, as well as work on his gardening, beekeeping, photography, and maybe write a book. He hopes to keep in touch with his many friends among the staff of Ozark Riverways by volunteering to do park programs for children, but, he says "no more paperwork!"
Ranger Bill will be hanging up his Park Ranger hat and taking down the flag for the last time on December 18. A retirement celebration that included his family, community members, and co-workers from the past and present was held in his honor on December 16.
For more information, visit the park's Facebook page, follow us on Twitter, visit the park website at www.nps.gov/ozar, or phone (573) 323-4236.