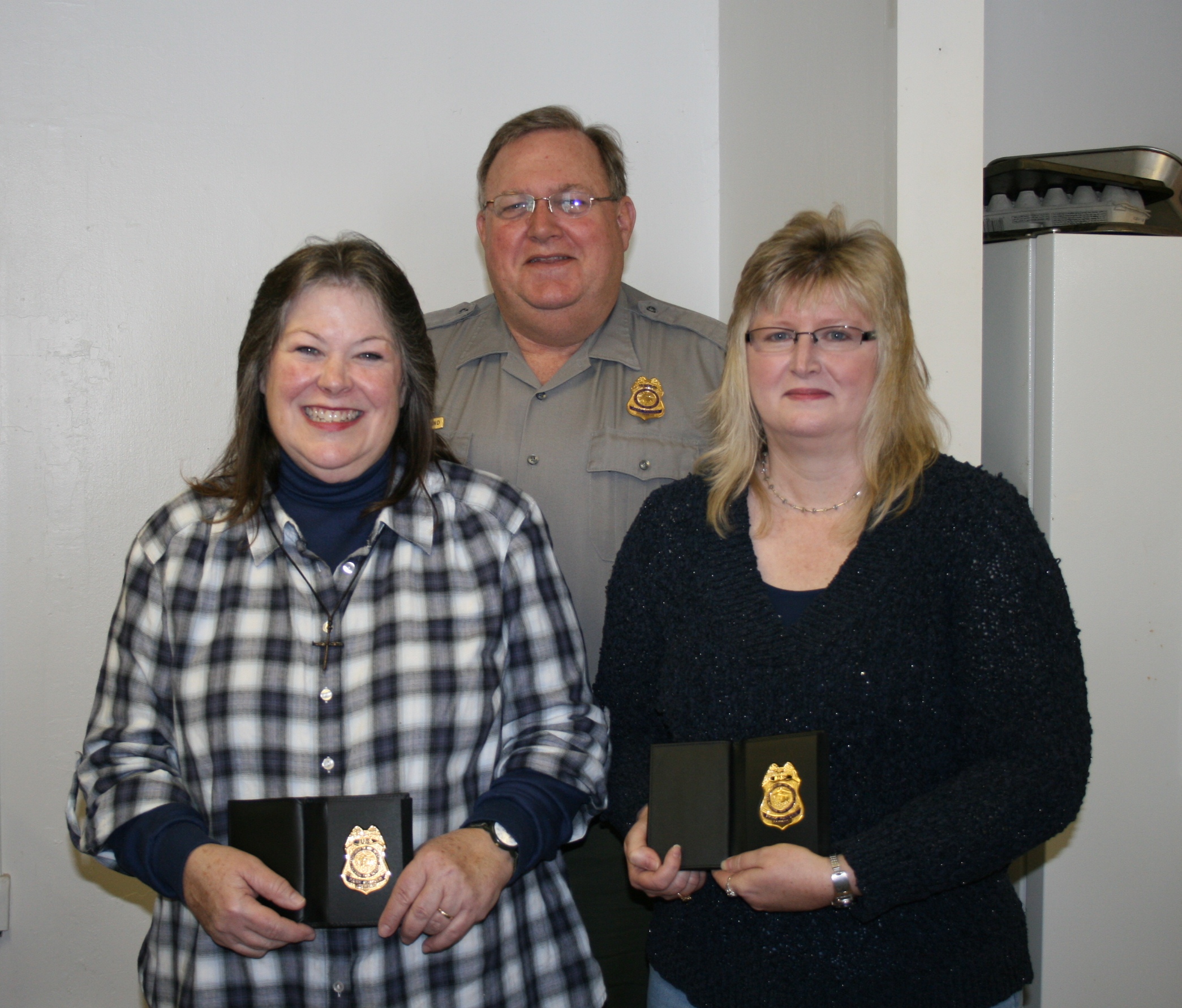 News Release Date:
March 12, 2015
Contact: Dena Matteson, 573-323-8028
VAN BUREN, MO: Mary Ficker and Teresa McKinney, Park Rangers at Ozark National Scenic Riverways, retired on February 28 after long careers with the National Park Service (NPS).
Mary Ficker began her career in the summer of 1978 as the first seasonal Reservation Clerk at Ozark National Scenic Riverways.She spent several seasons as a Fee Collector at Round Spring, and when she graduated from East Tennessee State University with a double major in Biology and Criminal Justice she was hired as a Park Technician.She began work as a seasonal Law Enforcement Park Ranger in 1982 and was hired as a permanent Law Enforcement Park Ranger the following year.Mary spent many years as a Park Ranger in the Upper Current district of the park.
During her more than 30 years at Ozark Riverways, Mary was active in many aspects of park operations. She became one of the park's D.A.R.E. officers and taught drug abuse resistance programs in Eminence, Winona, Bunker, Birch Tree, Licking, Raymondville and Salem for 12 years.She also used her teaching skills to present environmental education programs in the Salem schools.When the D.A.R.E. program ended, Mary took over the role of Fee Collection Supervisor as part of her Park Ranger duties and loved helping to manage the park campgrounds.
Though she grew up in Virginia, Mary fell in love with the Ozarks and considers the area home. She met her husband Jack in Eminence and together they raised a son and a daughter.Mary fondly remembers that she raised her children playing on the river banks and doing Stream Team monitoring, an activity in which she is still heavily involved.Mary and Jack will remain in the area following her retirement, except to travel to visit their children or attend bluegrass festivals.
Teresa McKinney began her career as an NPS Law Enforcement Ranger in 1991 at Lincoln Home National Historic Site.She spent several years each at Buffalo National River and Jefferson National Expansion Memorial before joining the ranks at Ozark Riverways in April 1998.She is one of the few Park Rangers in Riverways' history to have worked in all three of the park's districts.During her career Teresa served as the Equal Employment Opportunity counselor and evidence custodian for the park.She also served on the Midwest Region Special Events and Tactical Team.Teresa grew up in the Ozarks and plans to remain in the area and enjoy time spent with her daughter and husband Bill, who is the Upper Current District Ranger at Ozark Riverways.
A retirement celebration that included family, community members and coworkers was held on February 27 for Mary and Teresa at Park Headquarters in Van Buren.
For more information, visit the park's Facebook page, follow us on Twitter, visit the park website at www.nps.gov/ozar, or phone (573) 323-4236.
Ozark National Scenic Riverways preserves the free-flowing Current and Jacks Fork Rivers, the surrounding resources, and the unique cultural heritage of the Ozark people.
-NPS-