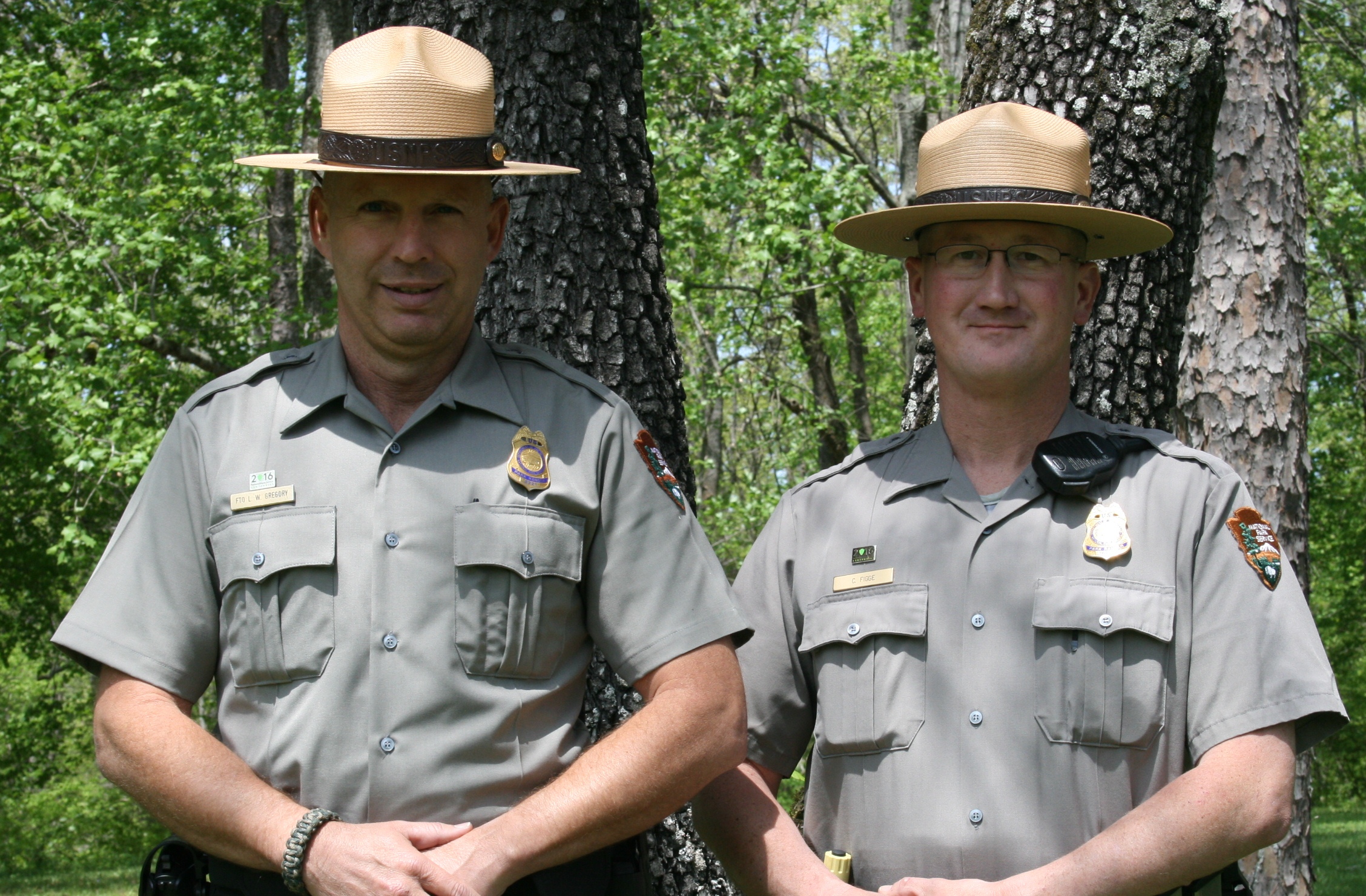 News Release Date:
April 27, 2015
Contact: Dena Matteson, 573-323-8028
VAN BUREN, MO–U.S. Park Rangers Lindel Gregory and Chris Figge have been selected as District Rangers at Ozark National Scenic Riverways, following the retirements of former District Rangers Marty Towery and Rick Drummond last year.
Lindel Gregory has been selected as the new Lower Current District Ranger, overseeing law enforcement and emergency services out of the district ranger station at Big Spring.Lindel has been a U.S. Park Ranger for the past 27 years, with experience as a park ranger and wildland firefighter in a number of national parks and land management areas.Lindel began his National Park Service (NPS) career in 1988 as a seasonal law enforcement ranger at Ozark Riverways. After several summers as a seasonal ranger, he began work on the wildland fire crew during the winter months and continued to work seasonally in both law enforcement and wildland fire for nine years. After gaining permanent status as a law enforcement ranger for the Bureau of Land Management, Lindel returned to Ozark Riverways in 2000.
Lindel brings strong leadership skills and extensive experience to his new position.He serves as the Field Training Lead for several national parks in Missouri and Arkansas.He is currently the team leader for the Midwest Region Special Event and Tactical Team, of which he has been a member for 15 years.He is also a member of Ozark Riverways' Search and Rescue team, with experience in high-angle and swift water rescue.Lindel is a native of southeast Missouri and grew up hunting, fishing and floating the Current River.He now lives on a small farm in Carter County with his wife and three daughters.
Chris Figge has been selected as the new Jacks Fork District Ranger, overseeing law enforcement and emergency services out of the district ranger station at Alley Spring.Chris has 16 years of experience as a U.S. Park Ranger.He began his NPS career in 1997 as a security guard at Jefferson National Expansion Memorial, where he became a permanent law enforcement ranger in 1999. In 2003, Chris transferred to Ozark Riverways.
Chris has a strong background in leadership and is often called upon by other parks and agencies to instruct training.He was a founding member of the servicewide NPS Honor Guard and has served as the team leader since 2007.The Honor Guard provides services with full honors for law enforcement rangers who have sacrificed their lives for the safety and security of our national parks.Chris has served as a Field Training Officer for the Federal Law Enforcement Training Center, supervising and training new park rangers in the field.He also serves as a member of the Search and Rescue Team at Ozark Riverways and is skilled at high-angle and swift water rescue.Chris is a native of Alton, Illinois.He lives in Shannon County with his wife Lisa, who is also an NPS employee, and daughter Sierra.
Both Lindel and Chris have developed many of their leadership skills while serving as field rangers at Ozark Riverways.The NPS is proud to have these experienced Ozark rangers in their new leadership roles as the park embarks upon implementing the new General Management Plan.
For more information, visit the park's Facebook page, the park's website at www.nps.gov/ozar or phone (573)323-4236.
Ozark National Scenic Riverways preserves the free-flowing Current and Jacks Fork Rivers, the surrounding resources, and the unique cultural heritage of the Ozark people.