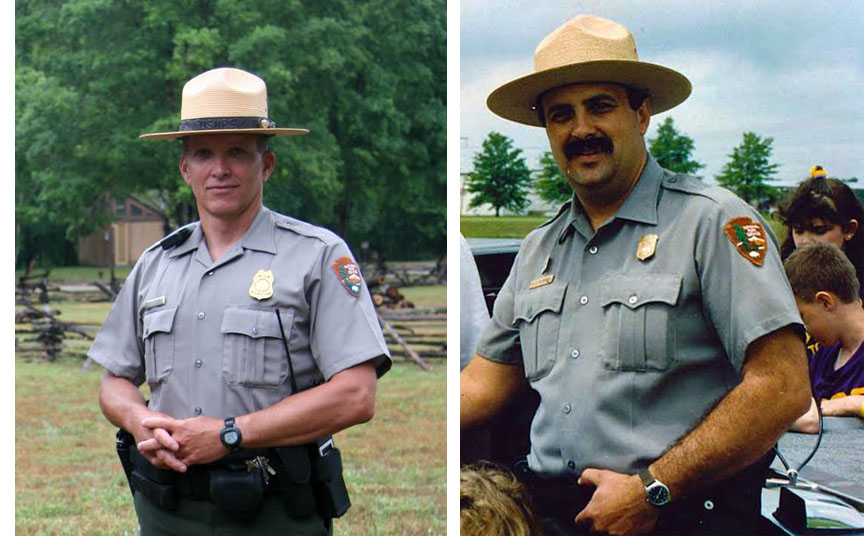 News Release Date:
July 25, 2014
Contact: Faye Walmsley, 573-323-4844
VAN BUREN, MO: Rick Drummond and Marty Towery, Park Rangers at Ozark National Scenic Riverways, are hanging up their ranger hats after a combined service of 72 years of federal service mostly at the Riverways.
Rick Drummond began his park career as a seasonal employee during the summer of 1975 and continued to work summers until he was selected permanently into a Law Enforcement Park Ranger position in 1979. The only time he was away from Ozark National Scenic Riverways was during the winter of 1978 when he worked at Everglades National Park. With service of over 39 years, Ranger Drummond has been the longest serving Law Enforcement Ranger at the park since its establishment in 1964.  
Highlights of his career include his eight year involvement in the D.A.R.E. program to keep youth away from drugs; big special event team assignments; performing boat rescues and patrols after Hurricanes Ike and Hanna; being stationed in Washington D.C. after 9-11; and assisting on wildfires on the Bob Marshall Wilderness in Idaho.  At the time of his retirement, Rick served as Alley Spring District Ranger. "I will miss making personal contacts with our park visitors especially at the campgrounds. It was a personal quest of mine to try to talk and visit with all the campers. Those contacts have led to some lifelong friendships," states Drummond.  Immediately after retirement, Ranger Rick is heading to Alaska for much deserved R and R. He is staying in the Van Buren area where he will be marketing Purple Boundary Tape.

Marty Towery began his park career as a seasonal Big Spring maintenance employee during the summer of 1981 and through the years worked in the following positions: Motor Vehicle Operator, Boat Operator, Heavy Equipment Operator, and Carpenter. He also work as a Fire Control Aide during spring and fall from 1988 through 1991 and was assigned to numerous western wildfires. In 1991, after graduating from a Seasonal Law Enforcement Training Academy in North Carolina, he served his first season as a Law Enforcement Park Ranger. After working one season in Yellowstone National Park (1992), he came back home to Van Buren and became a permanent Law Enforcement Park Ranger in February of 1993. Throughout the years, Marty has received several Special Achievement Awards, an Exemplary Act Award, and was presented a Valor Award by Interior Secretary Bruce Babbitt and President Bill Clinton for his actions in rescuing a drowning man in 1999.
As a firearms instructor, firearms armorer and motor boat instructor, Marty has trained many park staff over the years and helped keep their skill sets sharpened to handle anything that came their way. Marty will retire as the Big Spring District Ranger; a position he served in for 12 years. Retirement plans include hunting, fishing, relaxing poolside, gardening, farming, gunsmithing, and playing guitar as a member of the Non-Lethal Tactics band (NLT). "I have many fond memories of serving the public, helping people in need and trying to protect the Ozark National Scenic Riverways' outstanding resources. I have had the privilege of working with some wonderful people during my tenure here. Many co-workers, past and present, are now some of my closest friends, and I feel honored to have known and worked alongside them," states Towery.
Having worked every district and area of the park, Rick and Marty are extremely knowledgeable of the resources, visitor use, and operations. That knowledge will be missed. 
They'll be packing their offices, turning in property, tying up loose projects, taking down the flag, and locking the doors on Wednesday, July 30th. 
For information on Ozark National Scenic Riverways, visit the park Facebook page, the park website at www.nps.gov/ozaror phone (573)323-4236. 
Ozark National Scenic Riverways preserves the free-flowing Current and Jacks Fork Rivers, the surrounding resources, and the unique cultural heritage of the Ozark people.