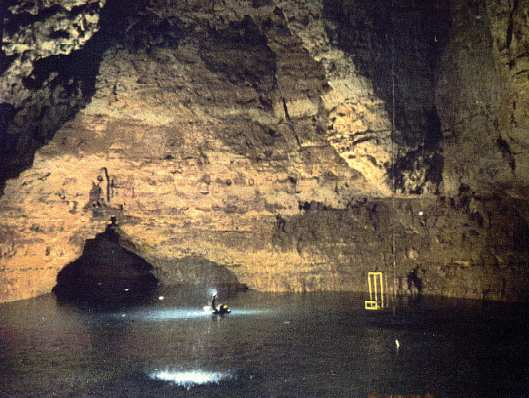 News Release Date:
June 11, 2015
Contact: Dena Matteson, 573-323-8028
VAN BUREN, MO–Ozark National Scenic Riverways announces that the stairwell and viewing platform over Devils Well will be temporarily closed to the public on June 24 and 25 so that researchers may conduct biological monitoring of the underground spring system and evaluate the platform supports.
Devils Well is a unique natural feature that was formed when the roof of a huge cavern, containing an underground lake, collapsed. The result was a large sinkhole with an opening in the bottom through which the lake can be viewed. The water level is approximately 100 feet below the viewing platform, and the lake may be as much as 80 feet deep in a chamber that measures 400 feet long and 100 feet wide. The water in Devils Well emerges from the ground at Cave Spring on the Current River.
The first known exploration of Devils Well was in 1954 by brothers Bill and Bob Wallace, using a hand powered winch attached to steel cable and a "bosun's chair".Later, divers and researchers entered Devils Well to collect information about the lake and recorded the presence of two species of cave crayfish: the Salem cave crayfish and the rare, blind southern crayfish.However, it has been more than 30 years since researchers last descended into Devils Well to monitor the underground environment.
The Cave Research Foundation, in partnership with the National Park Service, will lead the monitoring efforts on June 24 and 25.The team will include highly trained individuals who are proficient in Single Rope Techniques and cave exploration.The descent into Devils Well will require anchoring a rigging assembly to the viewing platform.The platform will be closed to the public in order to ensure the safety of the research team.National Park Service staff will be on-site to talk with visitors and answer questions during the project.
The research team hopes to document species that were observed in the past and record the presence of any additional species that were not previously noted. The team will also examine the condition of the viewing platform supports.Devils Well is located off State Route KK in northern Shannon County. For more information, visit the park's Facebook page, the park's website at www.nps.gov/ozar or phone (573)323-4236.
Ozark National Scenic Riverways preserves the free-flowing Current and Jacks Fork Rivers, the surrounding resources, and the unique cultural heritage of the Ozark people.