Date:
October 25, 2013
Contact:
Dawn White
, 573-323-4945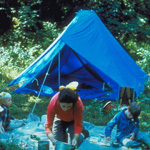 VAN BUREN, MO – Ozark National Scenic Riverways announces a proposed increase in camping fees that would take effect next year for the five developed campgrounds within the park.These campgrounds are located at Alley Spring, Big Spring, Pulltite, Round Spring, and Two Rivers.The proposed rate increase is necessary in order for park camping fees to remain comparable with local privately owned businesses.The current camping fees have not been raised since 2008.The new rates would take effect April 15, 2014.
According to Superintendent Bill Black, "Under the current rate structure the camping fees at Ozark Riverways are lower than some privately operated campgrounds, and we do not want to undercut these local business owners.This rate increase will help us avoid that, and will also help provide additional funding that will be used for on-going improvements."
Proposed camping fees are as follows:
·Basic Family Campsites (limit 6 people) will go from $14.00 to $18.00 a night.
·Electric Campsites (limit 6 people) will go from $17.00 to $22.00 a night.
·Cluster Campsites (7-20 people) will go from $30.00 to $40.00 a night.
·Group Campsites (15-45 people) will remain at $100.00 per night with no increase.
This rate increase does not apply to primitive campgrounds which will remain $5.00 per campsite.However, a primitive camping fee would be added for Blue Spring Campground on the Jacks Fork River effective April 15, 2014.This area's campsites were upgraded in 2008 and previously approved to be added to the fee system.
Ozark National Scenic Riverways is able to keep the fees collected from our campgrounds to use for improvements to visitor facilities and services such as upgrading the restroom facilities, clearing horse trails, and educational programs for students.If you would like to comment on the proposed rate increase, please respond by November 20, 2013 to Dawn White at e-mail usor 573-323-4945.
To reserve campsites in the developed campgrounds call 877-444-6777 or on the web at www.recreation.gov.A $3.00 per night reservation fee is added to the camping fee when you use the reservation service.Securing your favorite campsite through a reservation is highly recommended during the busy summer months to ensure availability; however, there are plenty of walk-in campsites at all of our locations as well.
For more information, visit the park's Facebook page, the park's website at www.nps.gov/ozar or phone 573-323-4236.
Ozark National Scenic Riverways preserves the free-flowing Current and Jacks Fork Rivers, the surrounding resources, and the unique cultural heritage of the Ozark people.