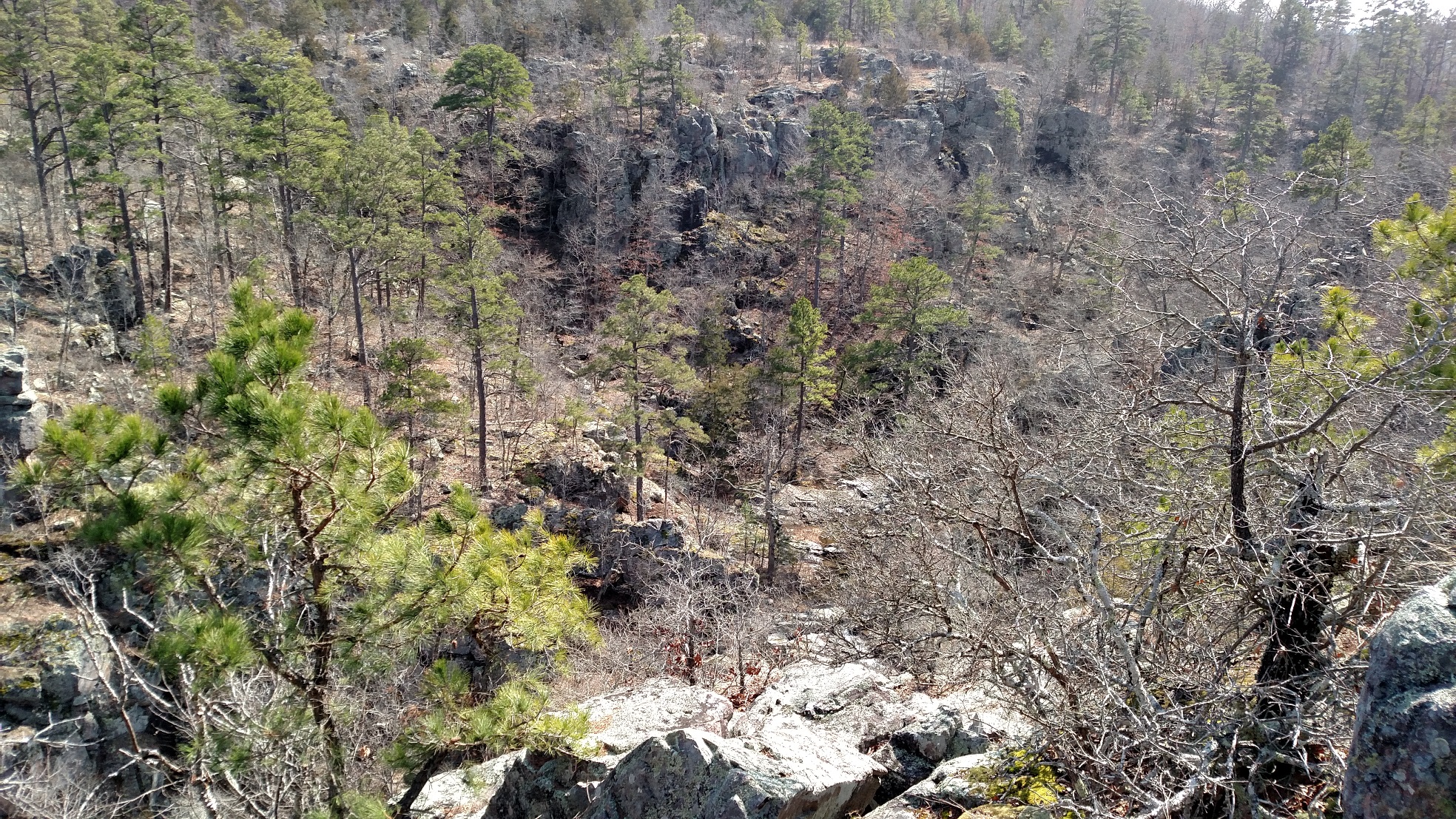 News Release Date:
October 20, 2017
Contact: Josh Chilton, 573-226-3945
Contact: Dena Matteson, 573-323-4814
EMINENCE, MO: Join a National Park Service ranger on Saturday, November 4, from 9 to 11 a.m., for a discovery hike at Prairie Hollow Gorge Natural Area. Often called the "Jewel of the Riverways", the area boasts some of the best panoramic views, glimpses of the geological past and diversity of flora and fauna in the Riverways. Hikers must pre-register by calling Ranger Josh Chilton at 573-226-3945 or email e-mail us.
The Prairie Hollow Gorge, also called the "Canyon", is one of the oldest geological areas in the region and is marked by rhyolite outcroppings and shear bluffs. Participants are encouraged to wear sturdy hiking boots, carry a water bottle and be prepared for moderately strenuous and rugged hiking conditions. Participants can meet at Alley Spring General Store by 9 a.m. and follow a ranger to the gorge, or meet at the trailhead parking area off V Highway east of Eminence by 9:15 a.m. 
Directions to Prairie Hollow Gorge:
From Eminence, travel east on Highway 106 approximately 6 miles and then turn left (north) onto Highway V. Follow Highway V approximately 2 miles to a dirt road on the right, just past the park boundary sign. The intersection of this road and Highway V is the northwest corner of the Prairie Hollow Gorge Natural Area. There is small parking area to the right, just off V Highway. A short trail leads from this parking area to an overlook at the top of the gorge. Visitors can also continue along the dirt road to the stream crossing at the bottom of the gorge, where another small parking area is located. At the stream crossing a trail marker on the south side of the road marks the route into Prairie Hollow Gorge.
For visitors who are unable to attend the guided hike on November 4, Prairie Hollow Gorge can be enjoyed as a self-guided adventure. For more information, visit the park's Facebook page, follow us on Twitter, visit the park website at www.nps.gov/ozar, or phone (573) 226-3945.
Ozark National Scenic Riverways preserves the free-flowing Current and Jacks Fork Rivers, the surrounding resources, and the unique cultural heritage of the Ozark people.
-NPS-