News Release
Ozark National Scenic Riverways suspends commercial services activities and updates current operations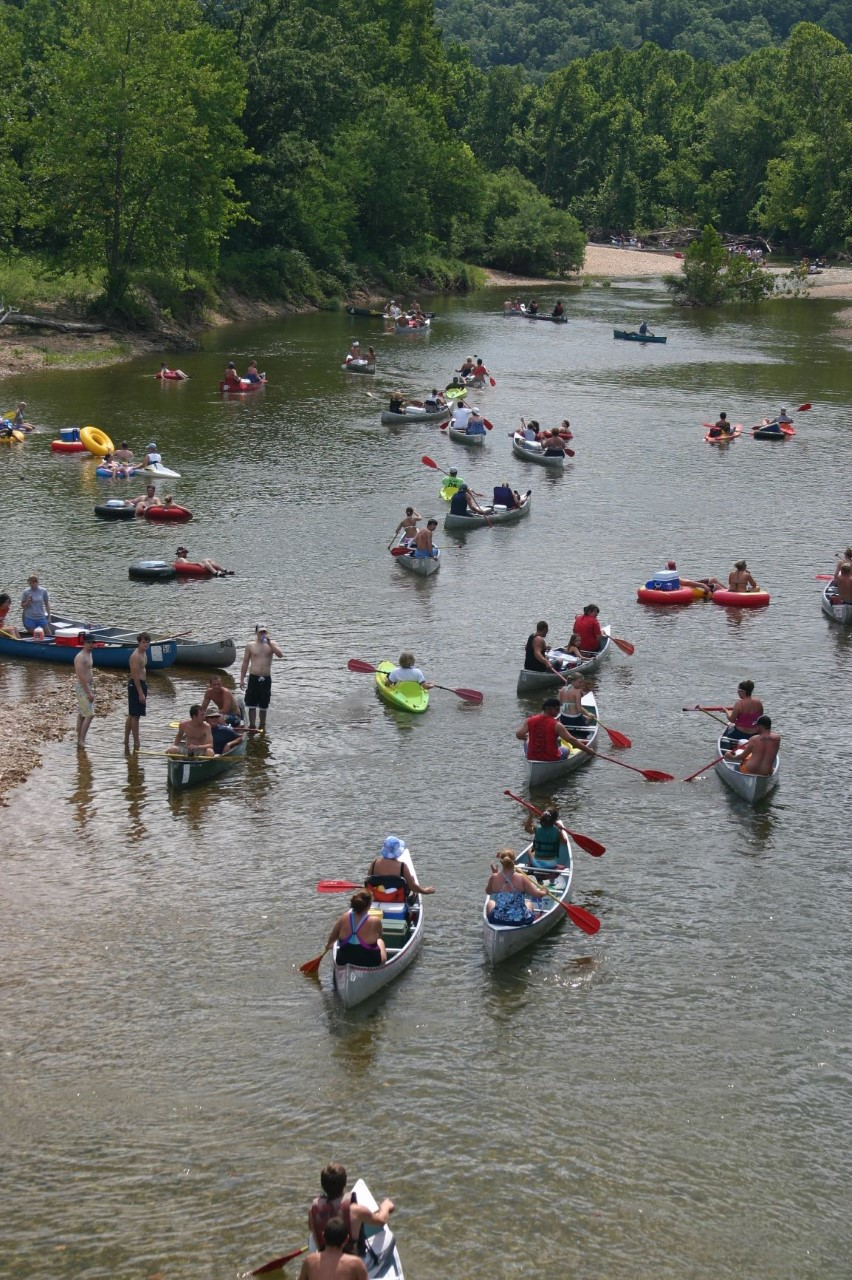 News Release Date:
April 9, 2020
Contact: Dena Matteson, 573-323-4814
Van Buren, MO -  
Effective immediately, Ozark National Scenic Riverways is suspending all commercial services operations within the park and expanding the restriction on camping to include all gravel bar camping and camping along trails in support of federal, state, and local efforts to slow the spread of the novel coronavirus (COVID-19).  
The suspension of commercial services includes operations by all authorized outfitters within the park boundaries, such as the park's contracted float and shuttle concessions and guide services. This suspension remains in effect through at least May 10 and will be evaluated prior to that time to determine if there is a need for extension.  
Camping closures have also been expanded to encompass all camping, including gravel bar camping and dispersed camping along the Ozark Trail within the park boundary. These closures will remain in effect until at least May 10 and may be extended beyond that date if necessary. All camping or pavilion reservations between April 15 and May 10 have been canceled through the recreation.gov website and visitors should expect refunds processed for those 

cancellations

.
Ozark Riverways Acting Superintendent Jason Lott said "With the recent stay-at-home orders issued for the state of Missouri and for several of the counties adjacent to the park, we feel these additional closures are the right thing to do to support our local communities and to protect our local residents, employees and visitors from the spread of the virus.  We're monitoring the situation very closely and will make modifications as needed.  We appreciate the patience of our visitors, because we realize the park is a much-loved destination for visitors from near and far, and we look forward to being able to welcome everyone back to the Current and Jacks Fork rivers as soon as it is safe to do so."
To offer opportunities for nearby residents, parents and children, and visitors from afar to continue to enjoy the park from a safe distance, we are offering online content in the form of virtual tours and educational materials on the park website.  Visit nps.gov/ozar/virtualpark.htm  to check out a variety of Junior Ranger lessons and videos.  You can also get a daily dose of park scenery by checking out @ozarkriverways on Facebook or @ozarkriverwaysnps on Instagram.
As a reminder, Ozark National Scenic Riverways is continuing limited services outside those that support visitor or resource protection. The following facilities and activities will remain closed until further notice:
• All camping within the park
• Many restrooms and vault toilets (see below for a list of those remaining open at key locations)
• Visitor contact stations will remain closed, but self-serve souvenir passport stamp stations are available on the porches at both the headquarters Visitor Information Center and the Alley Spring General Store. Junior Ranger activity books and informational brochures are stocked at those locations, also.
Outdoor areas for daytime use in the park are expected to remain open unless their use becomes inconsistent with public health guidelines on social distancing and group size limitations. Visitor use will be monitored, and additional closures may be implemented if issues arise.  
However, some outdoor areas where it would be extremely difficult to maintain safe social distance will be closed.  These include:
• The spring branch trail at Alley Spring
• The spring branch trail at Big Spring
• The staircase into Devils Well
In order to provide some restroom facilities for visitors in outdoor spaces and at key river access points, several facilities will remain open as long as they can be safely maintained in accordance with the latest health guidance. Routine cleaning procedures, which require the restrooms to be closed and vacant for a recommended length of time, could also make them unavailable periodically. Please be aware of the possibility that restrooms may be temporarily closed for cleaning when you visit. The following restrooms and vault toilets are currently expected to remain open:
Along the upper Current River
• Baptist Camp vault toilet
• Akers contact station restroom
• Akers river access vault toilet
• Devils Well vault toilet
• Pulltite contact station restroom only (no showers)
• Round Spring day use area restroom
Along the Jacks Fork River
• Buck Hollow vault toilet
• Burr Oak day use area restroom (restroom will reopen after flood repairs complete)
• Alley Spring pavilion restroom (restroom will reopen after repairs complete)
• Shawnee horse staging area vault toilet
• Two Rivers boat ramp vault toilet
• Rocky Falls vault toilet
• Powder Mill vault toilet (will reopen after flood debris is cleared)
• Blue Spring on the Current River vault toilet
Along the lower Current River:
• Big Spring boat ramp restroom
• Big Spring restroom near open field
• Chubb Hollow vault toilet
The health and safety of our visitors, employees, volunteers, and partners at Ozark National Scenic Riverways are our number one priority. The National Park Service (NPS) is working servicewide with federal, state, and local authorities to closely monitor the COVID-19 pandemic. We will notify the public when we resume full operations and provide updates on our website at www.nps.gov/ozar and on Facebook @ozarkriverways.
The NPS encourages people who choose to visit Ozark National Scenic Riverways during this pandemic to adhere to guidance from the Centers for Disease Control and Prevention and state and local public health authorities to protect visitors and employees. As services are limited, the NPS urges visitors to continue to practice Leave No Trace principles, including pack-in and pack-out, to keep outdoor spaces safe and healthy.  Social distancing is strongly encouraged even in outdoor spaces.
Updates about NPS operations will be posted on www.nps.gov/coronavirus. For up-to-date information about operations at Ozark National Scenic Riverways, please visit the park website at www.nps.gov/ozar, or @ozarkriverways on Facebook.  You can also call (573)323-4236 ext. 0, 8:00 a.m. to 4:30 p.m. seven days per week.
Ozark National Scenic Riverways preserves the free-flowing Current and Jacks Fork Rivers, the surrounding resources, and the unique cultural heritage of the Ozark people.  
Last updated: April 9, 2020