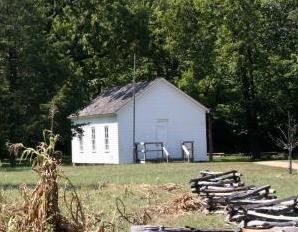 News Release Date:
July 29, 2013
Contact: Faye Walmsley, 573-323-4844
Eminence, MO - Ozark National Scenic Riverways will host a FREE Old Time School Day at Alley Spring on Wednesday, July 31st. Activities will begin at the Alley Spring Pavilion at 9:30 a.m. and last until 12:00 noon. Alley Spring is located 6 miles west of Eminence, Missouri on Highway 106.
Elementary age and older youth are invited to learn what school was like in a one room school house in a fun environment through the participation of ranger-led activities. Children will take a step back in time as they experience typical pioneer school activities and games. The Old Time School Day will include traditional daily school activities, spelling bees, chalk board games, and other old time games such as stilt walking, sack races and barrel ring rolling. Please be prepared for the day with sunscreen and water bottles.
Registration for Old Time School Day is preferred, but not required. To register and for additional information, call the Alley Spring Visitor Center at 573- 226-3945 between 8:30 a.m. to 5:00 p.m. daily and ask for Ranger Sarah Morris. Program information will also be available on the park's website at www.nps.gov/ozar.
Ozark National Scenic Riverways preserves the free-flowing Current and Jacks Fork Rivers, the surrounding natural resources, and the unique cultural heritage of the Ozark people.